Competitive Age-Group athlete seeking Kona success in 2018? Read on…
'Zwift Academy' reaches triathlon 
If you are serious about your IRONMAN ambitions in 2018 with Kona goals and looking for an impressive support package to help you achieve that, then today's announcement of the Specialized Zwift Academy Triathlon Team is an absolute must read for you.
Your training, coaching, gear, flights and lodging in Kona – that's covered by us.
Interested? Apply here: http://academy.zwift.com/signup
---
Zwift and Specialized join forces to launch Triathlon Academy
Registration now open to join the World's Best Supported Amateur Tri Team
Zwift, the global online training platform, today announced the launch of the Specialized Zwift Academy Triathlon Team. Open for applications from today, with the full backing of Specialized, the Specialized Zwift Academy Tri Team is set to become the best supported amateur team in the sport. The team will have an annual focus on competing at the Ironman World Championships at Kona, Hawaii.
Created in 2016, the groundbreaking Zwift Academy program set-out to identify undiscovered cycling talent using the virtual training environment of Zwift. In partnership with Canyon//SRAM Racing and Team Dimension Data, the California based start-up has, to date, placed three cyclists in the pro cycling peloton. Following the recent launch of Zwift Run, the company is now placed to launch the Zwift Academy program into triathlon.
"Zwift Academy has been extremely successful, both in terms of identifying new world class talent, but also serving as a fantastic engagement tool for our community" says Eric Min, Zwift Co-Founder and CEO. "Our approach for triathlon will be different. We've decided to focus on amateur age-group triathletes striving to be the best they can be. With the unique backing of Specialized, our team will receive world class support and Zwift's global community of triathletes will be invited to train with the team members, their mentors and coaches online. This all rolls up into our company goal of creating the world's largest training community in triathlon."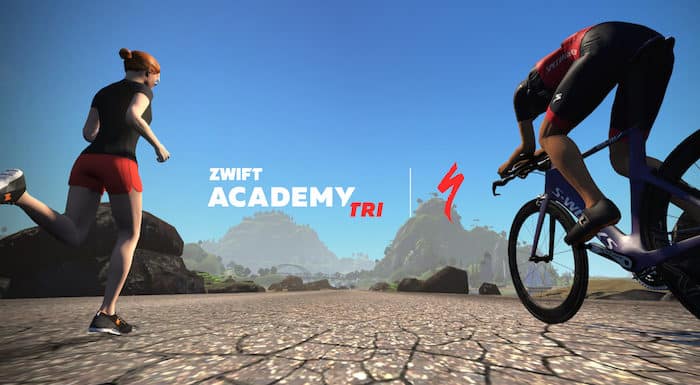 Registrations for the Specialized Zwift Academy Tri Team will remain open until Sunday March 18th. For selection purposes, entrants will be required to complete an online form providing details of their performance history and goals for 2018. In addition they must be Zwift Level 10 Cyclists or above at the time of submitting their application here. A final selection of the 4 team athletes will be announced April 5th.
The Specialized Zwift Triathlon Academy Team athletes will benefit from the best support package of any amateur team in triathlon. Smart trainers and treadmills will of course be made available to team members. Specialized will help to ensure each athlete's performance is optimized through a Retül fitting and Win Tunnel testing session at their Morgan Hill, CA headquarters. Additionally, Specialized will provide a full S-Works package comprising:
Specialized S-Works Shiv
Specialized S-Works 7 Road shoes
Specialized S-Works Evade Helmet
Specialized Race Apparel
"We are fired up to partner up to build the Specialized Zwift Triathlon Academy." says Mark Cote, Head of Global Marketing and Innovation at Specialized. "The four athletes chosen will get pro level support including Zwift training, Retul Fit, Win Tunnel optimization, and the best Specialized equipment. I know we'll help these athletes elevate their game towards Kona 2018."
Along with the best equipment, comes the best coaching. Zwift's team of coaches led by Ironman World Record holder, Tim Don, will be on hand to deliver coaching advice to each of the athletes. "I use Zwift regularly and love every minute of it, so I am excited to help lead their Triathlon Academy alongside the high-performance engineering team at Specialized." The varied training programs followed by the team will include a mix of training both outdoors as well as in the virtual environment of Zwift.
Mentoring will also be provided to team members by Specialized athlete Lucy Charles.
"Zwift is about turning goals into achievements. On a professional level I can vouch for this." commented Level 25 Zwifter, Lucy Charles. "Amateur athletes want to be inspired, so I'm delighted I can play my part by supporting Tim [Don] and the team members as they strive for a podium place at Kona."
Zwift will be covering associated expenses for the team throughout the season. A $1500 USD budget contribution will be provided towards a qualifying event of the athlete's choosing. Entry fees, flights and accommodation will be provided for the Kona Ironman World Championships in Hawaii.
For more information and to register for the Specialized Academy Tri Team, head to http://academy.zwift.com.