Storm The Castle celebrates a successful fourth year
Storm The Castle returned to Ludlow for a fourth consecutive year on Sunday 22 April with around 375 athletes taking part in another thrilling staging of the Duathlon.
The award-winning multisport event witnessed a healthy crowd of spectators lining the safe, closed road circuit and congregating inside Ludlow Castle, to cheer on the top competitors pushing for a strong finish.
Athletes gathered at Ludlow Rugby Club to register and begin the run-bike-run event. Participants completed a 10km run via Whitcliffe Common, the Breadwalk and round the castle walls before embarking on a challenging 33km cycle route that took riders out to Herefordshire and back into Shropshire to finish back at transition. The undulating course includes a 7km climb over Fiddlers Elbow and nearing the end of the ride you climb through Mortimer Forest before a fast, short descent off High Vinnals. The final leg was a 5km loop with variants to the first run, including two ascents up the 'Lactic Ladder', a near vertical set of steps, to enter Whitcliffe Common. Competitors finish the race by running into the majestic shadow of Ludlow Castle.
The event has earned a reputation as a quality and prestigious race. Race Director Matt Green commented: "This year's Storm The Castle was another great success. Competitors did well in overcoming an even more challenging bike and run course. We have added an additional trip up the "Lactic Ladder"!
"It's very rewarding for us to see the number of residents that come out not only to take part but cheer on the athletes."
Spectators saw a particularly exhilarating finish for last year's runner up Jack Schofield. Jack, already a podium finisher on the global multisport stage, finished in an incredible 1:59:41. The Asics Frontrunner & Cyclestore athlete from Congleton in Cheshire said: "It was definitely tougher than last year. A windy day on the bike meant that there was absolutely no respite, not that there's much anyway. Ludlow is a great place to race and I really enjoyed spending the weekend in the beautiful little town. I think my parents enjoyed the beer too!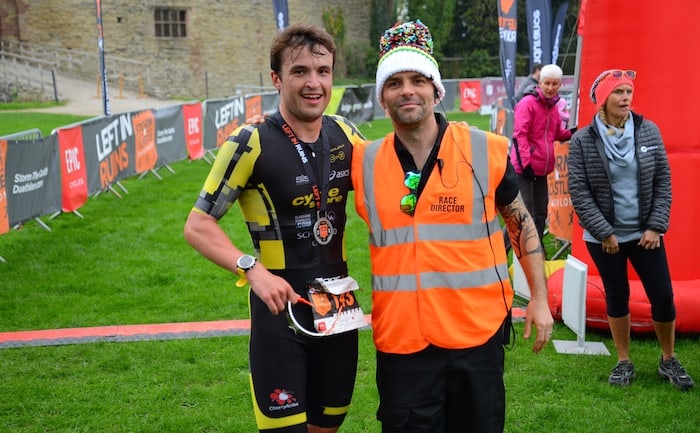 "I think I always get caught up in how well the event is organised and how great all the supporters, staff and volunteers are – I forget how much it hurts pretty quickly! It's the only duathlon I've ever done and I'll be back to give it another go."
Jo Sutton was the women's overall champion in a time of 2:21:33.
Jack Wilson, 34, and Ffion Gilbert, 19, were the fastest local athletes to finish, and will be awarded a prize by event partner Samuel Wood. They were two of 58 Teme Leisure Tri Club members who participated in the event.
Lee Hassan, Chairman of Teme Leisure Tri Club said: "After finishing my fourth consecutive Storm The Castle and proudly collecting my Baron status shirt I turned to view and take in the great atmosphere with the castle backdrop. The race seems to get tougher each year but the support from the crowd is loud and vocal and carries you on through the pain and leg cramps. It was equally amazing to see the course filled with the green and blue colours of Teme Leisure Tri Club. Feedback from my team mates was fantastic and everyone pulling on their shirt and wearing their medal has certainly earnt them! I feel very proud that two of our members were the fastest local athletes. All of our athletes had a fantastic race!"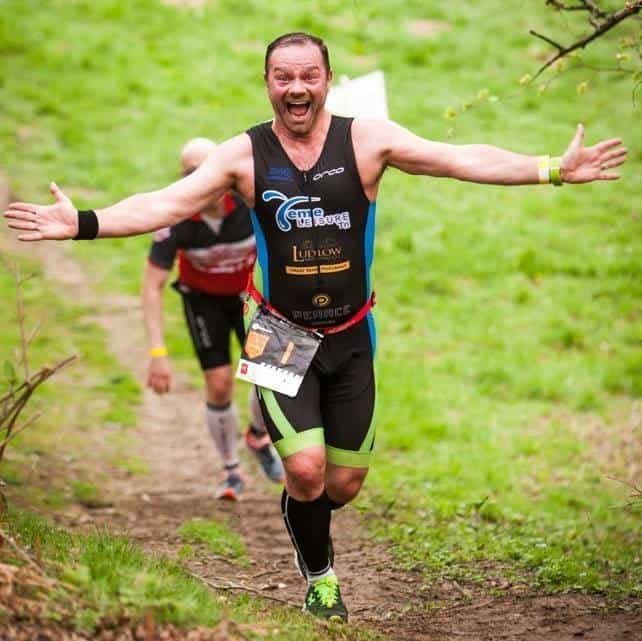 After finishing, the athletes had the opportunity to enjoy a well-deserved sports massage, provided by CGS Sports Therapy. All competitors were awarded a medal and quality t shirt while enjoying pastries provided by Swifts Bakers, a bottle of beer from Ludlow Brewery, and were kept hydrated with water from Radnor Hills.
Junior Storm The Castle (which consists of three races that are held late morning) again proved to be a hit, with 270 children taking part.
The Be Endurance race calendar includes Storm The Fort, "the UK's toughest Long-Course duathlon" takes place on Sunday, October 7th.
The Ludlow10, a 10k event, is a closed road race which will take place on July 14th, and is the third event under the Be Endurance brand.
The newest event to be launched by Be Endurance is Velo Salopia. Choose between the half pint (short course) or the full pint (longer course) on July 8th.