Following Saturday's racing over the Sprint distance, it was the turn of Age-Group racing over the Standard Distance (10km / 40km / 5km) on Sunday at the World Triathlon Duathlon Championships in Aviles, Northern Spain.
Unlike Saturday's draft-legal short distance event, it was back to the non-drafting format on Sunday.
While the format and distances changed, one thing remained statistically consistent: the GB Age-Group team exactly matched the 24 medal total gained on Saturday. Some 14 nations graced the awards podium this time around, and once again the Brits edged out the host nation Spain, who claimed 22 of the 70 medals awarded.
Fastest Age-Group athletes overall
Brits led the way in the men's race, with Alex Doherty (35-39) and Bruce Raeside (40-44) the two fastest athletes overall. Alex last won the World Champs three years ago in Fyn, Denmark, while that was a first World Championship win for Raeside, who has won European medals every year since 2017.
Fastest female Brit, second overall was Katherine Stringer (25-29). Unfortunately for her, second fastest overall was also second fastest in her F25-29 category, though that was still one step up from her bronze medal in Pontevedra, two years ago.
FEMALE
1st – Marieke Brouwers (NED) – 2:12:54
2nd – Katherine Stringer (GBR) – 2:13:25
3rd – Beatriz Tenreiro Alvarez (ESP) – 2:14:38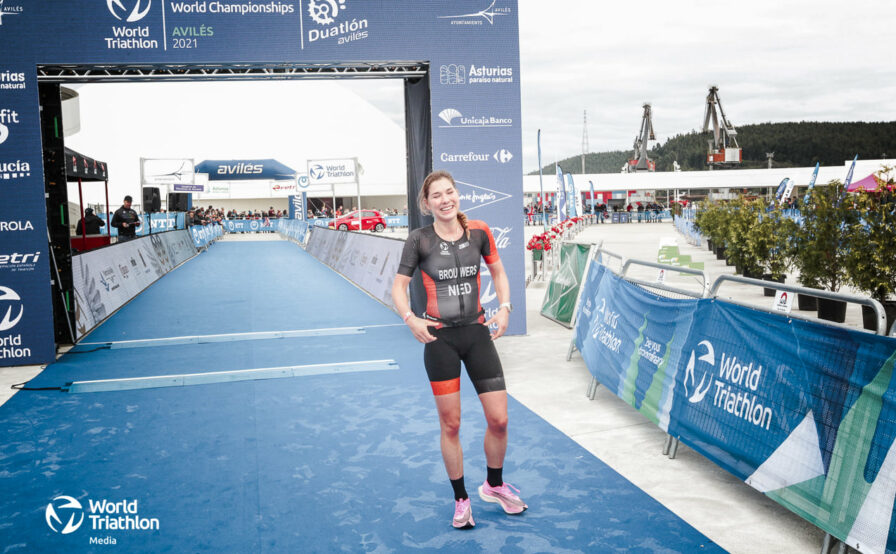 6th – Amy Ramsden-Young (GBR) – 2:17:18
7th – Nici Cahusac (GBR) – 2:17:36
MALE
1st – Alex Doherty (GBR) – 1:58:29
2nd – Bruce Raeside (GBR) – 1:59:39
3rd – Eloy Norniella Nieto (ESP) – 1:59:45
4th – Antonio Luis Alcaraz Vicente (ESP) – 1:59:47
5th – Djalil Baiou (GBR) – 1:59:54
World Triathlon Duathlon Championships Aviles, Spain – Sunday 7 November 2021
AGE-GROUP STANDARD: 10km / 40km / 5km – Non-Drafting
British Age-Group Medals (24)
GOLD (11)
Alex Doherty – 35-39 Male AG
Lindsy James – 40-44 Female AG
Bruce Raeside – 40-44 Male AG
Nici Cahusac – 45-49 Female AG
Lee Piercy – 45-49 Male AG
Karen Murphy – 50-54 Female AG
Paul Robson – 50-54 Male AG
Warren Mason – 55-59 Male AG
Nora Haggart – 65-69 Female AG
Roy Flanagan – 65-69 Male AG
Elspeth Knott – 70-74 Female AG
SILVER (7)
Katherine Stringer – 25-29 Female AG
Amy Ramsden-Young – 30-34 Female AG
Chris Nicoll – 50-54 Male AG
David Bagge – 55-59 Male AG
Jane Oughton – 60-64 Female AG
Yvonne Twelvetree – 70-74 Female AG
Chris Proud – 75-79 Male AG
BRONZE (6)
Jonathan Read – 30-34 Male AG
Chris Lewis – 35-39 Male AG
Djalil Baiou – 40-44 Male AG
Leahn Parry – 45-49 Male AG
Kirsty Shannon – 50-54 Female AG
Rosemary Todhunter – 60-64 Female AG