Daniel Jenkin and Rachel Wiseman lead home the Brits in Denmark
The ITU Duathlon World Championships Standard Distance Age-Group race kicked off the 2018 Fyn ITU Multisport World Championships in Denmark and as always, the British team travelled in numbers and earned a significant haul of medals. Some very familiar names towards the top of the results lists too.
All of the reports and news from Fyn:
In the men's race, British athletes finished with four of the six fastest times across all categories. Daniel Jenkin – who was part of the GB Elite team two years ago in Aviles, Spain, was the fastest athlete (winning M30-34), with Lee Piercy (1st, M45-49) in third, Alex Doherty (1st, 35-39) fifth and Simon Cole (2nd, 35-39).
The fastest British female athlete was Rachel Wiseman (1st, F35-39) in third overall, Gill Fullen (1st, F50-54) in fourth and Leah Walland (3rd, F35-39) in seventh overall.
Both Lee and Gill thus retain the titles that they won last year in Penticton – more than that, Gill takes her World Championship Duathlon record to six Gold and one Silver over the last seven years, while Lee has taken Gold in this event in five of the last six years now. That is seriously impressive consistency from two outstanding athletes.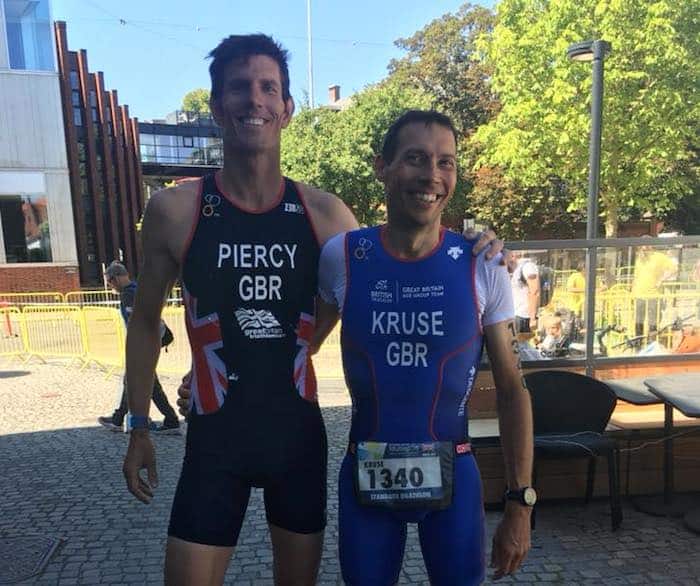 A great result for Rachel Wiseman too, having finished second in the F35-39 division in Penticton last year.
We are still awaiting official confirmation, but here are the provisional results from Fyn.
Fynske Bank ITU Multisport World Championship, Fyn, Denmark 
ITU Duathlon World Championships – Age-Group, Standard Distance
10km / 40km / 5km
British Age-Group Medals (27)
GOLD (9)
Hugh Harris – M20-24
Daniel Jenkin – M30-34
Alex Doherty – M35-39
Lee Piercy – M45-49
Christopher Owens – M65-69
Rachel Wiseman – F35-39
Gill Fullen – F50-54
Alison Crellin – F55-59
Liz Ball – F65-69
She does again @fullen_gill ITU AG World Champion @tri247 pic.twitter.com/CLltwxeQGt

— Perry Agass (@Tripezza) July 6, 2018
SILVER (9)
Riley Richardson – M20-24
Simon Cole – M35-39
Ian Cardy – M55-59
Paige McLeod – F18-19
Megan Powell – F20-24
Laura Oudney – F30-34
Jessica Kaye – F40-44
Alison Purnell – F55-59
Jane Holmes – F65-69
https://www.instagram.com/p/Bk4-ggClZxp/
BRONZE (9)
David Ardern – M55-59
Roy Flanagan – M60-64
Emily Burton – F18-19
Jess Williams – F25-29
Leah Walland – F35-39
Beth Wilmot – F40-44
Angela Joiner-Handy – F45-49
Jane Ritchie – F55-59
Elspeth Knott – F65-69