Denmark and Spain take the final Elite World Championship titles in Odense
The final day of competition at the Fynske Bank ITU Multisports World Championship Festival in Denmark featured the Elite and Age-Group ITU Long Distance Triathlon World Championships and Age-Group AquaBike World Champs.
All of the reports and news from Fyn:
Held over distances of 3km / 120km / 30km, the Elite Long Distance Championships would see new champions today in the absence of Penticton winners Lionel Sanders (CAN) and Sarah Crowley (AUS). With a strong home entry, hopes were high for a Danish winner – and Helle Frederiksen duly delivered, stepping up from her Silver medal from 2017. With the championships heading to Pontevedra next year, quite appropriate to see a Spanish athlete taking the title in Denmark, the in-form Pablo Dapena Gonzalez.
Elite Women
The opening swim saw four athletes break clear, Frederiksen, Annabel Luxford (AUS), Camilla Pedersen (DEN) and Barbara Riveros (CHI). They had a lead of three minutes over recent Challenge Herning winner, Pernilla Thalund (DEN) and almost four and half minutes on another Dane, Michelle Vesterby.
In the elite women's race @allimactri is first out of the 🏊‍♀️ & out on the bike.
Followed by @AnnabelLuxford@helle_f
@ITUmultisport#Fyn2018 #HighFiveFyn
Tune in ->
🎥 https://t.co/ADtQF8BhzU#sporteventDK pic.twitter.com/IilZPqBNqz

— TriathlonLIVE (@triathlonlive) July 14, 2018
More than three hours of biking changed almost nothing; the same leading four reaching T2 in close order, with Luxford, Pedersen and Frederiksen having been unable to drop the potentially speedy legs of the Chliean, Riveros. Vesterby, Thalund and Maja Stage Nielsen (DEN) were seven minutes back starting the run, surely making a podium finish a tough ask.
Frederiksen and Luxford were the quickest through T2, and within the first kilometre has set her stall out and taken the lead.
Flying @ITUmultisport #Fyn2018 – @helle_f leading the elite women out on the 4-lap run course through Odense 🇩🇰.
Followed closely @AnnabelLuxford@allimactri @bcriveros
🎥 https://t.co/ADtQF8BhzU #sporteventDK pic.twitter.com/b4LIT9vAFm

— TriathlonLIVE (@triathlonlive) July 14, 2018
A huge focus for months, Frederiksen's only goal today was Gold and she wasn't going to play a defensive game to earn it. By 12km, Frederiksen was 1:23 clear, with Riveros now just seven seconds ahead of Luxford in the battle for second and third. While still in fourth, Pedersen was losing time and now 3:10 back.
Riveros maintained that gap for the next 10km, but Helle was not going to fade and added a few more seconds margin over the closing 5km to come home with a winning margin on almost two minutes over Riveros. Luxford completed the podium a further four and a half minutes later.
Elite Men
As he has done many time before, Estonia's Marko Albert was first out of the 3km swim, but with Pablo Dapena Gonzalez (ESP) on his shoulder and Ruedi Wild (SUI) among those within 30 seconds at T1, the swim was not going to be a deciding factor.
The flat, fast 120km bike course would eventually see six athletes separate themselves at the front of the race. Wild gained a 30 second buffer at T2, but had Dapena, Albert, Giulio Molinari (ITA), Kevin Maurel (FRA) and Mathias Lyngsø Petersen (DEN) all set to make it a "three from six" for the medals.
Elite men on the hunt to close the gap on current leader @ruediwild
↪️🇩🇰
@ITUmultisport #Fyn2018#HighFiveFyn✋#sporteventDK
🎥 https://t.co/ADtQF8BhzU pic.twitter.com/Cur0gBjNSD

— TriathlonLIVE (@triathlonlive) July 14, 2018
Dapena Gonzalez has been in great form this year, focussing on the Challnge Family races where he was the winner in Gran Canaria and Lisbon. He caught Wild within the first 5km, and then at around the 10km mark put in a real surge to pull away. Looking absolutely fantastic for the whole run (with a fastest split of 1:47:39), he came home a clear winner.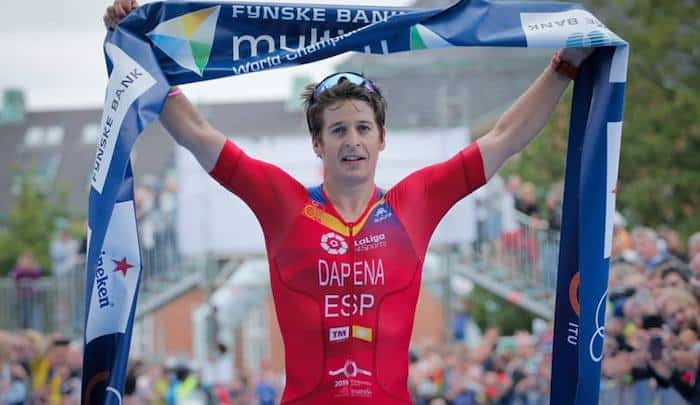 Ruedi Wild held strong for the Silver medal, with Marko Albert finishing strongly to make sure he completed the podium. Six Elite medals represented by six different countries and three continents.
Fynske Bank ITU Multisports World Championship Festival – Saturday 14th July 2018
ITU Long Distance Triathlon World Championships, 3km / 121.5km / 30.7km
ELITE MEN
1st – Pablo Dapena Gonzalez (ESP) – 5:19:30
2nd – Ruedi Wild (SUI) – 5:22:13
3rd – Marko Albert (EST) – 5:22:27
4th – Kevin Maurel (FRA) – 5:25:24
5th – Giulio Molinari (ITA) – 5:26:10
Congratulations @pablitopiny
@ITUmultisport #Fyn2018 long distance World Champion!
//#sporteventDK#HighFiveFyn✋
🎥 https://t.co/ADtQF8SSYu pic.twitter.com/7Rbq8ixGVC

— TriathlonLIVE (@triathlonlive) July 14, 2018
ELITE WOMEN
1st – Helle Frederiksen (DEN) – 5:49:04
2nd – Barbara Riveros (CHI) – 5:51:22
3rd – Annabel Luxford (AUS) – 5:55:47
4th – Camilla Pedersen (DEN) – 5:59:21
5th – Maja Stage-Nielsen (DEN) – 6:08:29
The home crowd is celebrating!
Congratulations @helle_f
@ITUmultisport #Fyn2018 long distance World Champion 🇩🇰!!!
//#sporteventDK#HighFiveFyn✋
🎥 https://t.co/ADtQF8BhzU pic.twitter.com/OedsEQJkok

— TriathlonLIVE (@triathlonlive) July 14, 2018