Lionel Sanders recovers from puncture to win Long Distance World's in Penticton
Sarah Crowley adds World title to her brilliant 2017 season
[VIDEO HIGHLIGHTS INCLUDED BELOW]
After making a decision to skip the IRONMAN 70.3 World Championships in Chattanooga to focus on Kona, Canada's Lionel Sanders switched his attentions to a the ITU Long Distance Triathlon World Championships on home soil in Penticton on Sunday. A puncture had looked set to derail his efforts – but the talented Canadian battled back and after the "hardest I have ever ran", managed to take his first World Championship victory.
For Australia'a Sarah Crowley, after winning the IRONMAN European Championships (Frankfurt) and the IRONMAN Asia Pacific Championships (Cairns), another Gold in Canada marks her out once again as a serious player at the very top of the sport.
Men's Highlights
Australia's Josh Amberger lead out of the 3km swim with just Pablo Dapena Gonzalez (ESP) for company. Andy Potts (USA) was surprising a minute and a half back, alongside Great Britain's Mark Buckingham and Ben Collins (USA). Sanders was 4:11 back from Amberger out of the water, but given that was within 90 seconds of the French pairing of Sylvain Sudrie and Cyril Viennot, his progression in the water is ticking along nicely.
Once on two wheels, Amberger continued in the style he had set in the water, and looking very aero would set a race-best bike split of 2:48:57, with Sudrie (FRA) the next fastest at 2:50:35. Amberger started the run with a 3:20 buffer over the Frenchman, and after having to fix a flat on the bike course, Sanders would start the 30km with a 6:16 deficit to make up on the Aussie. Drew Scott (USA) and Joe Gambles (AUS) also started within a minute of the pre-race favourite, Sanders.
Sanders was able to close around two minutes on each of the first two 10km laps, and his efforts would eventually prove successful as he passed Amberger on the final loop to take the Gold from the long-time leader. It would be Aussie Silver and Bronze for the men, as Joe Gambles ran through to complete the podium.
Speaking to ITU Media after the race, Sanders said: "That has got to be the hardest I have ever ran. Unfortunately I got a flat on the bike, the technical descent scared the crap out of me. I think it was a testament of two things: always carry a spare and second, it is not over until it is over." Lionel said. "I like adversity. I don't ask for it but it always seems to come for me. So I thought, wouldn't it be cool to win this thing, with a flat tire and that became my motivation, so you can do a lot of things when you are highly motivated."
Women's Highlights
The opening 3km swim saw five athletes head into T2, separated by just 10 seconds: Jennifer Spieldenner (USA), Helle Frederiksen (DEN), Leanda Cave (GBR), Camilla Pedersen (DEN) and Rachel McBride (CAN). Crowley and Heather Wurtele (CAN) – who would go on to take second – were locked together in the swim at this early stage, almost three and a half minutes back.
Frederiksen would set the pace on the bike from that lead group, and over the 120km she built herself a lead of two and a half minutes, heading out on to the 30km run course. Crowley and Wurtele were once again in close order, and having reduced their deficit by a minute and a half over the cycle, started the run together, with Pedersen and Cave in close order. Could they catch the Dane, who was racing in her first event longer than the 70.3 distance?
Crowley has been running superbly this year – catching Lucy Charles in Frankfurt – and was the only female athlete to break the two hour mark for the 30km (1:55:37), to take the win by three and a half minutes, while Wurtele came up just short of being able to reel in the Dane, after running exactly two hours versus the 2:01:53 of Helle.
"It is pretty unreal. I didn't go into today expecting that at all, everything just went to plan other than falling over at the start of the swim. But I did have a good day though, I worked pretty hard after that, but yeah I had a good day and I am really happy," Crowley said of her victory.
Leanda Cave was also very happy with her fifth place finish; "I'd totally recommend this place to anyone who needs a race-cation."
ITU Long Distance Triathlon World Championships – Sunday 27th August 2017
3km / 120km / 30km – ELITE
MEN
1st – Lionel Sanders (CAN) – 5:20:36
2nd – Josh Amberger (AUS) – 5:22:09
3rd – Joe Gambles (AUS) – 5:26:23
4th – Andy Potts (USA) – 5:27:25
5th – Sylvain Sudrie (FRA) – 5:29:49
9th – Mark Buckingham (GBR) – 5:38:48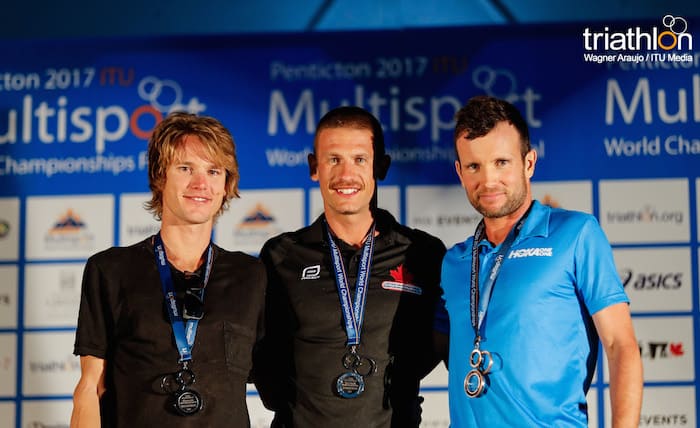 WOMEN
1st – Sarah Crowley (AUS) – 5:51:23
2nd – Helle Frederiksen (DEN) – 5:55:04
3rd – Heather Wurtele (CAN) – 5:55:51
4th – Kaisa Sali (FIN) – 6:01:16
5th – Leanda Cave (GBR) – 6:04:44