Mark Buckingham and Georgina Schwiening earn Senior Elite Bronze medals
Matthew Willis cruises to World Junior Elite Championship Gold in Denmark
After picking up 27 medals in the Age-Group Standard Distance races this morning, the British Elite team continued an excellent day at the ITU Duathlon World Championships on day one of the Fyn ITU Multisport World Championship Festival in Denmark, collecting three medals in the Elite races – Gold and two Bronze.
All of the reports and news from Fyn:
Elite Men
The opening 10km run saw a group of eight athletes break clear. This included three of the British athletes – Adam Bowden, Mark Buckingham and Morgan Davies – along with Benjamin Choquert (FRA), Andreas Schilling (DEN), Dely Arnaud (BEL), Yohann Le Berre (FRA) and Laszlo Tarnai (HUN). They had gained a 20 second lead over their chasers, which included the fourth British Elite male entry, Philip Wylie (GBR).
By the midpoint of the 40km ride, eight had become three, as Schilling, Le Berre and Buckingham were more than 40 seconds clear and seemingly pulling away from Bowden, Davies, Arnaud and Tarnai  – with early run leader Choquert now back with the second chase group, a full two minutes later.
@tri247 @BritTri live from the bike course in #fyn18 @TriBucko is away in a group of 3. 30 secs over the chase group contain @Adamspeedytri and @MorgJDavies . @Inspir_EdPhil is 1 min further back pic.twitter.com/oKaDPdlEi0

— Danny Russell (@dannykrussell) July 6, 2018
This trend continued over the next 20km, as the leading trio reacched T2 with a lead of 1:05 over Bowden, Davies, Arnaud and Tarnai. Local athlete Schilling hit the run course first, with Buckingham seven seconds later starting the final 5km.
Le Berre and Schilling quickly dropped Buckingham, who was attempting to add to previous Bronze medals in both 2015 and 2017. 2.5km into the run and Le Berre (5th / 9th / 4th over the last three years), kicked hard and pulled away from the Rio 2016 Olympian. Was he going to spoil the home town party? Schilling remained calm and gradually worked his way back to the shoulder of the Frenchman and with just 2km remaining, they were locked together. Behind, Bowden was rapidly closing in on Buckingham. Two sprint finishes to decide the medals was looking quite a realistic prospect.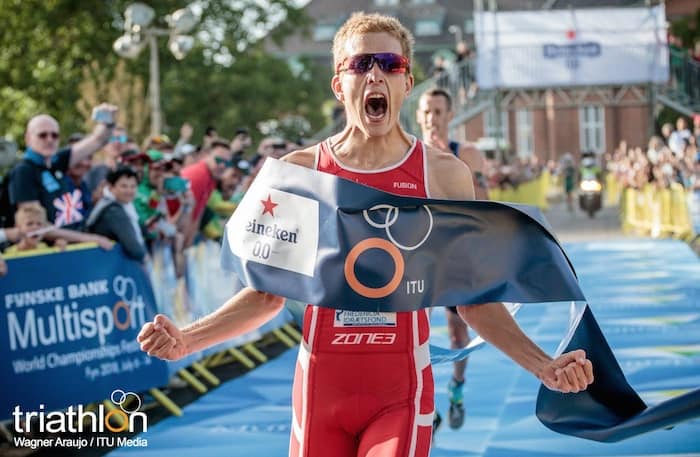 The Gold did indeed come down to a sprint, and Schilling used his home town support to inspire him and was able to get to the line first for a narrow but ecstatic victory. Less than a minute later, Mark Buckingham held off the charge of Adam Bowden by just four seconds, to earn his third World Duathlon Championship Bronze medal.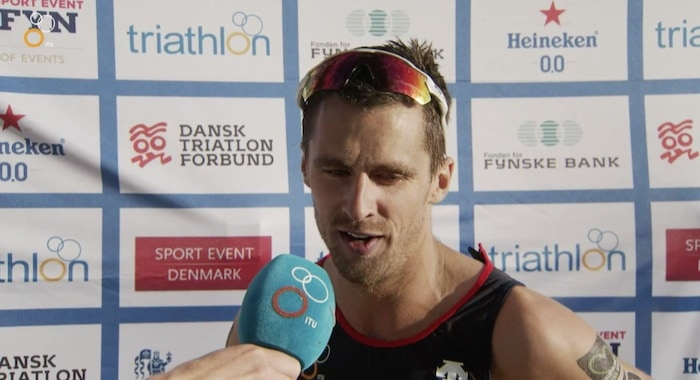 *** NOTE: Adam Bowden (initially fourth) and Morgan Davies (initially seventh), were disqualified post-race, for not serving on-course a penalty incurred, neither having spotted their number on the board at the penalty box.)
Elite Women
Sixth last year (when she also collected the Silver medal in the U23 division), Great Britain's Georgina Schwiening headed a small group of four into T1, joined by Sandra Iles (AUT), Felicity Sheedy-Ryan (AUS), and AI Ueda (JPN). 2014 World Champion, Sandra Levenez (FRA) was 20 seconds down at T2, but she worked hard over the first 10km on the bike to make it a leading group of five.
That group would stay away for the full 40km, and at T2 they were still together with a lead of one minute over the chasing pack. The medals would surely be decided by from this group of five.
Schwiening was fifth in to transition but first on to the run course – interestingly, she had raced the bike in running shoes and what appeared to be regular toe-clips, meaning no shoe changes during the race. Would that be key?
Halfway through the run and Illes had moved into the lead. Fifth in both 2016 (Aviles) and 2017 (Penticton), she would hold strong to add the ITU World title to the ETU Powerman European Middle Distance Championship she won earlier this season. Ueda took Silver and Schwiening added her first Senior medal to previous podium finishes in the Junior and Under-23 categories.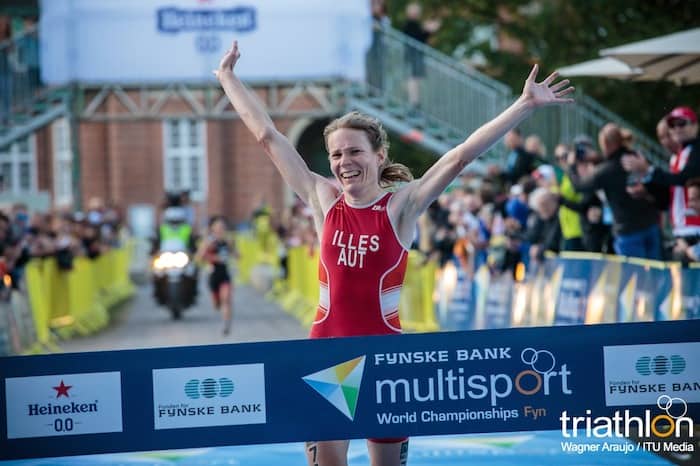 Elite Juniors
After Ben Dijkstra (Adelaide, 2015), Alex Yee (Aviles, 2016) and Cameron Richardson (Penticton, 2017), Matthew Willis made it a fourth consecutive Junior Male World Championship for Great Britain athletes.
Leading after the first run, he was in a group of three athletes at T2 before destroying everyone on the second run for a comfortable 30 second winning margin. Willis had arrived in Denmark in great form, fresh from winning the ETU Triathlon Junior European Junior Cup in Holten, a race in which he also dominated on the run, almost a minute faster than everyone over the final 5km.
Great race by @mwillisrun to take the @ITUmultisport Junior title! Good man! @BritTri @LoughboroughTri @tri247 pic.twitter.com/6oRD0HKpw8

— 𝗖𝗼𝗮𝗰𝗵 𝗗𝗮𝘃𝗲 𝗡𝗲𝘄𝗽𝗼𝗿𝘁 (@coachnewport) July 6, 2018
Fyn ITU Duathlon Junior World Championship – Friday 6th July 2018
10km / 40km / 5km
ELITE MEN
1st – Andreas Schilling (DEN) – 1:35:56
2nd – Yohann Le Berre (FRA) – 1:35:57
3rd – Mark Buckingham (GBR) – 1:36:47
4th  – Adam Bowden (GBR) – 1:36:51 – disqualified
7th – Morgan Davies (GBR) – 1:39:00 – disqualified
10th – Philip Wylie (GBR) – 1:40:06 – moves up to eighth after the Bowden / Davies disqualifications
Awesome race by the guys today! @TriBucko held on for ANOTHER 🥉 for his collection!@Adamspeedytri 4th, @MorgJDavies 7th, @Inspir_EdPhil 10th. Top work guys💪🏼😎

— 𝗖𝗼𝗮𝗰𝗵 𝗗𝗮𝘃𝗲 𝗡𝗲𝘄𝗽𝗼𝗿𝘁 (@coachnewport) July 6, 2018
UNDER-23 MEN
1st – Delly Arnaud (BEL) – 1:37:59
2nd – Krzysztof Hadas (POL) – 1:40:35
3rd – Wesley Mols (NED) – 1:41:14
ELITE WOMEN
1st – Sandrina Illes (AUT) – 1:49:29
2nd – Ai Ueda (JPN) – 1:49:38
3rd – Georgina Schwiening (GBR) – 1:49:47
3rd in the world! 😁 First senior elite international medal! Very very happy. I wasn't expecting to be on the podium! I did eventually get the cork off the champagne… Congrats to @SFTriathlon teammates and @TriBucko @mwillisrun 💪 Thanks for all the cheers on the course! pic.twitter.com/ewAnB8De5z

— George Schwiening (@GSchwiening) July 7, 2018
DNF – Laura Smith (GBR)
https://www.instagram.com/p/Bk6bL-4jyac/
UNDER-23 WOMEN
1st – Lucie Picard (FRA) – 1:54:25
2nd – Sophie Van Der Most (NED) – 1:54:43
3rd – Hikari Tamura (JPN) – 1:55:10
Fyn ITU Duathlon Junior World Championship – Friday 6th July 2018
5km / 20km / 2.5km
JUNIOR MEN
1st – Matthew Willis (GBR) – 56:30
2nd – Thor Bendix Madsen (DEN) – 57:00
3rd – Joey Van 'T Verlaat (NED) – 57:11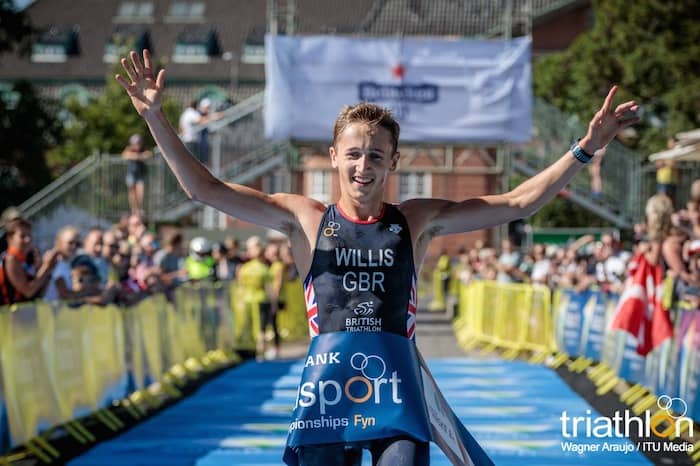 JUNIOR WOMEN
1st – Costanza Arpinelli (ITA) – 1:03:24
2nd – Shirin Van Anrooij (NED) – 1:03:26
3rd – Leana Bissig (SUI) – 1:04:03
Congratulations to the 2018 #Fyn2018 Junior World Duathlon Champions!
🥇 Willis @BritTri
🥇 Arpinelli 🇮🇹
@ITUmultisport | #sporteventdk #HighFiveFyn✋ pic.twitter.com/TLlqUSS2yb

— TriathlonLIVE (@triathlonlive) July 6, 2018