One race, one win, one world title – that's a pretty good start to the international career of Ben Cumberland after the 2021 World Triathlon Duathlon Championships.
The final race of the weekend's proceedings in Aviles, Spain, on Sunday was for the Junior men racing over the sprint distance. Here is the detail on how Ben brought home a gold medal.
Following in some distinguished footsteps
Five years on from Alex Yee winning the same title at the some venue, a pretty comfortable 12-second winning margin was achieved by Ben dominating the final run – almost Yee-esque, you might say. If Cumberland can achieve even a fraction of what Yee has done in the five years since his own victory, we look forward to seeing the name making regular appearances on these pages.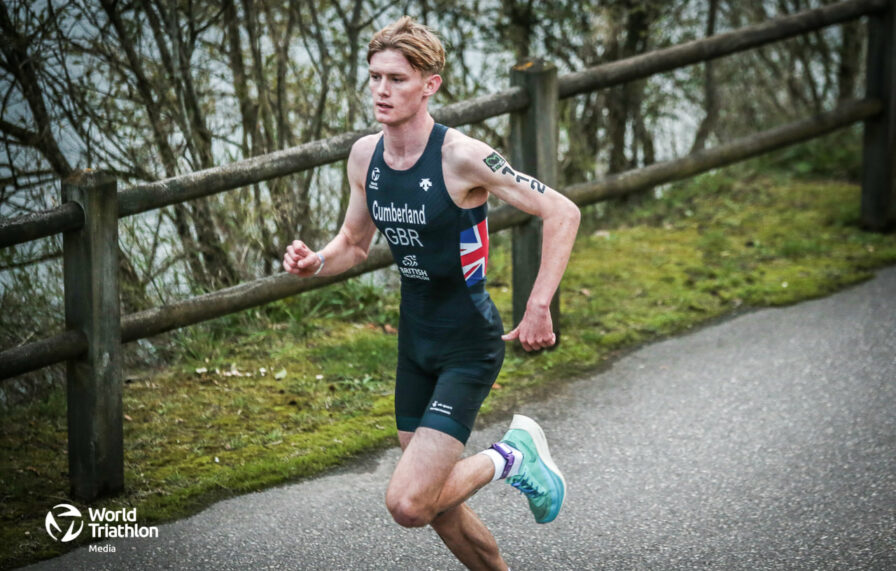 That of course follows hot on the heels of the World Junior Triathlon Championship bronze medal of Dominic Coy in Portugal.
Results from Abu Dhabi on Friday had highlighted, yet again, the strength-in-depth of Great Britain's Elite women currently. There is seemingly plenty of talent, male and female, in the 'system' right now.
The Elite Women's championship title went to Joscelyn Daniely Brea Abreu. In what would have been a 'home' win 12 months previously, she was racing under the World Triathlon (TRI) banner as she is currently in the process of switching representation from Spain to Venezuela. She held off Japanese veteran Ai Ueda, who earned her third Duathlon World Championship silver medal.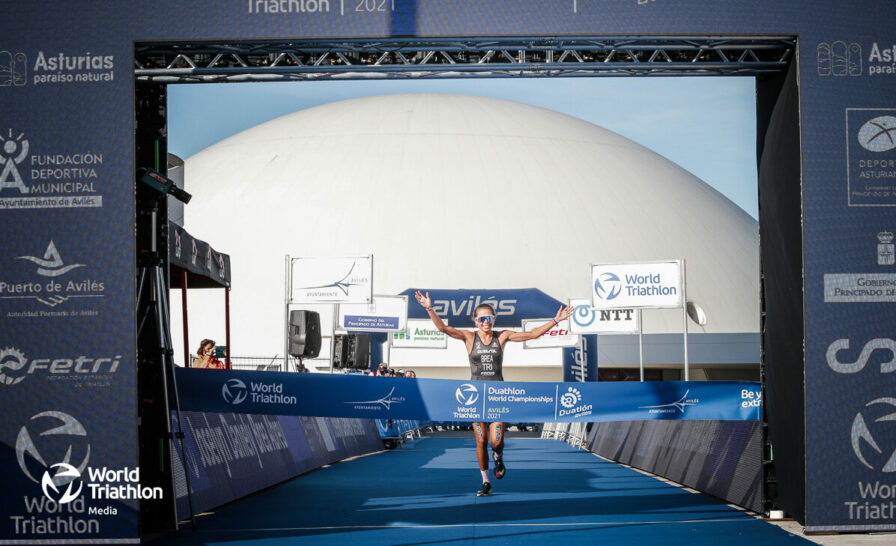 There was a French one-two in the Elite Men's race, courtesy of Nathan Guerbeur and Maxime Hueber-Moosbrugger.
"The goal was to keep the medal for France. It's crazy for me to win today, my first World Championships. The first part of the run was a little bit slow and the bike, first was strong but in the second part, I tried to push hard and in the last lap, I succeeded. We did the breakaway and I just ran as hard as I can in the last run. I finished first so I am happy," Guerbeur said.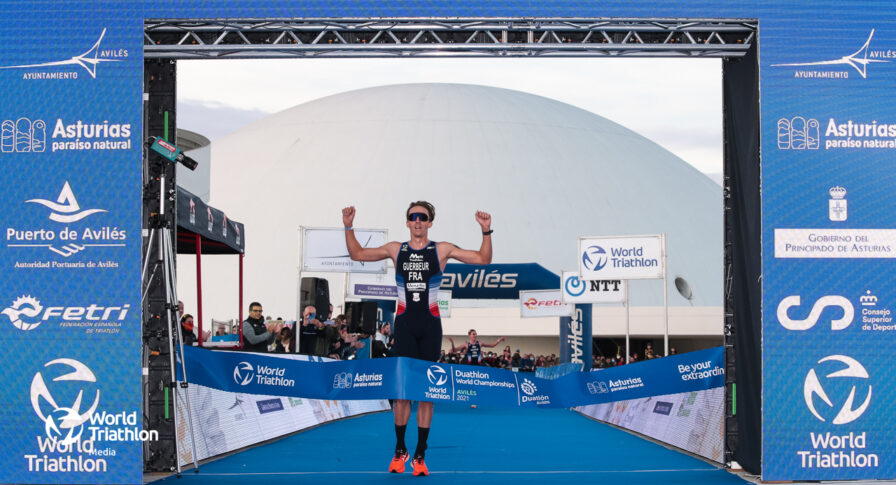 "I am very happy to make the double with Nathan. We train together and we keep the medals for the French team after Benjamin Choquert, who wasn't here today. We keep the gold and silver medal to take home and we are very happy to do this for the French team," said Hueber-Moosbrugger.
World Triathlon Duathlon Championships 2021 Results
November 6-7, 2021 – Aviles, Spain
10km / 40km / 5km – Senior and U23 | 5km / 20km / 2.5km – Junior and Para
ELITE WOMEN
1. Joscelyn Daniely Brea Abreu (TRI) – 2:00:19
2. Ai Ueda (JPN) – 2:00:30
3. Marion Legrand (GBR) – 2:00:41
10. Olivia Mitchell (GBR) – 2:02:20
13. Rachel Brown (GBR) – 2:03:05
DNF. Claudia Kelsall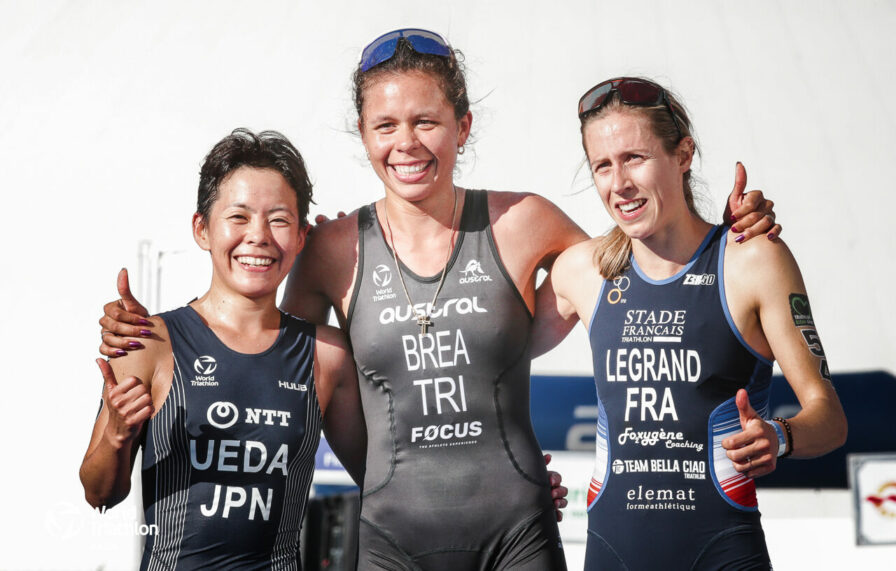 ELITE MEN
1. Nathan Guerbeur (FRA) – 1:45:28
2. Maxime Hueber-Moosbrugger (FRA) – 1:45:34
3. Arnaud Dely (BEL) – 1:45:53
7. Liam Lloyd (GBR) – 1:47:36
17. Philip Wylie (GBR) – 1:48:44
20. Ben Price (GBR) – 1:49:35
28. Christopher Perham (GBR) – 1:51:04
33. Sam Hart (GBR) – 1:52:27
38. Reece Ashfield (GBR) – 1:55:09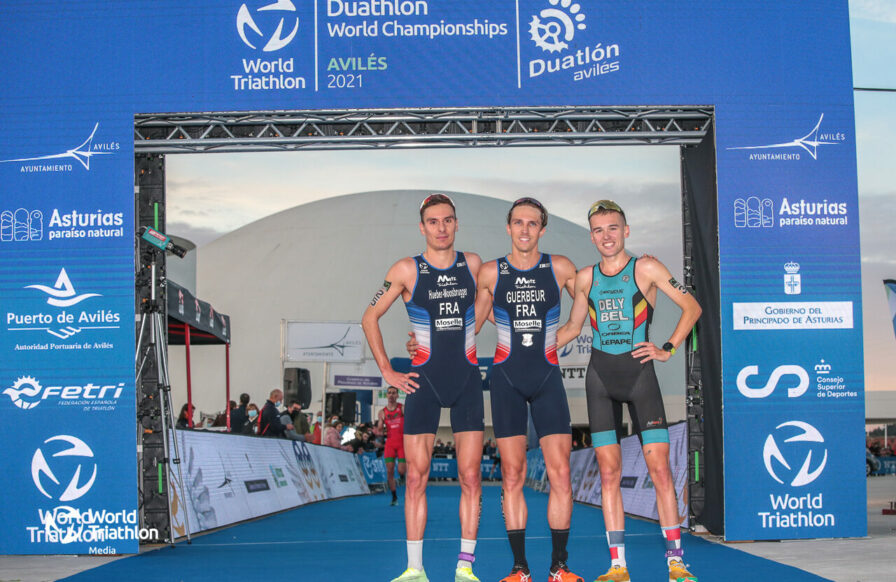 U23 Women
1. Luisa Baca Vargas (MEX) – 2:01:38
2. Laura Swannet (BEL) – 2:06:01
3. Marina Munoz Hernando (ESP) – 2:07:36
U23 Men
1. Stef Corthouts (BEL) – 1:48:01
2. Joan Wager Pons (ESP) – 1:48:21
3. Victor Emmanueal Zambrano Gonzalez (MEX) – 1:48:24
11. Sam Hart (GBR) – 1:52:27
16. Reece Ashfield (GBR) – 1:55:09
Junior Women
1. Monika Bartol (SLO) – 58:33
2. Maja Wasik (POL) – 59:23
3. Eleonora Demarchi (ITA) – 59:59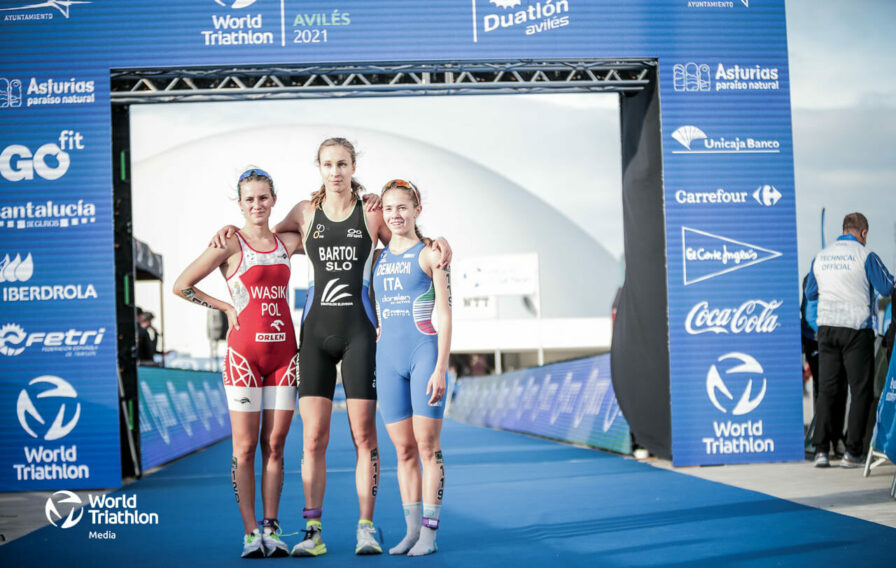 Junior Men
1. Ben Cumberland (GBR) – 50:23
2. Wout Ghielens (BEL) – 50:35
3. Simon Martin (BEL) – 50:42
10. Henry James (GBR) – 51:11
13. Skip Snelson (GBR) – 51:49
20. Liam Openshaw (GBR) – 53:57