The USA's Ali Brauer describes herself as "as bit of a maths nerd" – and yet now finds herself seeking success in the world of professional triathlon. That's quite a change in direction, having started a PhD in Applied Mathematics.
2021 was her first Pro year in the longer distance ranks, one in which she earned podium finishes at both IRONMAN 70.3 Memphis and IRONMAN 70.3 Indian Wells. Solid results, but there is good reason to think that her best is yet to come – and that's why I sat down on a long Zoom call with Brauer to find out more.
How did the Oregon native, who never grew up wanting to be a professional athlete, find her way into the world of swim-bike-run?
That's the question we'll address in this first of a three-part interview series.
Academics the focus
While Brauer has always been competitive in several sports, science was always the primary focus. You sense that she was set to be a high achiever, whichever route she took:
"I grew up in Oregon in the Pacific North West, and the way of life meant that I did a multitude of sports – swimming, track and cross country included – but also basketball, rock climbing and cross country skiing.
"When I had to choose, it was swimming, track and cross country that stuck all through high school. Then I went to college at Lewis & Clark which is a Division III school in Portland, Oregon. One of the reasons I chose that was so that I could do all three sports alongside strong academics, which was always my first priority.
"My career goals growing up were always academic – I didn't grow up wanting to be a professional athlete – but I was the only three-sport athlete in the school. It's not a super typical thing as it's pretty hard to juggle that alongside a double major in math and physics, but I'm glad I did it. It set me up to continue with the multisport lifestyle."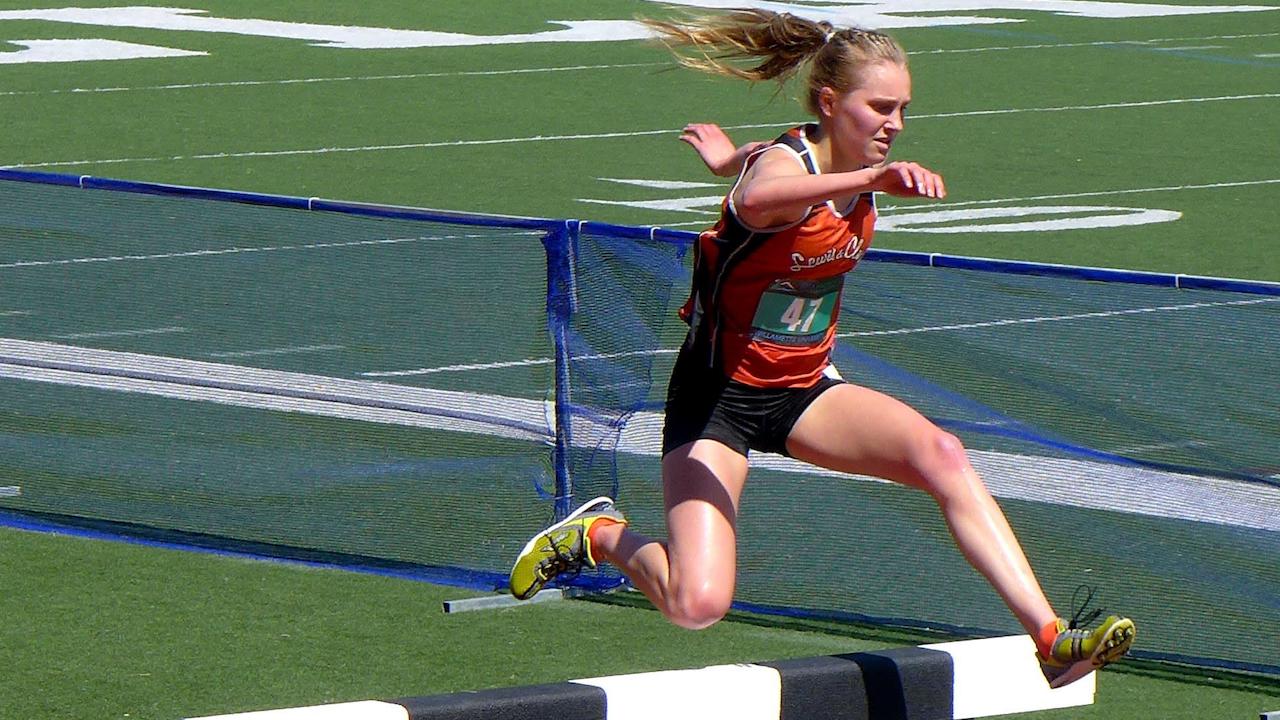 You do the Math
While sport had always been there alongside her educational priorities, her Masters degree saw that slide due to other pressures, as she explained:
"I did grad school at the University of Washington in Seattle. That was a nine-month program in Applied Mathematics – it was super intensive. I'd had some running injuries in college and thought that my body needed a break, so the year I did my Masters I really didn't train at all. That was the longest break I'd had from organised sport in my entire life.
"After that nine months at the University of Washington, I moved to Boulder, Colorado to start my PhD in Applied Mathematics. By that point I wasn't feeling good either mentally or physically, I'd lost the balance that I'd always had between athletics and academics. I felt ready to get back into competitive sport."
The appliance of science
I asked Ali about the potential direction her career could have taken, given the nature of the studies she was undertaking. You can do a lot of things with mathematics…
"I developed an interest in mathematical modelling. Applying math to practical, real world problems that arise in biology, physiology, economics, ecology… there's so much you can do with it. I always wanted to do something that had real world applications. There's a lot of computer programming and coding too, to solve very complicated systems of equations.
"I worked on modelling predator-prey interactions; that would have been an ecological application. I did an internship where I did modelling of the foetal cardio-vascular system. I had a class in Grad school where we modelled cancerous tumour growth… a lot applications I was interested in were more on the biology and physiology front.
"I think that just tied in with my interest in the human body and being an athlete. If I'd continued with that, I would have loved to apply that to athletics in some way – mathematical models of running – that's an avenue I could have taken, but I left my PhD to pursue professional triathlon."
Finding triathlon
While Boulder is well-known as a hotbed of triathlon in the States, it wasn't triathlon specifically that lead her to Colorado. She was in the right place to start a new sport however – and her progress was rapid.
"When I moved to Boulder I was very ready to get back into competitive sport. I knew they had a really good club triathlon team, so I saw their banners in the recreation centre when I was swimming one day and thought that sounded like a really cool team to be a part of. Initially I was a little bit nervous how I would fit it all in, but I spoke to another grad student on the team and he kind of encouraged me that it would be a good experience and a good team to join.
"I ended up taking the plunge and after several months I ended up qualifying for my Elite licence in my second race at the USAT Collegiate Club Nationals. That was totally unexpected. I looked at times when I first entered the sport – being a numbers person – and thought that maybe I could earn my Elite licence in a few years, but definitely not after two races."
A different path
While things were progressing well in her new sporting passion, life was taking a significant turn for the worse in her academic world – and a tough decision had to be made.
"After that, triathlon was becoming more of a passion and I was struggling to find my niche in my PhD program. I actually switched advisors when I moved from Applied Mathematics to the Mechanical Engineering department. I got into what initially I thought was a really great research group, but I found myself in a situation where I felt I was being over-worked.
"I was basically expected to run an entire graduate level class alongside doing my own studies and doing research – it was just way too much. My mental health was really being impacted. It's all too common in academia. At one point I felt that I had to make the decision that would benefit my mental health. I now had triathlon in my back pocket and I wanted to take that to the next level and in December 2017 I decided to leave the PhD program.
"At that point I was looking for teams to join and and that's when I stumbled across my current coach, James Peterson. That was what got me into the professional triathlon world."
And that is where we will pick up the story in part two.
Ali Brauer TRI247 interview:
Part 1: From 'maths nerd' to Pro triathlon