Both Jason West and Ellie Salthouse were racing for a third consecutive weekend on Saturday, but that didn't stop them taking victories at the inaugural IRONMAN 70.3 Memphis.
While West ran clear for his success, Salthouse had to hold off the fast feet of Jackie Hering to win for the eighth time in 2021.
PRO Men – West runs to victory
With Australia's Sam Appleton absent from those we previewed ahead of the race, who would be setting the pace through the opening 1.9km swim at Shelby Farms Park?
That task was taken on by Marc Dubrick (USA), who took second place (also with the fastest swim), earlier this season at IRONMAN 70.3 Maine. That was his attempt at the distance. Out of the water in 24:24, he was a full minute quicker than a large chasing group of 10. Further back – 3:17 to be precise – was Great Britain's George Goodwin, who was hoping to get back on track after his disappointing race at the IRONMAN 70.3 World Championship.
There was plenty of rain on the bike course to perhaps make George feel at home, but up front nobody was able to gain a significant gap over the rolling, but not too challenging terrain. Early leader Dubrick was caught (but remained part of that lead group), and late in the ride there was still a loose pack of nine together.
Just six days after finishing third at IRONMAN Chattanooga, Ben Hoffman managed to get a very small gap (26 seconds) over the final few kilometres on Bradley Weiss (RSA). 2016 IRONMAN 70.3 World Champion, Tim Reed led the chasers just a minute back on Hoffman, with Goodwin reaching T2 in 10th, but still 3:20 back. Could he run his way back to the podium?
Hoffman's late attack was perhaps in the expectation that his running legs would be impacted by his efforts six days ago. That was, perhaps not surprisingly, the case and he was quickly caught as Jason West (USA) and early swim leader Dubrick, took over at the front. Hoffman would slide down the field, eventually finishing eighth.
Any hopes of a Goodwin run for the podium seemed to be over early, as 5km into the run he was now 5:21 back and moving at the same pace as Hoffman. A top eight-finish and at least a pay cheque were going to be a challenge, podium chances now long gone.
West was the winner this year of IRONMAN 70.3 Des Moines and arrived in Memphis off the back of second place last weekend at 70.3 Augusta. He gradually pulled away from the field and was a minute up at the halfway point of the run, with Dubrick and Weiss battling for second, now well clear of fourth.
There was no change over the second half of the run, as West produed a 1:09:17 split for a 1:35 winning margin over the two-time XTERRA World Champion Weiss. Dubrick held strong to make it two 70.3 Pro podiums from two starts.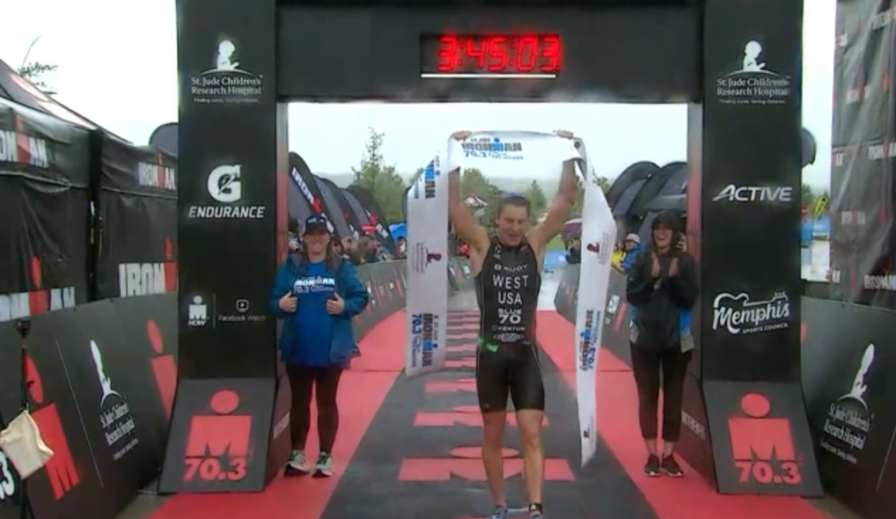 PRO Women – Salthouse leads the way, all day
Another gun-to-tape win for Australia's Ellie Salthouse, who started the day as our joint-favourite alongside Jackie Hering but was never truly challenged.
Just eight Pro women started – and that was down to seven by the end of the swim as somehow Dede Griesbauer managed to go off course. I wonder if they will remind her of that during her next IRONMAN live broadcast?!
Back to the race, and Salthouse did have some swim company from Ali Brauer (USA), the duo reaching dry land a minute ahead of Hering and almost three minutes up on fourth-placed Laura Matthews (USA).
90km of cycling and plenty of rain later, Salthouse had built a significant lead of 4:43 over Hering and Brauer, who would start the run just seconds apart. Jackie Hering is one of the fastest runners on the circuit, but Salthouse is hardly slow – so she would need some fireworks over the following 21km if she was going to put a dent into the winning sequence which has been Ellie's 2021 season.
Hering swiftly dispatched Brauer to make second place hers alone, Hering set off in pursuit of the Aussie. Exactly as expected, this was going to be Ellie vs Jackie for all the marbles.
Hering looked typically fantastic on the run, Hering had cut the deficit to just two minutes as they reached the 10-mile marker. As fast as she was running however, it looked like she was going to run out of road.
That would prove to be the case, as Salthouse ran 1:21:48 with Hering quicker at 1:18:20. The end was result a winning margin of 1:09.
After three races in three weekends, Salthouse did admit post-race she was in need of a bit of a rest. Well earned – along with a $7,500 winner's cheque.
IRONMAN 70.3 Memphis 2021 Results
Saturday October 2, 2021
1.9km / 90km / 21.1km
PRO MEN
Jason West (USA) – 3:45:05
Bradley Weiss (RSA) – 3:46:40
Marc Dubrick (USA) – 3:49:28
Andre Lopes (BRA) – 3:52:04
Marty Andrie (USA) – 3:53:40
10. George Goodwin (GBR) – 4:03:33
PRO WOMEN
Ellie Salthouse (AUS) – 4:12:35
Jackie Hering (USA) – 4:13:44
Al Brauer (USA) – 4:26:25
Jessica Jones (USA) – 4:45:23
Sierra Snyder (USA) – 4:48:53