Joe Skipper's social media handle is 'noaveragejoe' and he lived up to it again on Sunday with a relentless performance to win IRONMAN Chattanooga 2021.
Before the race all the talk was about the renewal of the Lionel Sanders vs Sam Long rivalry after their epic battle at IRONMAN 70.3 St George and a slightly more one-sided outcome at IRONMAN Coeur d'Alene. But neither man had any answer to Skipper as he romped to an impressive victory.
Sanders would finish well on the run to claim second place, but Long was a DNF at midway through the marathon after experiencing major problems. He later said his body had reached its limits, and he did not want to do damage by attempting to finish.
Skye Moench continued her fine year by claiming victory in a new course-record time in the women's race. The American was utterly dominant as she came home more than 26 minutes in front.
PRO Men – Skipper rips up the script
Joe came out of the water 1:23 behind leader Ben Hoffman in eighth position, and was right with Sanders as they headed onto the bike.
The story of the bike leg was Long vs Skipper as they set a furious pace up front. Sam held sway until the closing stages, before Joe passed him to head into T2 first.
Skipper is known for the strength of his run so he was in a great position now, and he gradually built a lead in the early stages of the closing marathon. Long meanwhile started to throw out distress signals as the field started to approach the halfway stage.
Long slowed to a walk multiple times and eventually decided to end his day early, concerned that he may do significant damage to his body if he tried to continue. He has had a brutal schedule this summer, and this race came just eight days after his second at the IRONMAN 70.3 World Championship.
Skipper meanwhile has worked pretty too, winning in Bolton in July and also producing an excellent second just three weeks ago at IRONMAN Switzerland.
Joe would cross the line in a course-record time of 7:46:19, beating the previous best by almost 22 minutes. He rounded off his day with a 2:44:06 marathon – again the best ever on this course.
Sanders finished just under eight-and-a-half minutes behind Skipper to claim second, having ridden patiently on the bike before seeing off Ben Hoffman and Cody Beals with a good 2:45:59 marathon. Hoffman claimed third.
With Skipper already having claimed a spot at Kona for the second of two planned IRONMAN World Championships next year, Sanders and Hoffman took the two allotted places from this race to book their starting berths in Hawaii.
PRO Women – Moench by miles
Moench had company on the swim as she came out of the water with Canada's Rach McBride, but once she was back on dry land it was a procession in the Tennessee humidity.
Skye blasted out into a big lead early with the chasing pack led by the 48-year-old Mel McQuaid. By the time Moench reached T2 that advantage was more than 14 minutes. Her bike split of 4:44:03 was best of the day by a huge margin.
Barring a disaster the win was in the bag for Moench as she set out on the marathon, and she made absolutely no mistake just eight days on from her sixth place in the IRONMAN 70.3 World Championship.
Her winning time was a new course record of 8:34:07 and she claimed a spot at Kona next October in the process. She also set the fastest ironman distance time ever by an American woman, and recorded a winning margin of more than 26 minutes.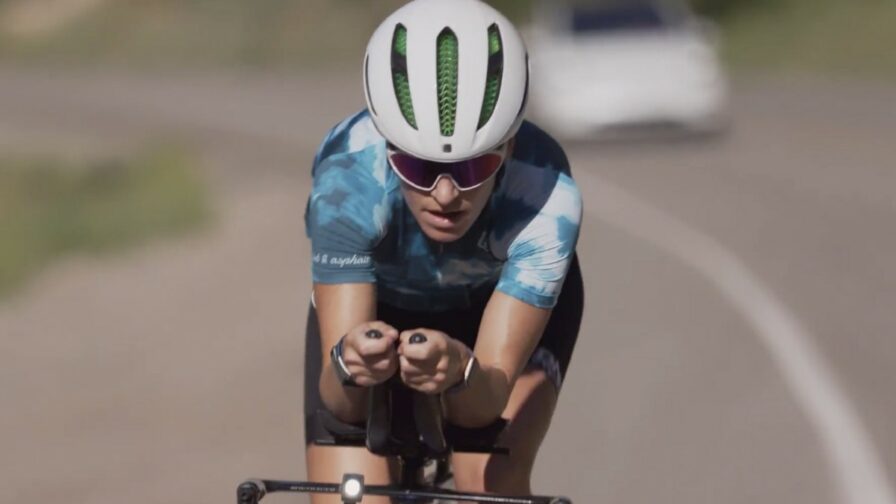 McQuaid could not hang on to second and that prized Kona spot, as she gave way in the closing stages to Spaniard Gurutze Frades. McQuaid finished third.
IRONMAN Chattanooga 2021 Results
Sunday September 26, 2021 – Chattanooga, Tennessee
PRO Men
1. Joe Skipper (GBR) 7:46:19
2. Lionel Sanders (CAN) 7:54:46
3. Ben Hoffman (USA) 7:57:50
4. Cody Beals (CAN) 8:00:06
5. Adam Feigh (USA) 8:18:41
PRO Women
1. Skye Moench (USA) 8:34:07
2. Gurutze Frades (ESP) 9:00:38
3. Mel McQuaid (CAN) 9:04:21
4. Kelly Fillnow (USA) 9:10:59
5. Jen Annett (CAN) 9:23:31