Now that was some finish to a race. I suspect I'm not alone in that I felt compelled to get out of my chair for the last five minutes of this race, stand up, cheer and simply applaud the television after watching a thrilling conclusion to the action from Saturday's IRONMAN 70.3 St. George, Utah, North American Championship.
When you watched Lionel Sanders and Sam Long embrace (shortly after they had managed to get up from the finish line concrete), quite visibly full of emotion from that experience, if you know anything about sport, you get why.
The best race in history? No. The closest finish? No. The most important race? No, not that either.
But… if you can bottle what happened in that men's race, then it was simply great sport. That it was triathlon, wasn't really important – and that's why the Professional Triathletes Organisation looking on (and not a part of this event, credit for that goes to IRONMAN), must have a spring in their step, thinking, "Yes! We (triathlon) have the talent, the athletes and the personalities… there really is potential in our mission to tell that story to a much wider audience."
Lionel Sanders is already gold dust in triathlon terms. Whatever you think of him, you have an opinion, and having that opinion makes you watch. He is never in a dull race and has a back-story to draw in the 'casual' too.
Last year (and I'll admit, I was one), plenty of people were probably thinking that 'The Big Unit', Sam Long, was gaining headlines and notoriety for his personality, well before his results had justified that degree of exposure. Was the PTO marketing 'machine' backing the wrong horse? Well, after his aggressive racing at the PTO 2020 Championship and this memorable effort, that can be put to bed. Rivalry and smack-talk is meaningless without performance, and Long has continued to raise his game.
Sam Long (and Magnus Ditlev, Daniel Bakkegard, George Goodwin, Rudy Von Berg and others that can be mentioned in the same context), have all shown that the next generation is shining brightly. Men's long distance triathlon is in good health. Combine that with Jan Frodeno, Alistair Brownlee and co. arguably being as good as ever, and you have to believe that head-to-head battles like this one, will be happening with increasing regularity. Fantastic.
The Race
I guess we should mention the actual race?
With a large and very deep field, the opening 1.9km swim on what will also be the IRONMAN 70.3 World Championship course later this year, was never going to split the field apart.
Sam Appleton (AUS) exited first in 23:09, followed by Ben Kanute, but the next 20 athletes were all within just as many seconds, including David McNamee, Daniel Baekkegard (DEN), Rudy Von Berg (USA) – the 2019 champion, Magnus Ditlev (DEN) and Michael Raelert (GER).
Great Britain's George Goodwin was 90 seconds down in 27th, but importantly 21 seconds ahead of Sanders (43rd) and Long (46th), who will not want to keep giving up more than two minutes every swim, as his career progresses.
The bike saw Von Verg immediately hit the front and break clear, soon to be joined my Denmark's Magnus Ditlev, who we expected to perform like this… there was a reason we featured him and his bike this past week! Amazingly (after a front pack swim and uber-biking legs, he still needs a bike sponsor).
Ditlev set the fastest split of the day (2:01:26) to arrive at T2 alone, 43 seconds clear of the ever impressive and consistent Von Berg. Sanders and Long had been making light of their swim positions, moving through the field and would lead in a group three minutes back on Ditlev, which also included Goodwin, Andreas Dreitz (we've covered his bike too), Jackson Laundry (CAN), Florian Angert (GER), Michael Raelert and Nicholas Chase (USA).
The run course in St. George is either up or down – and that (steep) down would feature strongly later in the race (and has probably caused some major DOMS when the athletes wake up on Sunday).
While not a natural looking runner, Ditlev is proving himself an all-round triathlete too, and held the lead well into the second half of the race, as Sanders, Long, Von Berg and Bakkegard closed in. At one point as the final 5km was coming up, all five were lined up within seconds of each other. This was brilliant racing. We were to learn that Bakkegard had incurred a penalty on the bike which had not been served, and so he would be subject to disqualification. No idea if he knew, but he certainly wasn't racing as if he did.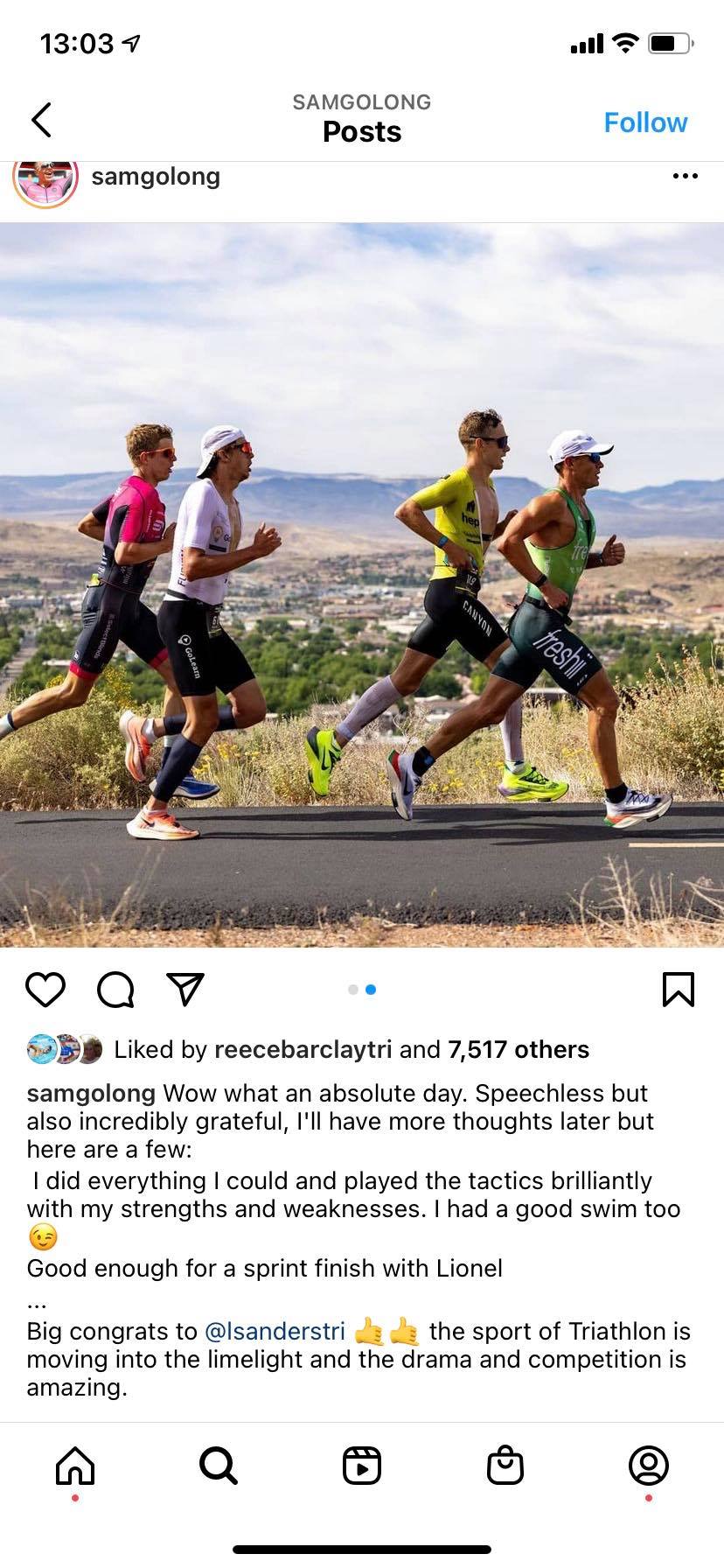 Sam Long looked to have been briefly distanced, but his pre-race talk of wanting to run a 1:10 was seemingly more than just bravado (he would come very close, with a 1:11:04), as he fought back to join his idol, Lionel Sanders, should-to-shoulder over the final downhill mile.
Sanders, as you would expect, was digging deep. On facial expressions alone, you would have thought that a hamstring was going to explode at any moment, but he was giving everything… while Long was not yielding. Would either one break?
Finally, Sanders made a surge to try and pull away, eventually gaining a few seconds which would enable him to get to the finish line with a margin of just five seconds, with the pair clocking exactly the same run times. Times not important, it was just wonderful sport.
IRONMAN 70.3 St. George will be back in September as host of the 70.3 World Champs with an even deeper field. Sign me up to watch that one!
YOU CAN WATCH THAT FINAL 5KM HERE
"That's probably the best battle – I've never went that deep, that far, into a race. It was a truly emotional experience.

"We had this pandemic, we've been off racing… but I've just missed a battle like that. It brought me to tears. This is going to be a great course for the 70.3 World's."

Lionel Sanders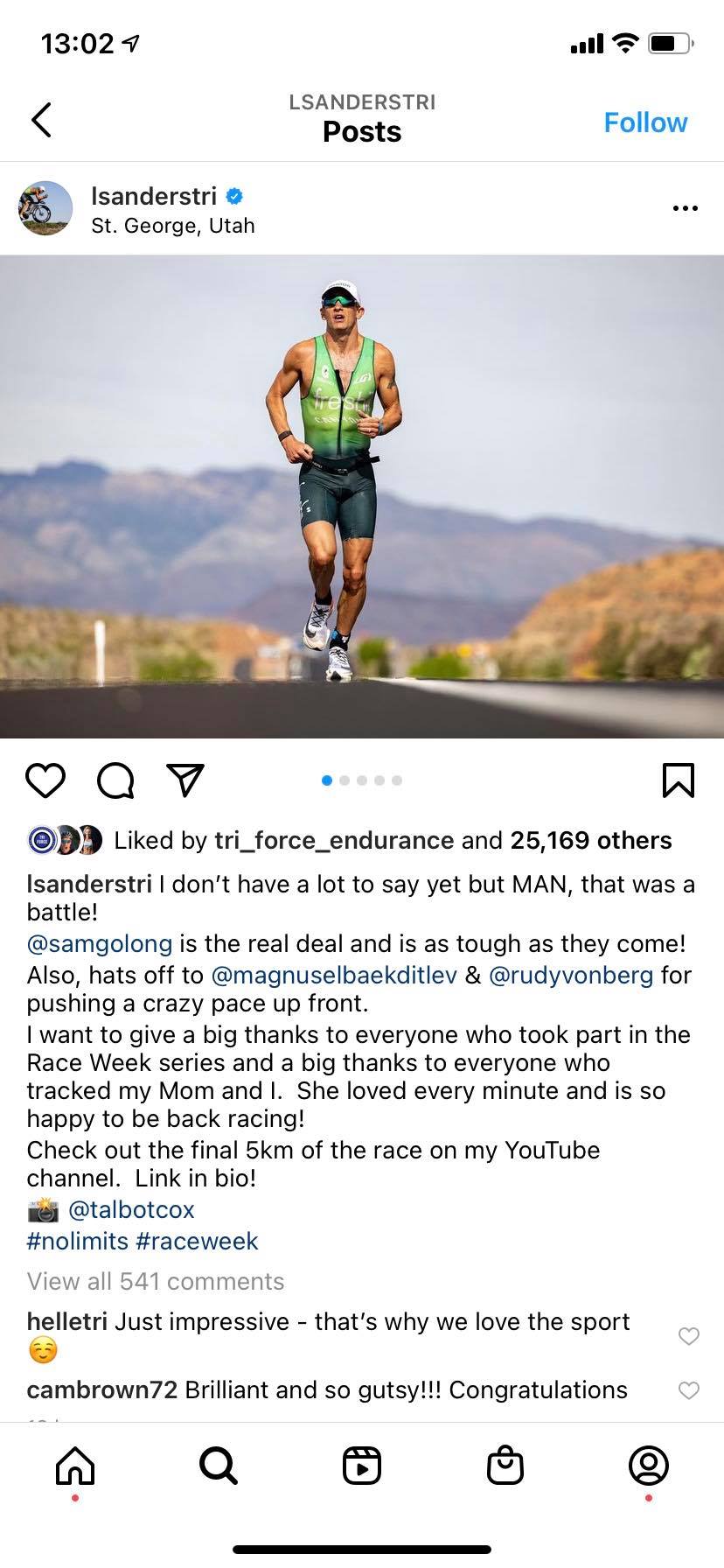 It's fair to say the Sam Long i no shrinking violet. He's big, he's loud and he puts himself out there. He's playing his character perfectly, but his humility and grace immediately after such and epic finish will have won him supporters:
"It's making me speechless. I've dreamed about this day for five years, racing stride-for-stride with my idol. It was epic. Oh yes, this gets me hungry for the World Champs!"

Sam Long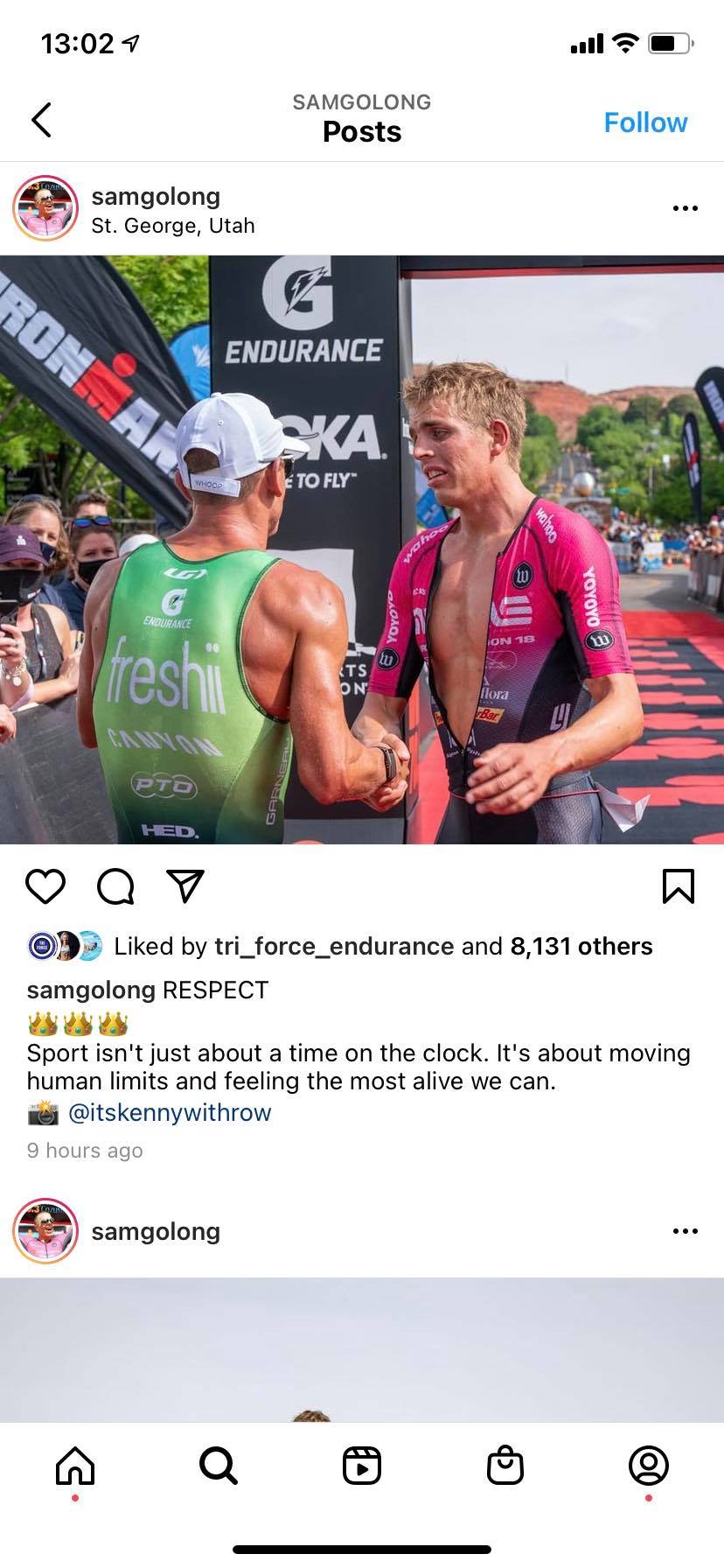 IRONMAN 70.3 St. George, Utah – Saturday 1st May 2021
1.9km / 90km / 21.1km
PRO MEN
1st – Lionel Sanders (CAN) – 3:42:56
2nd – Sam Long (USA) – 3:43:01
3rd – Magnus Ditlev (DEN) – 3:45:11
4th – Rodolphe Von Berg (USA) – 3:45:28
5th – Jackson Laundry (CAN) – 3:45:43
6th – Andreas Dreitz (GER) – 3:47:13
7th – Florian Angert (GER) – 3:47:23
8th – Paul Ruttman (AUT) – 3:49:47
9th – Joe Gambles (USA) – 3:49:48
10th – Bradley Weiss (RSA) – 3:49:57
17th – George Goodwin (GBR) – 3:56:30
22nd – David McNamee (GBR) – 3:58:12