The striking Felt IA FRD of Magnus Elbæk Ditlev
Danish athlete Magnus Elbæk Ditlev is a relatively new name to the elite echelons of middle-distance triathlon, but it is a name that cannot be ignored… and one that looks set to feature strongly for many years to come.
Recent notable performances include IRONMAN 70.3 Dubai 2020 (where he finished fourth) and his first pro-victory at IRONMAN 70.3 Gydnia, where he bested Tom Davis and Patrick Lange. His performances are typically notable for rapid bike splits (referred to by Tri247's own John Levison as, "crushing").
Therefore, it might come as a surprise that Ditlev is currently without a bike sponsor. Surely an opportunity beckons for a brand to step in, for an athlete considered one of the 'Young Guns' by the Professional Triathletes Organisation? Bike brands, this is your chance!
However, not having a sponsor can sometimes allow an athlete to be more adventurous with their bike set-up, and Ditlev has provided a close up to his current 2021 machine, which is based around a 2019 Felt IA FRD.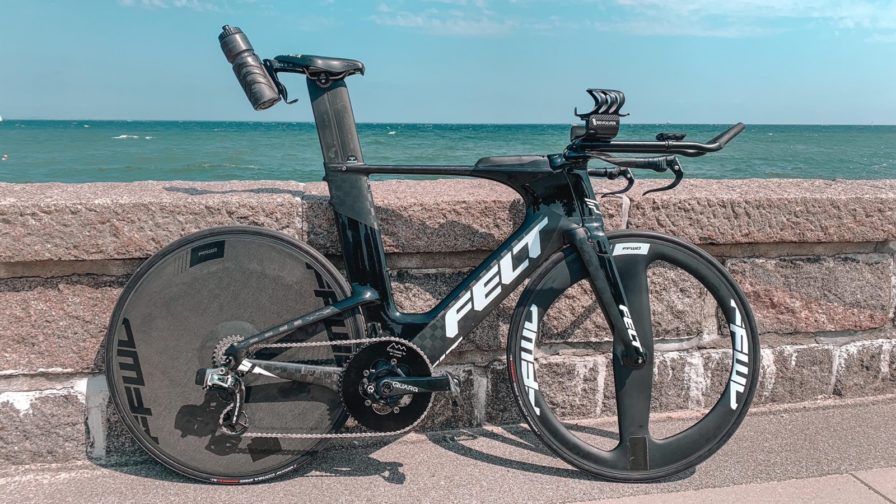 Ditlev measures 195cm tall and uses a size 58 Felt IA FRD, of which he is complimentary and acknowledges it has allowed him to be creative:
"It's very stiff, easy to handle and work on (make your own solutions) compared to other tri bikes I've ridden."
Innovation… and Duct Tape!
I am not sure whether Blue Peter is popular in Denmark, but Ditlev has certainly taken an interesting and innovative DIY approach to help achieve his aero gains, whilst ensuring (relative) comfort, in particular with his Felt IA FRD's cockpit:
"I have made my own version of the Speedbar from duct tape, cardboard and a yoga mat. It's a "cover" made around Drag2Zero extensions and we've tested it on a velodrome to be around 5 watts faster than the plain Drag2Zero extension system."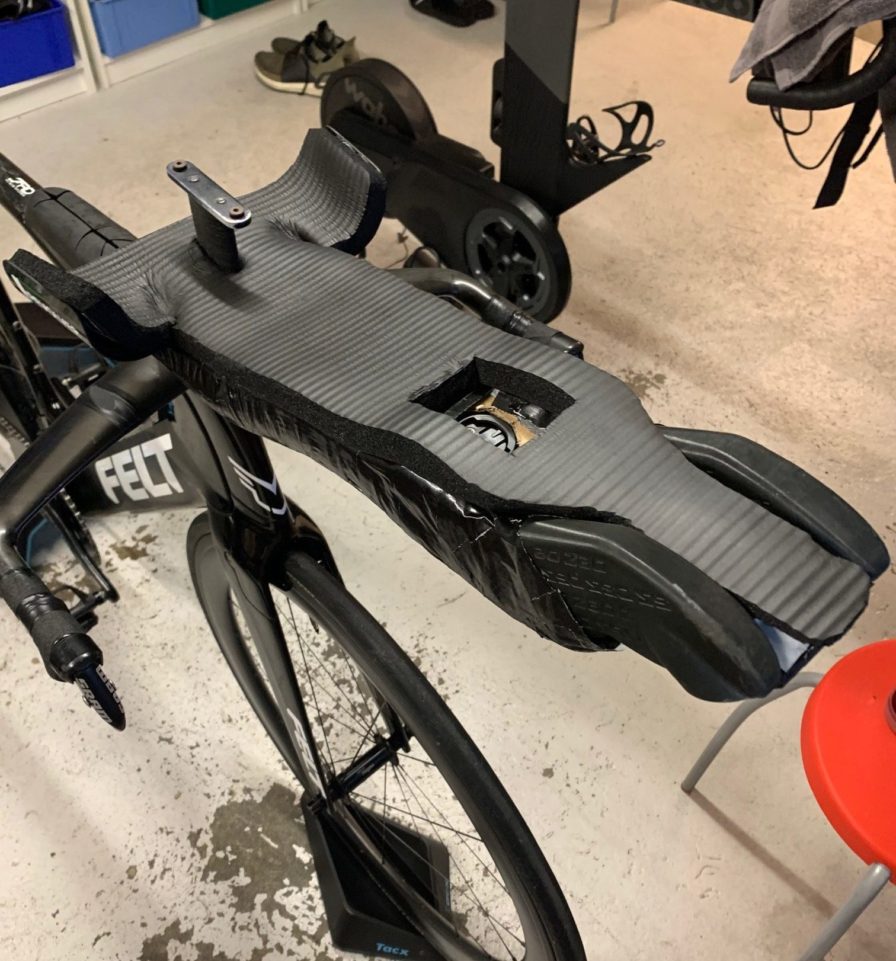 He continued: "Apart from the improved aerodynamics, it also increases comfort and my ability to hold my most aero position for a longer duration of time. It's paired with a Revolver Blackbird Mono arm rest that allows me to raise a bottle above my arms so they can still be in a narrow position."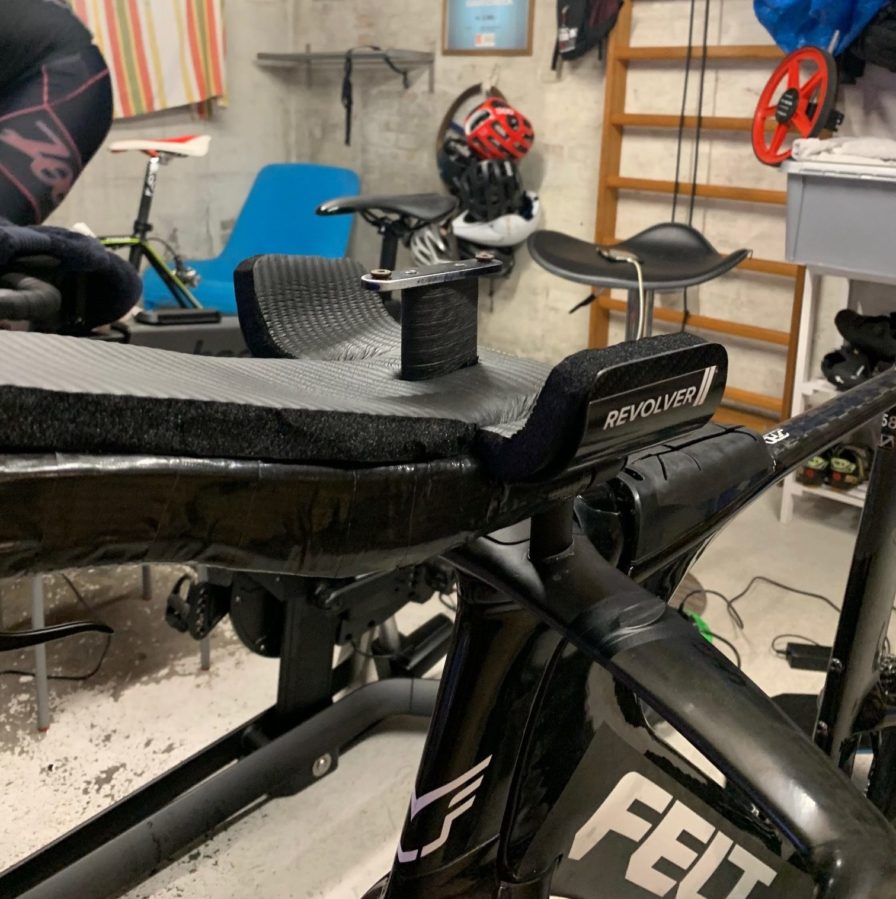 Test, adapt, test, adapt
Ditlev shared at length the extensive detail to which he has gone to, and continues to go to, to ensure his set-up is as close to optimal as possible – including a bike fit, computational fluid dynamics, and real-world velodrome testing:
"When I first got the bike my coach, Jens Petersen-Bach, fitted me. Since then we have done different things to test and optimise my aerodynamics both in regard to position and equipment."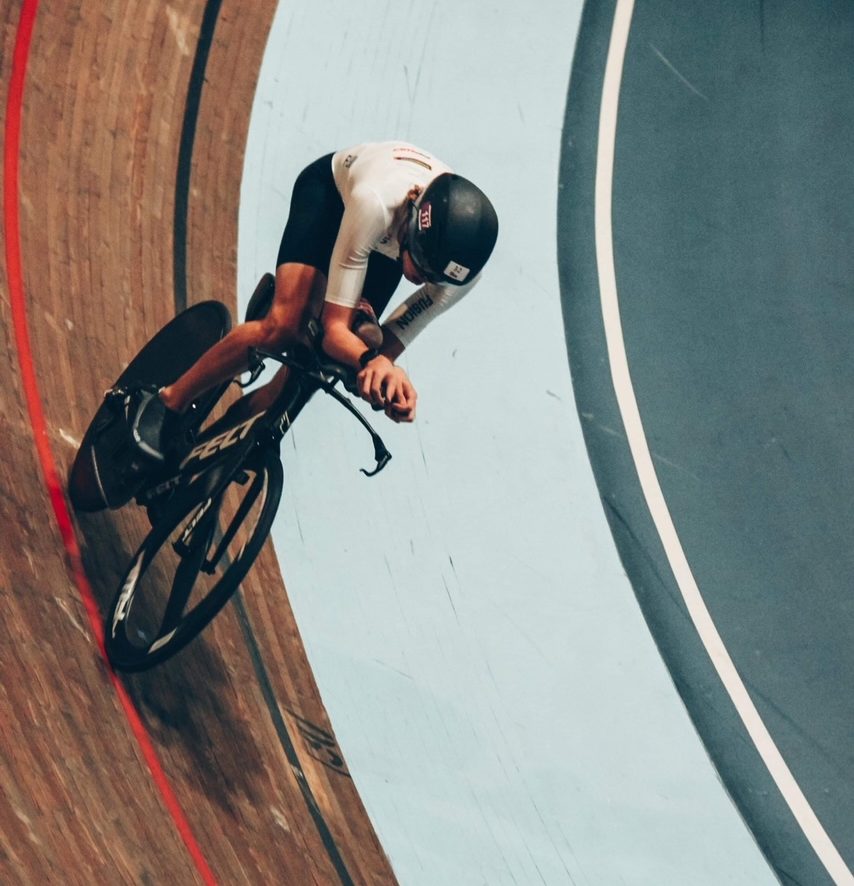 "The first thing we did was to have a bikefitter make a 3D scan of my position and then having my data analysed and simulated using computational fluid dynamics in the STAC Performance Virtual Wind Tunnel. Here we could simulate different changes in position i.e. higher stack, raised hands, bottle setups and helmets etc. and see the watt savings or penalties for each setup. This gave some indications as to where we might find some savings. Since then I've been on a velodrome a few times to test even more and validate," explained Ditlev.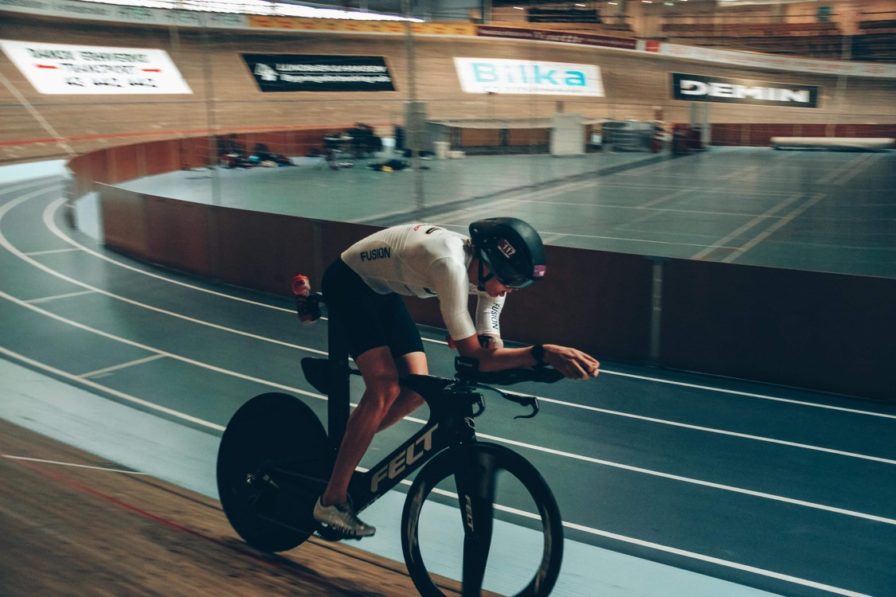 He went on to divulge the extent of his testing and analysis:
"On the velodrome I've tested many different stack heights, reach lengths, hand positions, helmets, suits, cockpit setups, bottle setups etc. and without saying too much, I can tell you that the savings we've found are quite amazing. I've raised my bars 4cm with only a 3watts penalty. This was quite a surprise to us, as 4cm really is a lot and it allows for a much more comfortable and powerful position."
Aero gains
Ditlev's creative solutions also relate to his nutrition storage system and emergency kit, it seems every angle is covered:
"I carry a water bottle above my arms (not between, so they can still be very narrow), and behind the saddle. I keep my flat kit and tools inside the homemade bar solution so it's completely hidden from the wind."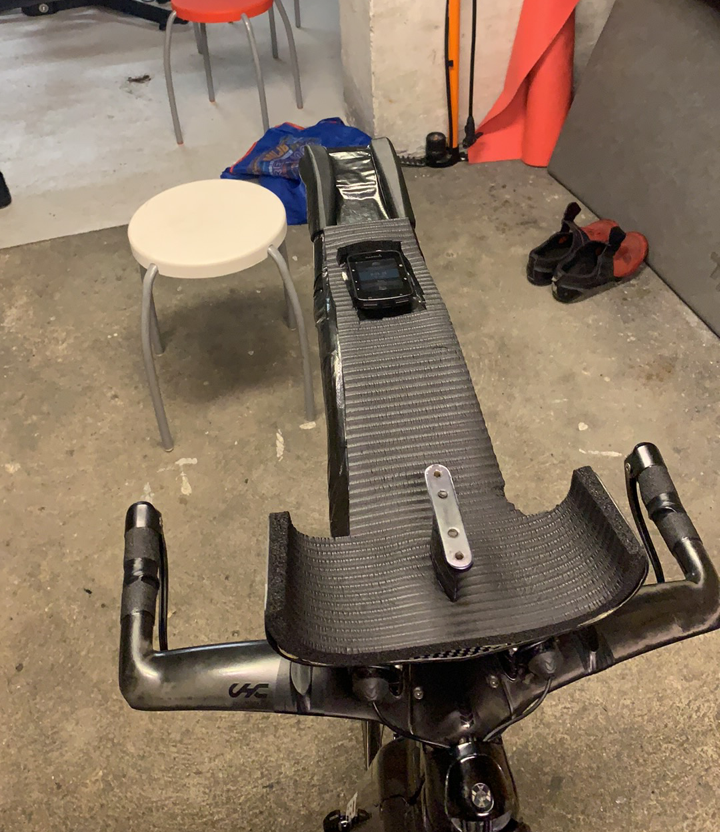 The cycling power-house has utilised a nice combination of components to create a unique set-up. Ditlev is fortunate to be supported by CeramicSpeed, therefore as you'd expect his bike is tricked out with Ceramic Speed's OSPW (over-sized pulley wheel) system, UFO chain, and bottom bracket.
Ditlev complements the CeramicSpeed tech with a SRAM Red eTap 11 speed groupset, a Quarq DZero power meter, and a substantial 60t single chain ring from Pyramid Cycle Design.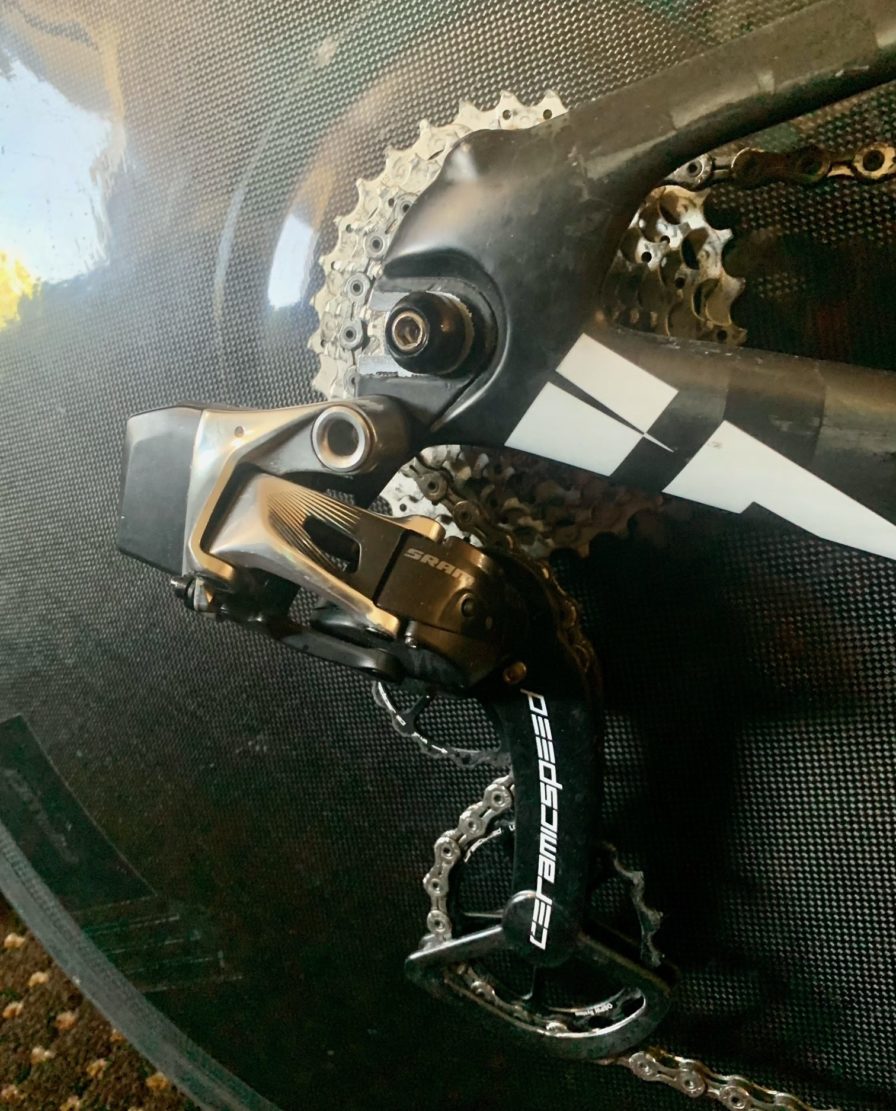 He explained the benefits of the large chainring:
"For these fast and flat races I opt for a 60t ring as it allows me to have a straight chain-line which has the lowest friction when I'm riding at race speed."
Training to power
As may be expected due to the scientific approach to his bike's set-up, Ditlev has fully embraced training to power and takes an analytical approach to help him to continue to develop and progress: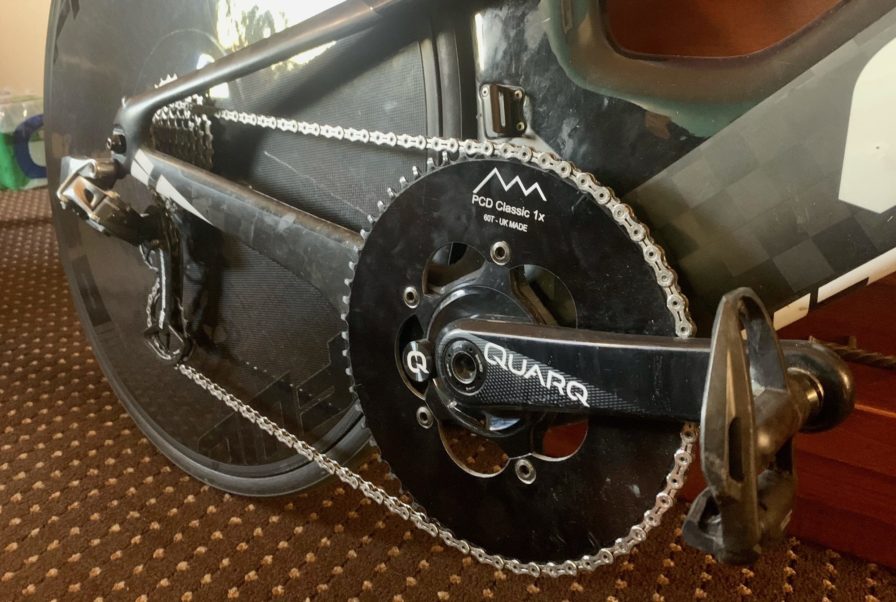 "All my training is based on power and lactate so I use it every time I'm training and doing intervals. In races I tend to focus more on following the dynamics of the race and responding to these instead of just sticking to a certain power output the whole way. But afterwards it's great to be able to analyze on the data and try to learn from that."
2 spoke wheel
Ditlev is sponsored by FastForward Wheels and speaks very highly of the brand from the Netherlands. Interestingly, normal convention is that the heavier/bigger the rider, the greater the number of the spokes required. FastForward and Ditlev (at circa 6 foot 4 inches), seem to disprove this theory with the Falcon Two-Spoke front wheel:
"I'm really happy that FFWD supports me with the best wheels I've ever ridden. For a quite big guy like me I really feel the stiffness and their Falcon Two spoke is super aero and really easy to handle in heavy winds. I can't recommend these wheels enough."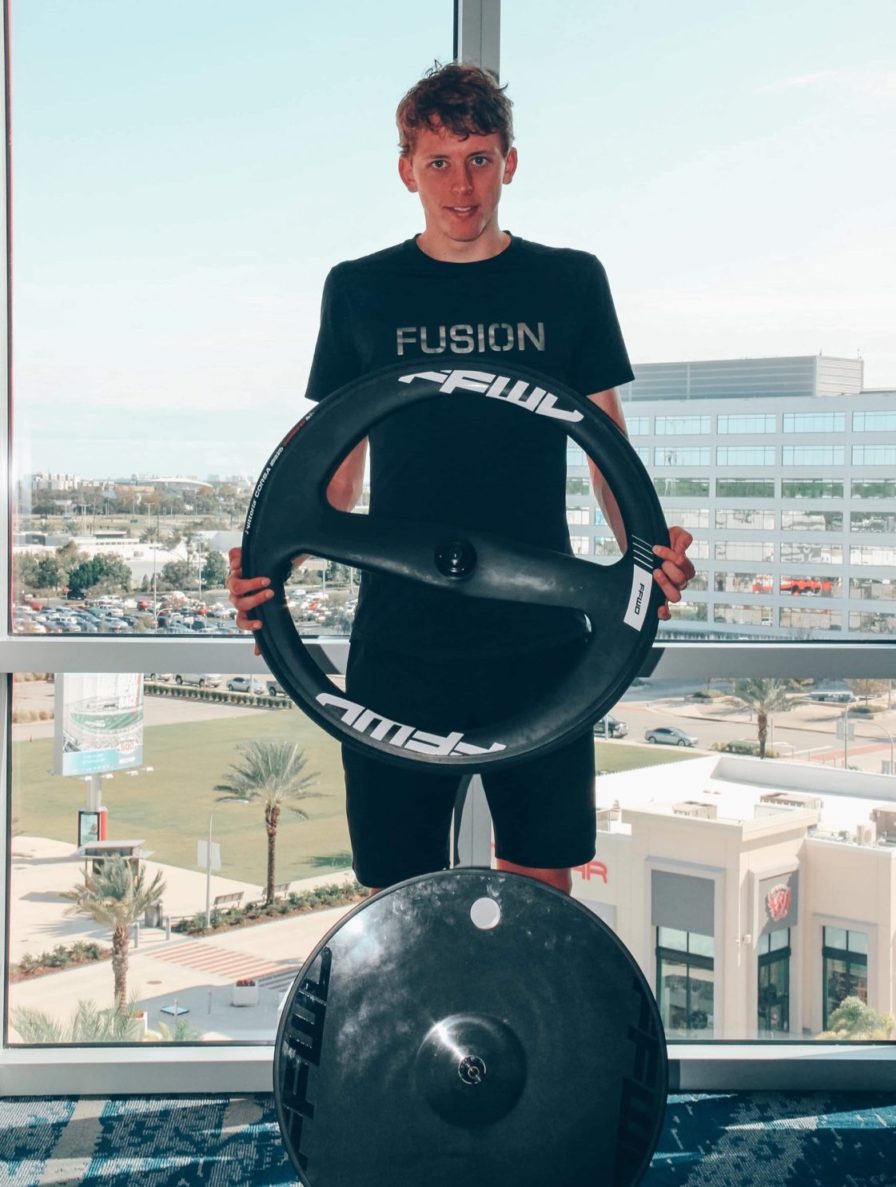 Again showing Ditlev's attention to detail, he uses different tyre and inner tube set-ups dependent on the road surface:
"On REALLY clean roads like the NASCAR tracks in Miami and Daytona I use Veloflex Record with a latex tube (they don't come as tubeless). On not so smooth roads, I use Vittoria Corsa Speed and run them tubeless."
It's not all change
It might seem that Ditlev has changed everything on his bike to make aero and comfort gains. However, supporting the view that "If something isn't broken, don't fix it", Ditlev has stuck with the 172.5mm cranks that came with the bike, and he has also stuck with the saddle that came as standard:
"My bike came with these lengths [172.5mm] and it has worked well for me and therefore I've stuck to that…. it [Fizik Mistica] came with my bike originally and I've been happy with how it performs and the fit ever since so no need to change that."
Magnus and his intriguing bike set-up will be racing again at IRONMAN 70.3 St. George on Saturday 1st May 2021), and IRONMAN has confirmed the race shall be live streamed via Facebook Watch.
Good luck Magnus!
If you like what you see, check out: Felt Bikes , CeramicSpeed , and FastForward Wheels.