Third for defending champion Adam Bowden in his first race of the 2020 season
It was a great day for Belgium in the Middle East today at the fifth edition of IRONMAN 70.3 Dubai. Former Duathlon World Champion, Bart Aernouts, made up 20 places and almost three and half minutes at T1, to win a run course battle with his fellow countryman, Pieter Heemeryck.
How it played out…
The opening (wetsuit-legal) 1.9km swim on a revised swim course to previous years, saw Illia Prasolov (RUS) head a group of seven athletes, which included the British duo of Adam Bowden and Morgan Davies.
#IM703Dubai Russia's Ilia Prasolov leads the men out of the water followed by @MorgJDavies, Eric Watson, @Adamspeedytri, @FilipeAzevedo93, @pieterheemeryck and Jesper Svensso. pic.twitter.com/SHbaNjGXoW

— IRONMANLive (@IRONMANLive) February 7, 2020
They in turn had a gap of more than 30 seconds over a chase group, which included David McNamee, Philip Graves and Spain's former ITU World Champion, Ivan Rana. Recent IRONMAN 70.3 South Africa winner, Matt Trautman, was 2:24 back just 25 minutes into the race… but still a minute better off than Aernouts. Things would soon change.
The opening 45km of the ride saw renowned bikers, Heemeryck and Jesper Svensson (SWE) break away and make the turn more than a minute clear of a chase four of Filipe Azevedo (POR), Bowden and the Danish pairing of Magnus Elbaek Ditlev and Thor Bendix Madsen.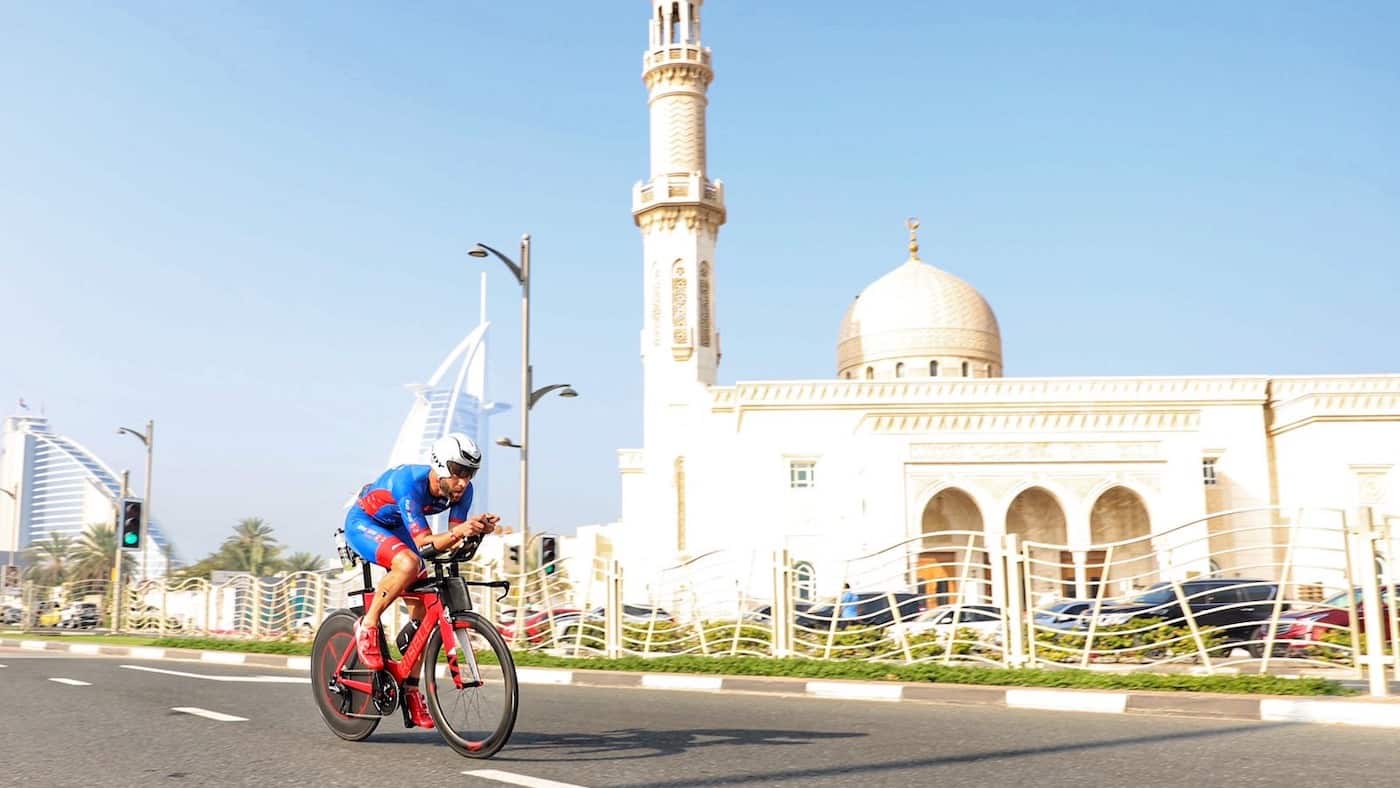 Aernouts had cut his way through the field to seventh, with David McNamee for company, but was still almost 2:30 in arrears on the leaders. All change on the return to T2, and 45km later the dismount line saw Aernouts, Heemeryck, Svensson and Ditliv arrive together, Madsen now 30 seconds back in fifth, while Bowden would start the run in sixth, a minute and a half down on the leaders.
Aernouts and Heemeryck were quickly together and setting the pace at the front, while Bowden was all but matching their speed and leap-frogged his way up to third by the 10km mark. The run prowess of Aernouts – second place in Kona in 2018 – eventually got the better of the super-consistent Heemeryck, and he would go on to clock a 1:10:54 half marathon, taking the win by 1:24.
#IM703Dubai – Less than 4 km to go for @bartaernouts, and there is a gap of 46 secs to @pieterheemeryck pic.twitter.com/PqCH4smlsF

— IRONMANLive (@IRONMANLive) February 7, 2020
Behind, Heemeryck and Bowden ran almost identical splits (1:12:19 / 1:12:16), to complete the podium.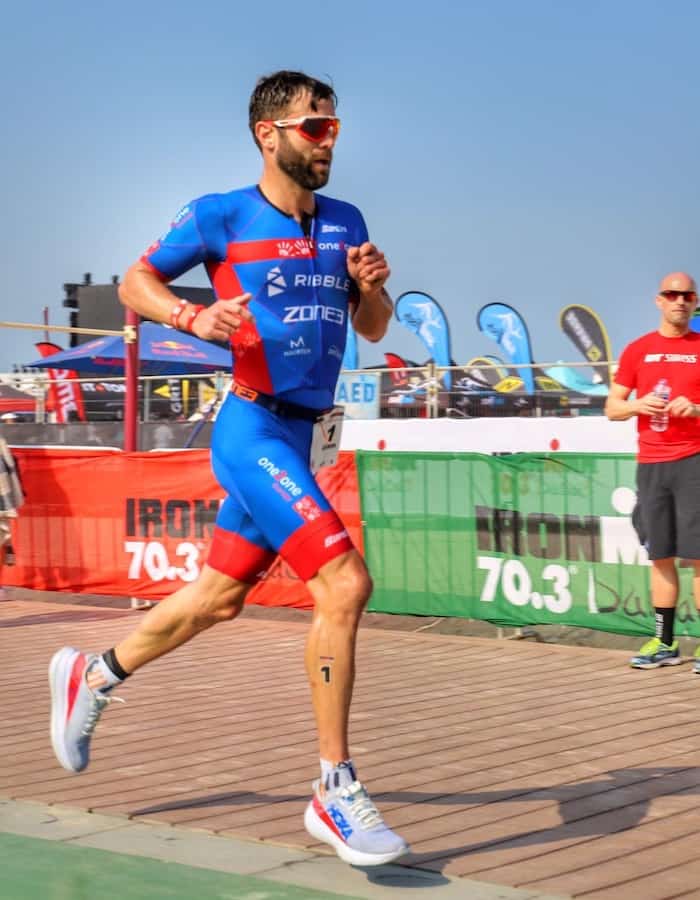 In his first race over the distance, Morgan Davies closed with an impressive 1:09:33 run split, to move his way up to 12th at the finish, having dropped out of the top-20 at the end of the bike leg. David McNamee went (slightly) in the other direction – ninth at T2, a slow (by his high standard) 1:18:53 saw him end the day in 14th.
IRONMAN 70.3 Dubai – Friday 7th February 2020
1.9km / 90km / 21.1km
PRO MEN
1st – Bart Aernouts (BEL) – 3:33:45
2nd – Pieter Heemeryck (BEL) – 3:35:09
3rd – Adam Bowden (GBR) – 3:36:31
4th – Magnus Elbaek Ditlev (DEN) – 3:37:40
5th – Matt Trautman (RSA) – 3:39:27
#IM703Dubai – Top 5 men finish: @bartaernouts 3:33:45, @pieterheemeryck 3:55:09, @Adamspeedytri 3:36:31, Ditley 3:37:40, @MattyTrautman 3:39:27 pic.twitter.com/iQxrJJnUmD

— IRONMANLive (@IRONMANLive) February 7, 2020
12th – Morgan Davies (GBR) – 3:44:16
14th – David McNamee (GBR) – 3:46:24
DNF – Philip Graves (GBR)
https://www.instagram.com/p/B8Q5muRB64O/