Race favourite Imogen Simmonds dominates in Dubai
Solid start for Helen Jenkins on Middle Distance debut
As highlighted in my race preview, after winning the Bronze medal last year at the IRONMAN 70.3 World Championship in Nice, Imogen Simmonds (SUI) would start in today's IRONMAN 70.3 Dubai as the clear favourite. I certainly won't claim that was the toughest prediction ever given the start list, so it was no surprise to see the fast-rising talent take a clear win in the Middle East.
How it played out…
An incredibly consistent swimmer during her ITU racing career, almost four years out of racing appeared to have little impact on Great Britain's Helen Jenkins. When I interviewed her recently, she said of Brazil's Pamella Oliveira, "I know she's a great swimmer from having raced with her on the ITU circuit for many years, so it would be good if I could hang on to her in the water!". Job done on that front, gaining almost a minute advantage on the race favourite during the opening 1.9km.
#IM703Dubai @Pami_Oliveira and @heljinx emerge from the 1.9 km swim together while @IMOsimmonds chases the lead pair a minute in arrears. The remainder of the field are all facing well over a two-minute deficit. pic.twitter.com/wyMT6rPVxu

— IRONMANLive (@IRONMANLive) February 7, 2020
Swiftly through transition, Jenkins and Oliveira started the 90km bike course no doubt knowing that Imogen Simmonds would be chasing them strongly from the start.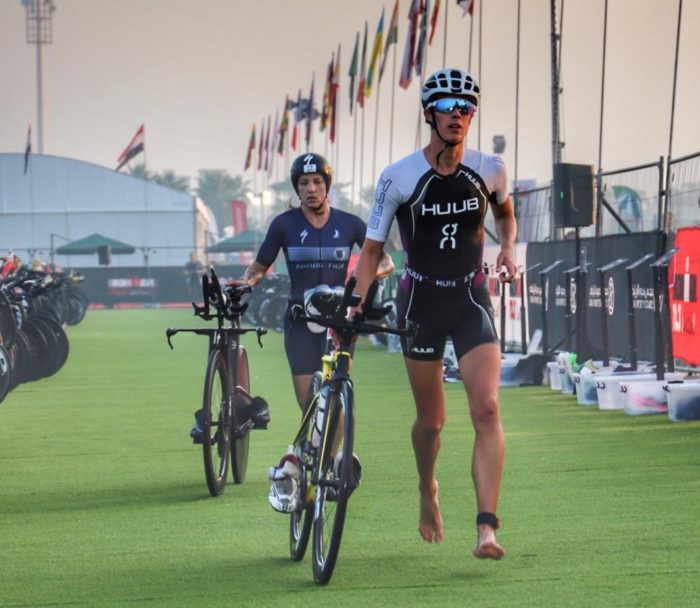 That chase didn't take too long, and within 15km Simmonds, Oliveira and Jenkins were a leading trio, with a full three minutes lead over Sara Van De Vel (BEL) in fourth place.
Simmonds strength and form from 2019 appeared to have transferred through to the new season, and by the end of the ride her 2:07:00 bike split saw her reach T2 along, a minute and half clear of Oliveira. Van De Vel and Jenkins came in together in 3rd/4th, but were now approaching five minutes back on the Swiss athlete.
#IM703Dubai With 67 km completed, @IMOsimmonds has bumped up her leading gap to close to a full minute on @Pami_Oliveira while @heljinx continues to slip further back in third, +3:27 off the leader's pace. pic.twitter.com/AKbGlwuZ2c

— IRONMANLive (@IRONMANLive) February 7, 2020
Imogen was never threatened on the run, gradually building her lead over the 21km. A 1:21:12 split saw her finish with a significant lead of almost seven minutes. Fastest runner however was Danielle Dingman (USA), who was able to jump from fifth at T2, all the way up to second thanks to an impressive 1:19:22.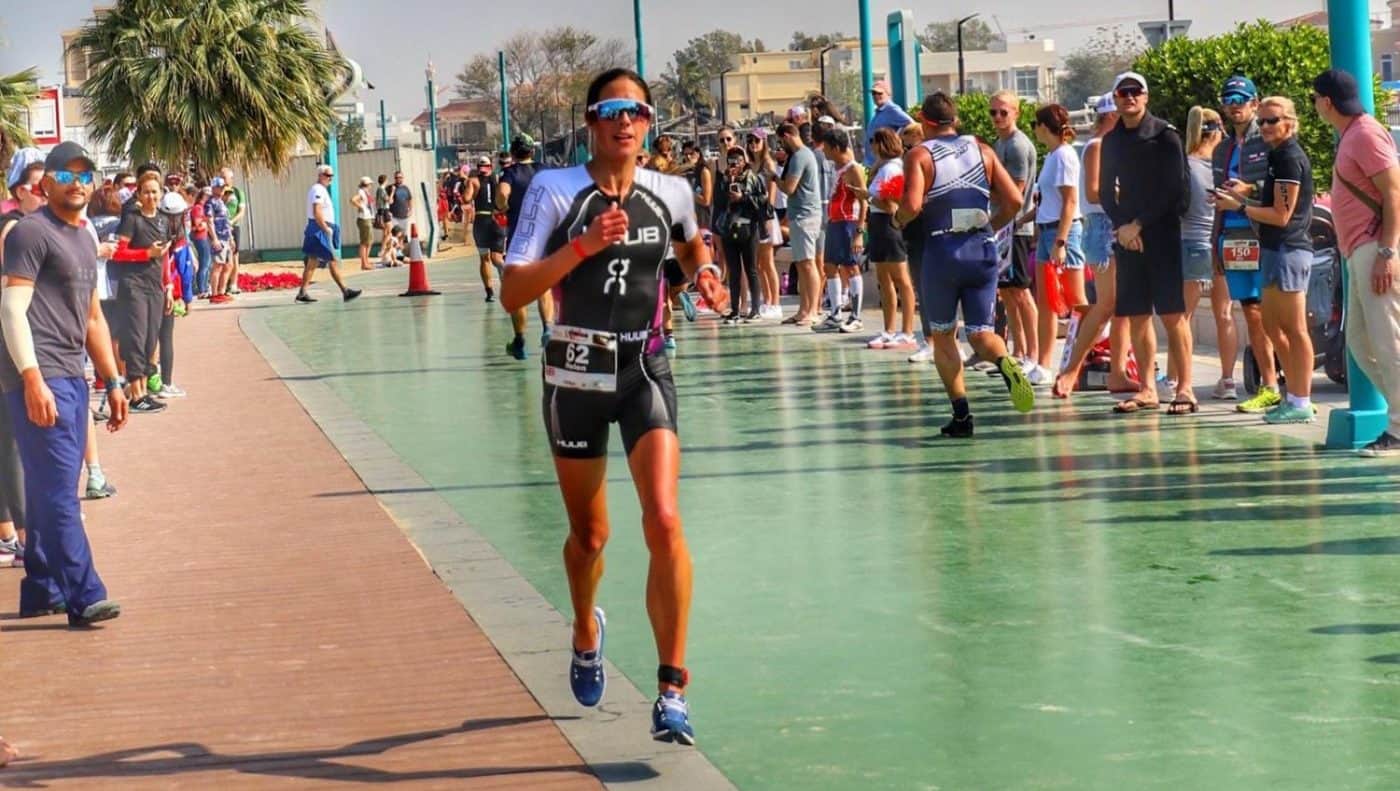 Jenkins (1:25:52) was able to regain some time on the run over Oliveira (1:27:14), but it wasn't quite enough to make up for her deficit at T2 – and with the speedy Dingman passing her, that left her just off the podium in fourth.
Overall, I think Helen and team will consider that a solid result. Two years ago any thoughts of ever racing again were minimal, and while it is very difficult to read too much into one race and a small field, the swim will certainly be a big tick. Work to do and progress to be made, of course, to get back to the sort of competitive levels Helen has been at for the past 15 years, but they now have a start point on the board – and it's a solid base to build from.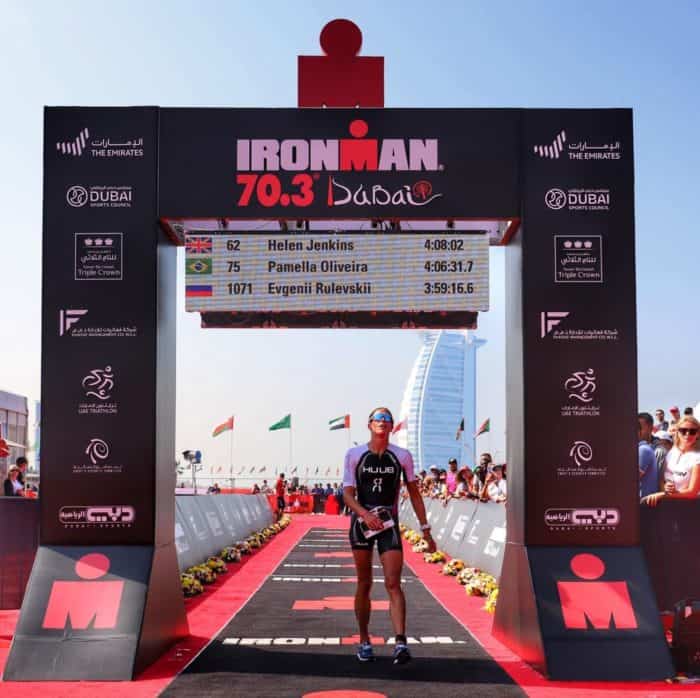 IRONMAN 70.3 Dubai – Friday 7th February 2020
1.9km / 90km / 21.1km
PRO WOMEN
1st – Imogen Simmonds (SUI) – 3:58:37
2nd – Danielle Dingman (USA) – 4:05:27
3rd – Pamella Oliveira (BRA) – 4:06:32
4th – Helen Jenkins (GBR) – 4:08:02
5th – Leanne Fanoy (UAE) – 4:10:23