The Giant Trinity Advanced Pro 2 of Tom Davis
ERDINGER Alkoholfrei athlete, Tom Davis, will be well known to those that have a keen interest in Pro middle-distance triathlon.
Over the last few seasons he has made steady and commendable progress, including a particularly active 2019 race calendar with podium successes in Challenge Family events in Salou and Anhui, along with victory at the Royal Windsor Triathlon. However, it was his presence at the pointy-end of the 2020 PTO Championship at Challenge Daytona that will have made him visible to many more fans of triathlon globally.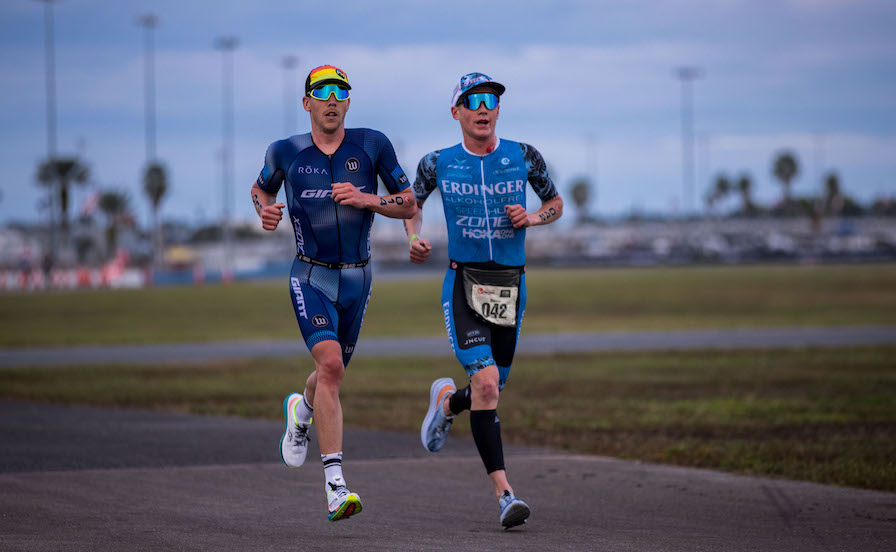 For the 2021 season Davis has a new race bike, the Giant Trinity Advanced Pro 2, and he kindly gave his time to explain his new set-up.
Look out for plenty more Pro Bike features coming to the pages of TRI247 over the next few weeks…
Why Giant?
There is often something to be said for sticking with what you know, and Davis explained he has prior experience of the Giant brand: "….I've predominantly always ridden Giant, previously through the Race Hub bike shop, so it's a set-up I'm very comfortable and familiar with."
Davis uses a medium sized frame, and he opts for a slightly larger frame than you may expect to allow him to get further forward and over the bottom bracket.
Time trial and triathlon enthusiasts may recognise the acronym embossed on the elbow pads, MBPC, which stands for Matt Bottrill Performance Coaching. Matt Bottrill has been Davis' coach for the last 18 months and who also helped Davis ensure the bike position makes him as efficient as possible. Further, as you may expect with Bottrill's influence, the Giant Trinity Advanced Pro 2 is 'tricked-out' with some aero aids.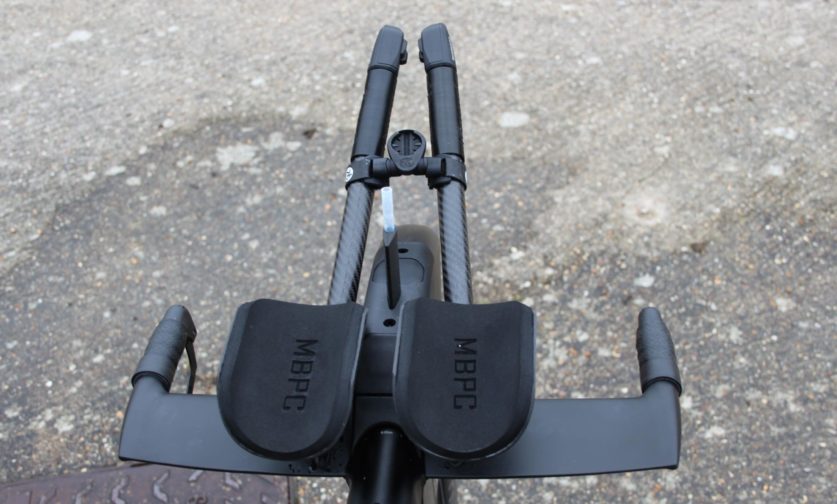 The cockpit is a combination of Giant's standard base bar, along with Kismet carbon arm pads and poles; and, the Shimano Ultegra rear mech is combined with an SLF Motion aero oversized pulley system.
Davis commented that he is impressed by the R & D that has gone into the bike, including the integrated hydration system that is situated at the front of the bike. "[The] Integrated hydration, [it is] Well developed from an aero point of view", said Davis.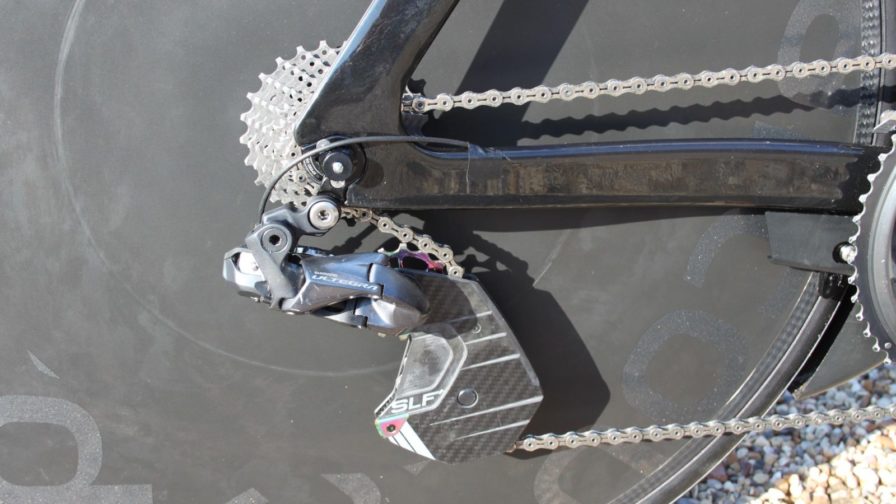 He also mentioned that he'll be making the most of the hydration system: "[I will use the] Integrated hydration on the front of the bike, which will have Enervit Isocarb 2:1, and then Enervit Caffeine Liquid gels stored in the integrated Bento box on the top tube for racing."
Groupset
On a close look the groupset appears to be a combination of Shimano Dura-Ace and Ultegra (for example, a Dura-Ace chainring, but Ultegra crank-arm). Davis explained he uses Shimano Ultegra Di2 for practical reasons: "[I] upgraded from mechanical [gears] due to ease of mechanics when travelling and [when] swapping front end components to achieve a more aero position…"
Saddle choice is very personal, and Davis is sticking with what he knows, the Jcob Delta P: "An earlier model came on my first ever TT bike and I have always been of the opinion with a saddle that if it works, then why change it!"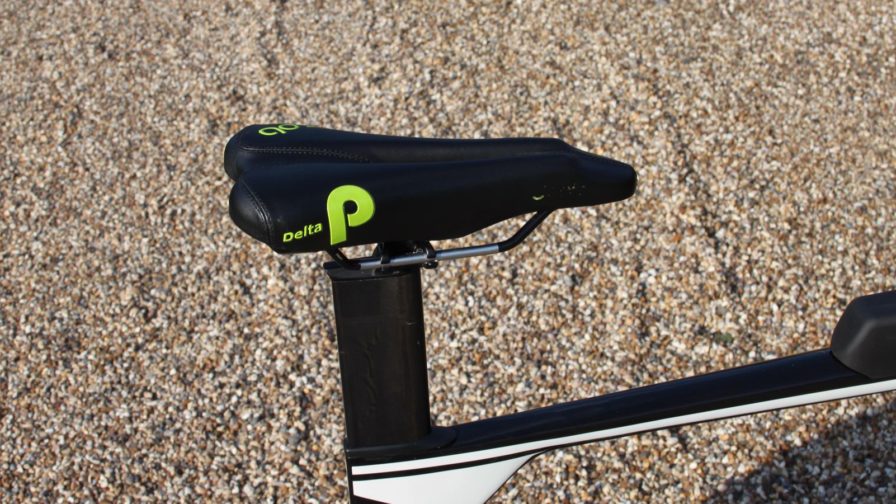 Disc or not to disc? That is the question…
There continues to be an element of debate regarding disc-brakes, and Davis appears to be in the 'rim brake' camp: "Currently the Trinity uses rim brakes, I was on disc [brakes] last year and prefer the rim brakes currently – less to go wrong when travelling and my mechanic skills with discs aren't quite as hot as with a traditional cable / rim brake system."
Reflecting what seems to be the case for many mid/long distance pros, and the time trial scene, Davis uses a rather large gear combo of 55/42. This is due in part, but is not limited, to the high speeds he expects at Challenge Miami. "Miami is flat – speeds are high. [However,] Better chain-lines on the cassette will also mean that I tend to use that setup for most races this year."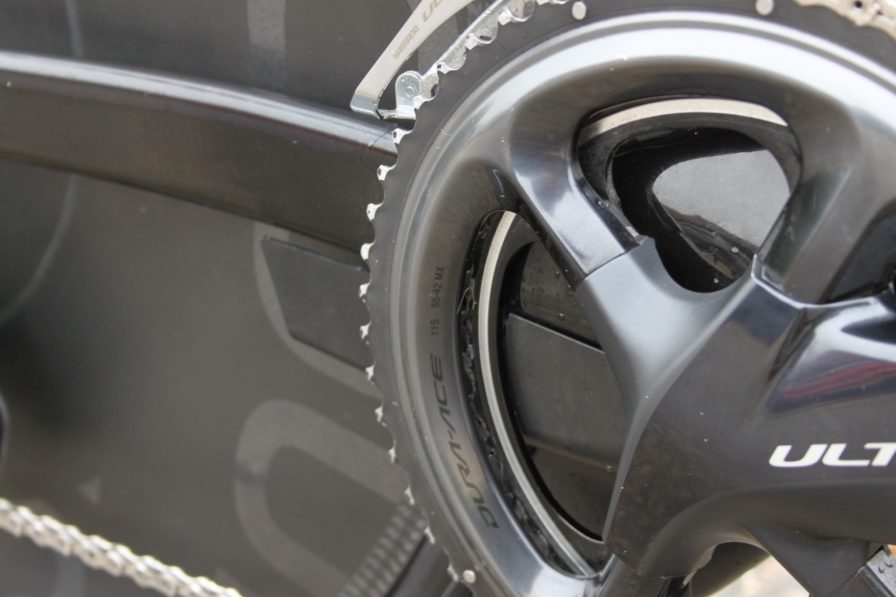 Interestingly, although the bike is fitted with a Giant Power Pro power meter, which comes as standard, he isn't a slave to numbers on race day. "[I use the power meter] in training and racing, it allows me to fully maximise training and pass on feedback to my coach easily. I tend to use it less in a race like Miami / Daytona as it's more about racing and making sure you are in that front group, rather than self-pacing an effort."
Race day treats
On normal training days Davis opts for the standard Giant PA2 wheelset, but on race day, in his words: "I bring out the fancy wheels and tyres."
On said race day Davis' Giant Trinity Advanced Pro 2 will be equipped with the Parcours Chrono/Disc combo, which pairs (as the name would suggest) a rear disc wheel with a 77mm deep front wheel. Davis' asserts the wheel set-up combines the Holy Grail of speed and confident handling: "[They are a] Good aero wheels, and well tested in the [wind] tunnel. Also, very stable in crosswinds."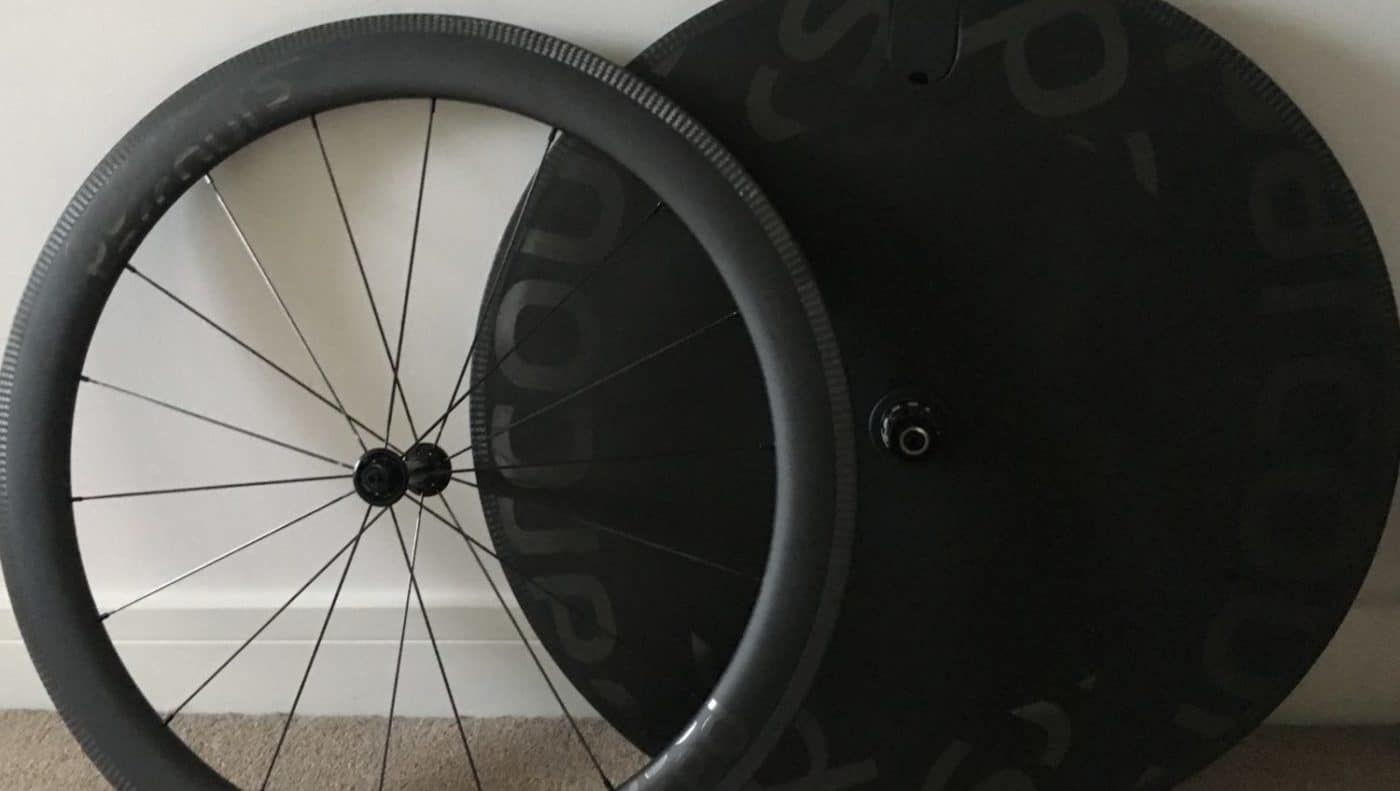 He combines the Parcours hoops with Vittoria Corsa Speed 25c tubeless tyres, for claimed low rolling resistance.
We'd hoped to be seeing Tom testing his new bike and winter training this week at Challenge Miami, but last-ditch issues with travel on Friday meant that he'll have to sit this one out. Hopefully it won't be too long until we see this speed machine in action though!