New kit, new bike, new team… Tom Davis just needs a race now!
Loughborough-based Thomas Davis was perhaps the busiest Professional triathlete of 2019. The young Brit was regularly racing every week through the season, as the fast-improving athlete was on a fast-track of gaining experience against the very best in the sport.
He had success along the way too, gaining podiums in Challenge Family events in Salou, Spain and Anhui, China, as well as another victory at the Royal Windsor Triathlon to add to a previous win in 2017.
Still young in both age and experience within the sport, that progress got him noticed by the global ERDINGER Alkoholfrei Team, who signed him up for 2020 to join the likes of Andreas Dreitz, Patrick Lange and Daniela Bleymehl, following in the footsteps of Lucy Gossage, the highest profile UK ERDINGER triathlete to date.
Tom eased into his first season as a member of the team at the Cambridge Half Marathon in preparation for Challenge Salou at the end of March, but this was subsequently postponed along with the suspension of all World Triathlon events until the end of April.
https://www.instagram.com/p/B-L-KoahZ05/
We took advantage of the current pause in competition to catch up with him on his inspiration and ambitions.
Finding his feet
It seems that Tom's entry into triathlon got off to a wobbly start, but finding the right environment helped him flourish.
"As a junior athlete, I had played water polo for many years but when I went to University, decided that I needed a different challenge. I'd also done some competitive running so thought I'd give triathlon a go. It wasn't a great start though and I came absolutely nowhere in my first race, as I could barely ride a bike!
"But, that Autumn, I moved to Loughborough where the set up at the Loughborough Triathlon Performance Centre is second to none and I was invited to train as part of the Performance squad. Everything snowballed from there."
After a period of settling into the sport, Tom found his feet and started to forge his own direction.
"For the first few years, I raced in elite domestic and European Cup draft legal races, but I always knew that the longer, non-drafting format of races suited me better. In 2018 I took the leap and did my first couple of 70.3's before taking on my first full PRO season in 2019. I was pleased with my results, including a 1st at the Windsor Triathlon and the Azores 70.3 and 3rd at Challenge Salou. I even finished 3rd in my first full distance race, Challenge Anhui, which I'd entered very much by mistake!"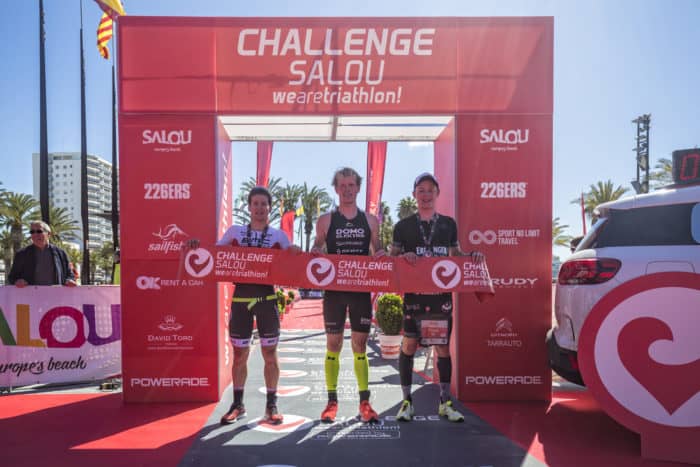 An Early Mentor
Athletes are often inspired by an individual; whether it be a high profile personality in their sport, a grass roots competitor or a contemporary and they go on to make a lasting impression…
"I'd never really paid much attention to triathlon, so fell into it rather than following anyone else. In my first year I competed in an event at Leeds Castle and met Ben Ward, who was the race organiser. He took me under his wing for six months when I really didn't have any direction. Ben was a Pro ironman and my initial inspiration to get started and he gave me the best advice I could have wished for.
"Since then, I've been lucky to have the best facilities possible at Loughborough and train alongside the world class funded squad. I've trained here with Jodie Stimpson since I started and it's been great to be able to learn from those around me, who've really helped speed up my progress."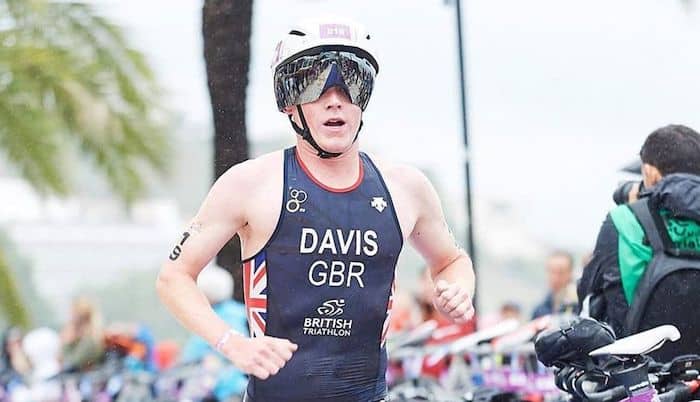 ERDINGER Alkoholfrei
Team ERDINGER Alkoholfrei is a major player in the endurance sports scene, with more than 5000 professional and amateur athletes involved. You've just been included in the ERDINGER Alkoholfrei Team so what does that mean to you?
"I've been part of the UK set up for a while and made the age group regional team. My results have been going well and that warranted the step up to the circle of pros like Patrick Lange and Lucy Gossage in the ERDINGER Alkoholfrei Team. It's a huge recognition that confirms I'm doing something right and I've already seen that people have started to sit up and take more notice of me. Getting into the team has given me the confidence and encouragement to go full time and I know that they're a fantastic team to work with, as Lucy Gossage has shared some great stories with me.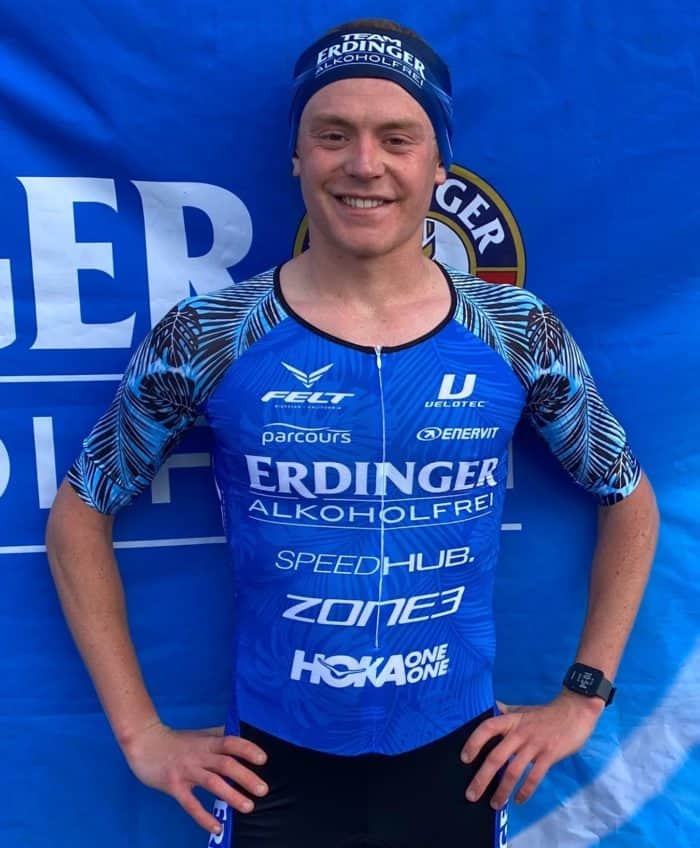 Not quite the start that was planned
"I'd been looking forward to getting to know everyone a little better at competitions this year, but unfortunately it looks like that won't be happening for a little while yet. I know that ERDINGER Alkoholfrei is committed to endurance sports, though, and when races are back up on the event calendar, I will be proud to represent them around the world. In the meantime, I'll be enjoying the isotonic thirst quencher when I finish my training sessions."
With races cancelled for the foreseeable future, how are you adapting your schedule, and will it just be business as usual?
"I'm continuing to do approximately 30 hrs of training in a general pattern and have at least five sessions of each discipline each week [Ed. swimming currently a problem with pool closures…]. I'm going to vary the weekly plans, though, to maintain optimum fitness and motivation. I obviously can't go away for warm weather training so have reverted to a winter programme, developing strength rather than race specific exercise. There's no point in getting race fit when we're facing at least three months layoff.
"We don't know when races will be able to go ahead, but that shouldn't stop any of us having ambitions and goals."
https://www.instagram.com/p/B-RLvwKhlwC/
Progress so far… and future goals
"I had a couple of podiums last year – coming 3rd in Salou and at my first iron-distance in China and they're my greatest achievements to date. I had a full race schedule planned to build on these, but I still have my eyes firmly set on my long-term goals. An IRONMAN top-five at Kona is my ultimate ambition and I also hope to achieve a top-10 at the IRONMAN 70.3 World Championships, World Middle Distance."
"Triathlon is a fantastic sport and it's great to be part of such a world renowned set up as the ERDINGER Alkoholfrei Team. Whatever level any athlete is at, I'd encourage them to train hard and do the best that they can, but not to let it get too serious. You commit so much to the sport that you're not going to last long if you don't enjoy it, so make sure you push hard but enjoy every session."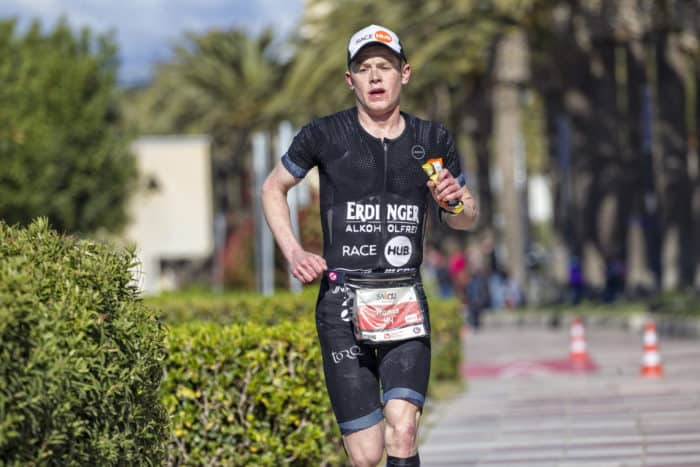 New bike seeks opportunity to race!
You are going to be riding a new bike in 2020 – can you tell us about that, and how that link-up came about?
"I was pretty lucky in that I got in contact with Speedhub, who set me up with Felt UK, who were looking for an athlete to take on for the 2020 season. So I'll be riding the Felt IA disc for racing, and the the FR disc for training. Speedhub are helping me out with everything else bike related this year. I've had the bikes on training camps during early part of this year and they feel super fast. I'm really looking forward to working with them this year (and hopefully beyond!).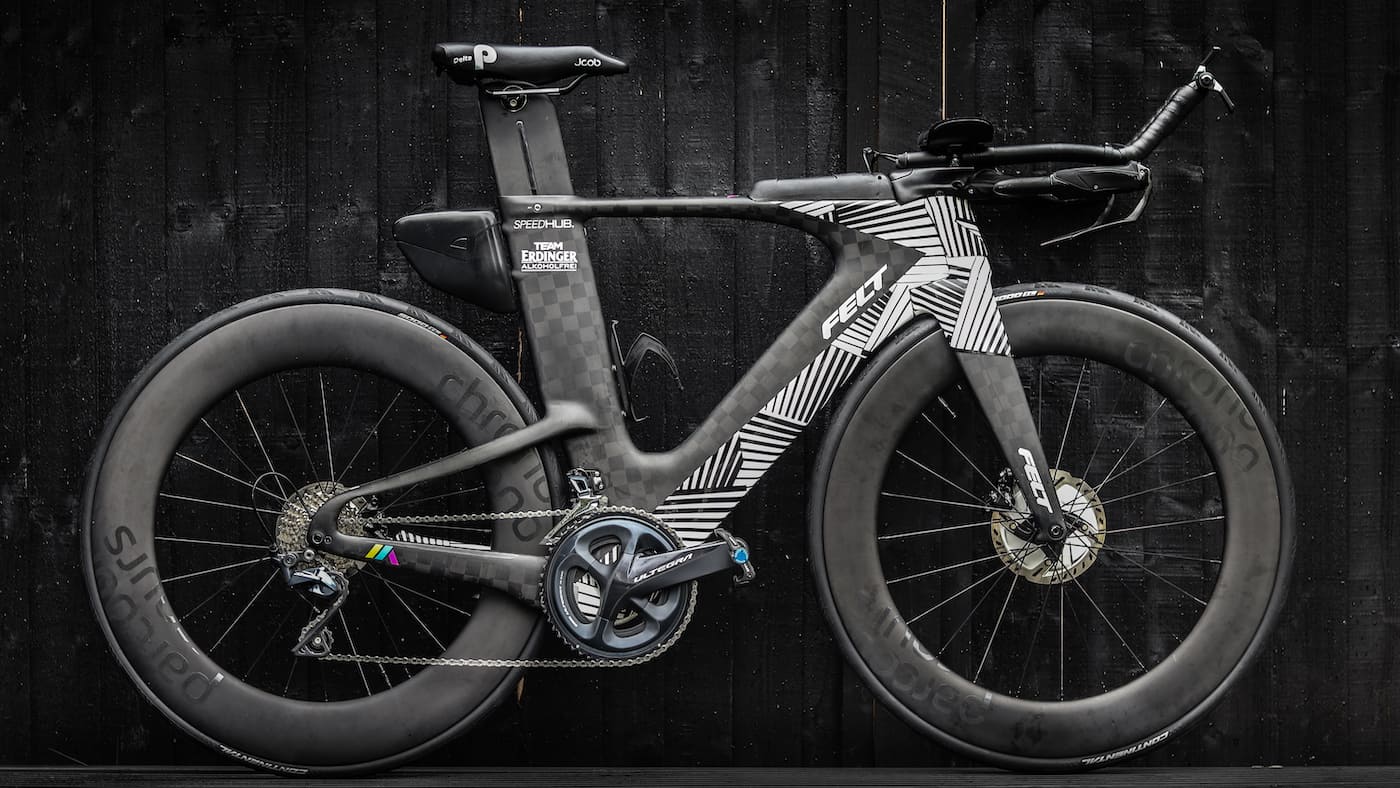 It might be a while yet – but look out for Tom Davis later in the year, in his new 'ERDINGER blue', and riding a very stealth-like new machine. Given his speedy swimming, he'll likely be at the front of the race from the T1 mount line as well. At least, he will be if the swimming pools can open some time soon…