Joe Skipper and Katrina Matthews claimed comfortable victories in the PRO races at IRONMAN UK 2021 on Sunday. That said, while his winning margin was ultimately significant, he produced a wonderful marathon to transform the standings at T2, and add to his 2018 victory in Lancashire. In the process, he's now won an iron-distance event every year since 2017.
The Bolton race was robbed of much of it's international potential by COVID-19 restrictions, which stopped many overseas athletes attending.
But it still provided a great spectacle as Skipper and Matthews carved out a British win double.
PRO Men – Skipper reels in Sam
Skipper was more than 14 minutes off the pace set by Sam Laidlow when he got off his bike and headed for T2. A marathon time of 2:41:45 would turn that around to cement what was in the end a convincing success.
It was an epic performance from Skipper on the run, it had to be to produce such a turnaround. Laidlow meanwhile had put in an enormous effort of his own, and he collapsed as he crossed the finish line before recovering soon after.
Laidlow led the field out of the water with a swim time of 47:08, just ahead of Elliot Smales. Skipper was further back in fifth after clocking 53:22 for the opening discipline.
The gap between Laidlow and Skipper was more than 14 minutes after a bike leg which saw Sam end it more than seven minutes clear of fellow Frenchman Leon Chevalier. Laidlow – recent winner of the TradeINN International start the run with first, 7:44 up on Leon Chevaliier (second recently at Eton Dorney), and ten minutes up on Tim Don, who has seemingly had suffered a bike crash during the 180km, Eliot Smales was fourth in his second IRONMAN start (+12:18), leaving Skipper with a approaching 14 minutes to make up.
On the run though it was a rout as Skipper surged through the field, but at the half marathon was still 10 minutes back. From then the time gaps fell further however and the brit passed Laidlow in the final 10km. His final margin of victory would be almost nine minutes, with Chevalier grabbing the final podium spot behind Laidlow, the French duo separated by just seven seconds at the finish.
It was not the planned day for two British favourites however, with Tom Davis and Tim Don both suffering crashes which would ultimately put them out of the race:
PRO Women – Matthews romps home
With only three PRO women on the start list, it was a select field which exited the water with Matthews heading the way just under five seconds ahead of Nikki Bartlett. Chantal Cummings was a further 12 seconds back in third.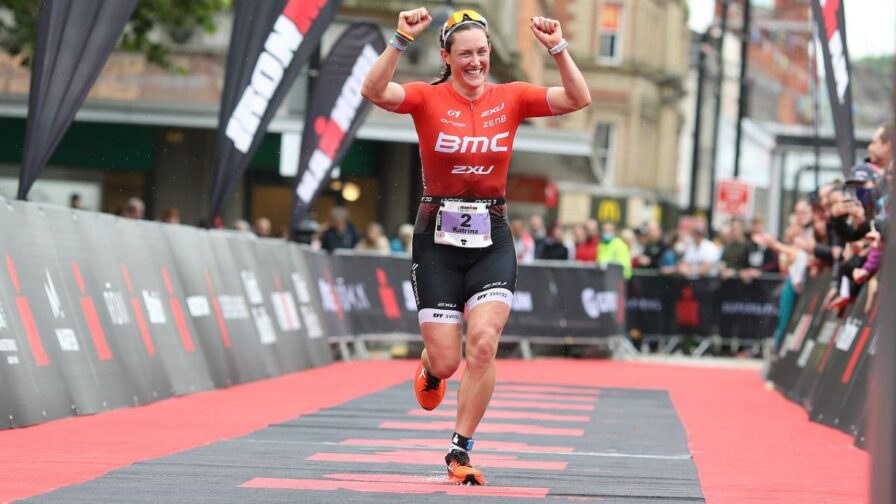 Matthews held sway on two wheels, extending that slender lead by more than six minutes to Bartlett by the time she headed for T2.
Katrina reigned supreme on the run as well to complete a clean sweep of fastest times in all three disciplines. Her 3:06:39 marathon gave her a winning margin of more than 22 minutes over Bartlett. Cummings was a further eight minutes back in third.
IRONMAN UK 2021 Results
Sunday July 4, 2021 – Bolton
PRO Men
Joe Skipper (Great Britain) 8:42:59
Sam Laidlow (France) 8:51:41
Leon Chevalier (France) 8:51:48
Elliot Smales (Great Britain) 9:01:21
Adam Bowden (Great Britain) 9:08:40
PRO WomenKatrina Matthews (Great Britain) 9:40:01
Katrina Matthews (Great Britain) 9:40:01
Nikki Bartlett (Great Britain) 10:02:43
Chantal Cummings (Great Britain) 10:10:33