Third place for Nikki Bartlett in Spain
With a EUR 42,000 prize purse – 12k of which was topped up by the Professional Triathletes Organisation – the debut edition of the full-distance Tradeinn International Triathlon saw plenty of elite athletes heading to Girona, Spain for Sunday's event. Combine that with the Spanish National Championship, and competitive racing followed.
Victories were earned by Sam Laidlow (FRA) and Emma Bilham (SUI), who are both familiar names here in the UK and Ireland.
In 2019, Sam won the Lakesman Triathlon in a blistering time of 8:21, still the fastest iron-distance time on UK soil. Still only 22 I believe, Sam has been producing some excellent, but perhaps slightly under the radar, performances for a few years now, showcasing his talent and potential. Well, the genie is now well and truly out of the bottle. You will be hearing his name a lot more over the coming years.
The 'Born in the UK and raised in the French Pyrénées' athlete has all the tools to feature strongly at the top of the sport for the next 10+ years. The fastest swim (he recently lead out Jan Frodeno too, at Challenge Gran Canaria, before a crash ended his race there), losing only seven minutes to INEOS rider Cameron Wurf over the challenging 180km course and then closing with a 2:54 marathon – thats a very complete performance.
Women's Champion Emma Bilham won the debut (and so far, only!) IRONMAN Ireland, Cork on that wet and cold day in 2019. A winner too of the Alpe d'Huez Long Course in 2018 and Cannes International in 2017, Emma is no stranger to success on tough, challenging courses.
It was a close race in Spain however – the top three separated by barely seven minutes – with Emma finishing with a 2:58 marathon, versus the 3:01 and 3:02's of Judith Corachan Vacquera (ESP) and Great Britain's Nikki Bartlett.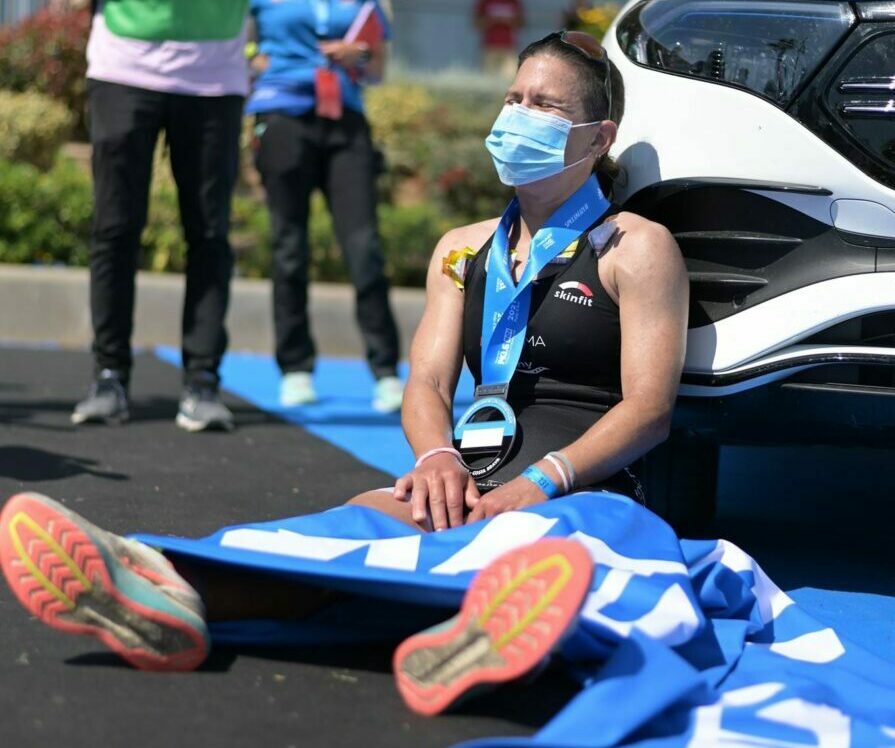 Nikki will have a very quick turnaround and be testing her recovery powers to the max, as on Sunday she will be racing in Leeds at the AJ Bell World Triathlon Para Series Leeds, as Guide to Alison Peasgood, the Rio 2016 Silver medallist. An important race for them, as due to injuries over the past two years Alison is currently only ranked 13th in the PTVI Paralympic Rankings. A strong result there will see her zoom up the rankings and be in position to target a second Paralympic medal later this year.
A strong result too for Chantal Cummings, who we've featured several times over the years, including her win in Ayia Napa amongst them. Chantal has been making progress year-on-year, reflected on Sunday in particular by her swim-bike legs. A 3:20 marathon saw her lose time to the podium trio, but that was both her debut full-distance start and first ever marathon.
The day didn't go quite so well for Tom Davis, who only signed up for the race at a few days notice, after travel restrictions prevented him flying out to Challenge St Poelten in Austria. Losing some nutrition on a speed bump and a couple of wrong turns were recoverable, but with 40km to go on the bike he lost significant pressure in his front tyre and "it was a case of nursing the bike to the finish" on some tricky descents.
Tradeinn International Triathlon, Girona – Sunday 30th May 2021
3.8km / 180km / 42.2km
MEN
1st – Sam Laidlow (FRA) – 8:41:46
2nd – Victor Arroyo Bugallo (ESP) – 8:46:45
3rd – Morten Bramer Olesen (DEN) – 8:48:28
4th – Roger Manya Velenzuela (ESP) – 8:51:12
5th – Cameron Wurf (AUS) – 8:52:07
14th – Thomas Davis (GBR) – 9:12:13
WOMEN
1st – Emma Bilham (SUI) – 9:32:11
2nd – Judith Corachan Vaquera (ESP) – 9:37:55
3rd – Nikki Bartlett (GBR) – 9:39:35
4th – Chantal Cummings (GBR) – 10:09:12
5th – Katharina Wolff (GER) – 10:14:37