After finishing in third place two years ago, 2014 IRONMAN World Champion, Sebastian Kienle, returned to the Polar Cannes International Triathlon on Easter Sunday on the French Riviera, to take the title by a comfortable six minute winning margin. Switzerland's Emma Bilham was the women's Elite champion – by seven minutes.
17th – and three minutes back – after the opening 2km swim, Kienle powered to the front on the challenging bike course which features plenty of climbing, descending and technical sections. Honestly, it's a great course!
Riding almost seven minutes quicker than eventual second place finisher Leo Bergere (FRA), by T2 he had moved into the lead and showed no signs of giving that up on the run. In contrast to the bike, the run course is absolutely pan flat and held on La Croisette, the premier sea-front road in Cannes. The fourth fastest run split brought him home to a comfortable victory to kick-off his 2017 season.
Like Kienle, Emma Bilham's route to success was the bike. A 2:55:09 bike split soon overturned any swim deficit and left her with a big lead at T2 – a lead which she showed no signs of giving back over the 16km run course. As with the men's race, home athletes took Silver and Bronze, this time via Charlotte Morel and Johanna Daumas.
We hope to have more from Cannes, including some great images soon.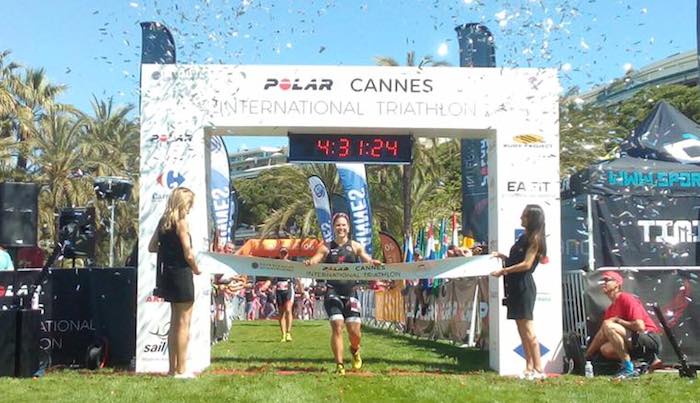 Cannes International Triathlon – Sunday 16th April 2017
2km / 95km / 16km
MEN
1st – Sebastian Kienle (GER) – 3:53:33
2nd – Leo Bergere (FRA) – 3:59:36
3rd – Etienne Diemunsch (FRA) – 4:00:42
4th – Maurice Clavel (GER) – 4:01:28
5th – Andreas Raelert (GER) – 4:02:09
WOMEN
1st – Emma Bilham (SUI) – 4:31:14
2nd – Charlotte Morel (FRA) – 4:38:13
3rd – Johanna Daumas (FRA) – 4:41:01
4th – Michelle Vesterby (DEN) – 4:42:57
5th – Tine Holst (DEN) – 4:44:31