A British One-Two at the Hellenic Bank Ayia Napa Middle Distance Triathlon
We've previously profiled the fast-growing Ayia Napa Triathlon (www.ayianapatriathlon.com) on the site, an early season race which given the wind and rain where I was this past weekend in the UK, looks set to grow and grow. If some early season sun is on your 'to do' list, then this Cyprus destination should be on your triathlon short-list for 2020.
The event offers Sprint, Olympic and Middle Distance options (for individuals and teams), and on Sunday British Pro Chantal Cummings, a member of the ETE Racing Team, was back racing over the Middle Distance, in a race she finished third at 12 months ago.
12 minutes faster and two places higher, she topped the podium this year, with team mate and fellow Brit, Claire Weller (a very close second at the Outlaw Half Holkham last year), finishing as runner-up.
Here, Chantal reports back for us on "a great race for anyone looking for an early season event."
---
Ayia Napa Triathlon: what a great way to blow away the winter training cobwebs and test the water to see where you are at in the early season of racing.
The event has grown since 2014 from 23 athletes to almost 700, attracting many different nationalities. As part of the Perry Agass squad based out in Paphos, Cyprus this race has become a regular feature in the middle of a training block as we all travel across to Ayia Napa each year, along with some ETE Training Camp athletes, to take on the event and put in a British appearance.
From the moment you arrive at the race hotel, Nissi Beach Resort, until you leave there is a great sporting buzz about the place. The briefing is all handled electronically allowing you to watch it in your own time before the race. With bike racking and transition setup being on race day, there is no running around in the days before allowing for plenty of time to rest!
The weather played a role in making this year's race a little more challenging as the stormy weather on the Saturday left what is normally a millpond-like sea to become quite choppy water with relatively strong currents. This left no room for hiding and was not quite a day for PBs, but who doesn't love a challenge on race day!
https://www.instagram.com/p/BvGk7HDl5VD/
2019 marked the first year that Nireas Triathlon created an Ambassador wave which went off just before the main mass start, marking the steps Nireas Triathlon is taking to establish and grow this event. From the beach start athletes had to tackle the undulating sandy sea floor to get out past with waves and head out for their first challenging lap of the swim. Heading back on land the spectators were cheering you on during the Australian exit before then running back in to start the second lap and embrace the choppy conditions in the sea.
https://www.facebook.com/AyiaNapaTriathlon/videos/1232357926928835/
Through transition and onto the bike course you head up out of the town and onto the faster loops of the course. Although the bike course is relatively flat and fast, it is also reasonably tough as the wind can make it a harder day out than you think and this year's race certainly had some Cypriot winds. Despite that if you want a bike leg where you can really put the hammer down and push yourself on the bike, this is a great course for that.
https://www.instagram.com/p/BvGnd7UFCk-/
Back down into transition and onto the run which is a great course due to it's mix of terrain and cross over points which create a great competitive buzz as you see other athletes around you regularly. The spectator crowd is a warm welcome along the final 1km stretch of each of the three run laps and is made even better by the fact that it is slightly downhill so you can pick your speed up!
https://www.instagram.com/p/BvGm-Nolimk/
Overall this is a great race for anyone looking for an early season event. The organisers are very welcoming and friendly, the location with its crystal clear waters is great and the event is really well run.
For me it was a great race day out in the middle of a training block to blow away the cobwebs and I am delighted to have taken the win!
Hellenic Bank Ayia Napa Middle Distance Triathlon – Sunday 17th March 2019
1.9km / 90km / 21.1km
WOMEN
1st – Chantal Cummings (GBR) – 4:30:05
2nd – Claire Weller (GBR) – 4:37:30
3rd – Yuliya Yelistratova (UKR) – 4:40:29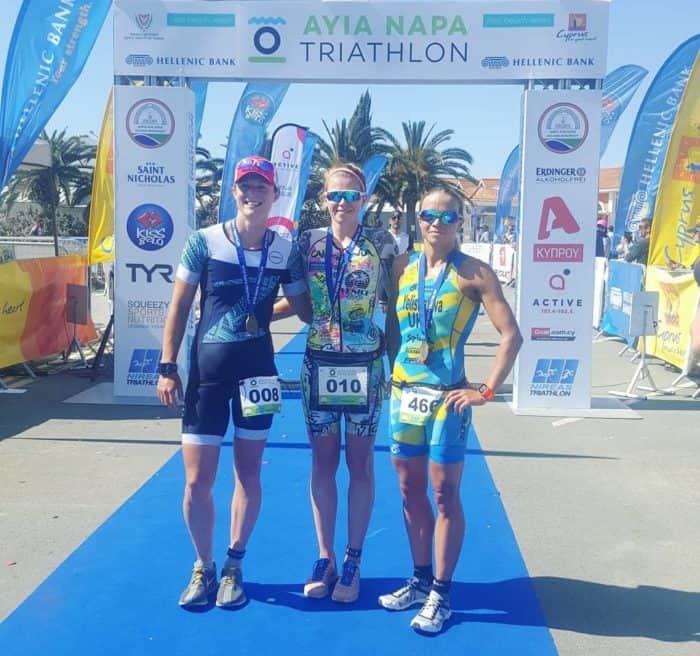 MEN
1st – Aleksey Kalistratov (RUS) – 3:54:07
2nd – Andrey Bryukhankov (RUS) – 3:55:59
3rd – Ivan Kalashnikov (RUS) – 3:56:51