Outlaw Half Holkham goes from strength-to-strength in its third edition
Despite taking place on one of the busiest racing weekends of the season, and with the British Championships over the distance taking place next weekend at Hever Castle, the Outlaw Half Holkham continues to impress.
Holkham Estate is a dream venue, and the backdrop of Holkham Hall provides a stunning finish line. More than that though, it also overlooks the swim, transition, run course, hosts the (four) race briefings and provides camping and car parking facilities just a few hundred metres away. If you've ever walked away from the typically frustrating 'admin' nightmare of split transition races, then putting a trip to north Norfolk in your diary for 2018 is seriously recommended. With around 1500 entries, just under 1300 starters and more than 1200 finishers on the same day as IRONMAN 70.3 Edinburgh, the event is also more than just a venue – it's a top quality event for everyone. Highly recommended.
https://twitter.com/stueves/status/1013486395132964864
At the 'pointy' end of the race, those other events, combined with next weeks British Championships meant that the depth of the field wasn't quite as strong as we have seen previously, but that does not take away from the delivery of another classic for the British triathlon season.
No course records this year. Starting the run, it did appear that Chris Standidge was in contention to challenge it, but a calf injury meant that he withdrew on lap one, conscious that his big target is the IRONMAN 70.3 World Championship in eight weeks time. Second off the bike, Sam Proctor stepped up and took a victory which will greatly enhance his confidence in the early stages of his Pro career.
While the women's Elite field was small, the race wasn't decided until the red carpet of the finish straight, with Rachel Hawker finally managing to catch and pass the Claire Weller, who had powered through the lead with a superb bike split. Just 11 seconds separated the pair at the finish.
---
Excitement and drama see Proctor and Hawker win Outlaw Half Holkham
Sam Proctor and Rachel Hawker were crowned champions of the Outlaw Half Holkham in north Norfolk, both having to come from behind to win. On a hot and fairly windy day 1300 athletes took on the 1.2mile swim, 56mile bike ride and challenging 13.1mile run around the beautiful Holkham Estate.
Matt Bailey was first to exit the lake, setting the swim pace, but later suffering a snapped chain on the bike. One of the pre-race favorites, Chris Standidge was motoring on the bike course and was first through the second transition on to the run. He had the possibility of getting close to Craig Twigg's course record of 4:09:17 and a £1500 pay day, but pulled up with a calf injury after the first of three run laps.
Sam Proctor took up the lead and made sure he kept it all the way to the finishing line in front of Holkham Hall. His final time of 4:13:03 saw him win with a comfortable margin.
Commenting on passing Standidge, he said: "I started the run in second place, around four or five minutes back, then I was coming towards the end of the first lap and I saw him walking, it would have been nice to have a battle."
He added: "I'm trying to make the jump to being a professional, this is a nice little confidence boost. It's not been smooth or plain sailing so far, but it's nice to get this win on my CV."
Ian Dempsey claimed the second spot whilst Richard Gibbs and Andrew Diplock fought for third place in the Elite category. Gibbs finished with five seconds advantage.
The women's race was hugely exciting in the closing stages. Claire Weller, a 'local' from Ipswich, had cycled brilliantly and held a lead through the run, but Rachel Hawker caught sight of her in the closing stages. The Irish woman, who is based in Yorkshire, had been suffering in the wind and heat, but found some extra strength to get to the finishing line first.
She said: "I felt really awful the whole time, then after the last feed station someone told me that Claire was just ahead. I could see her and I then I had to go. I passed her about 500m out, then she came back. She sped off, and then I saw the finish and I found something else and passed her just before the final corner."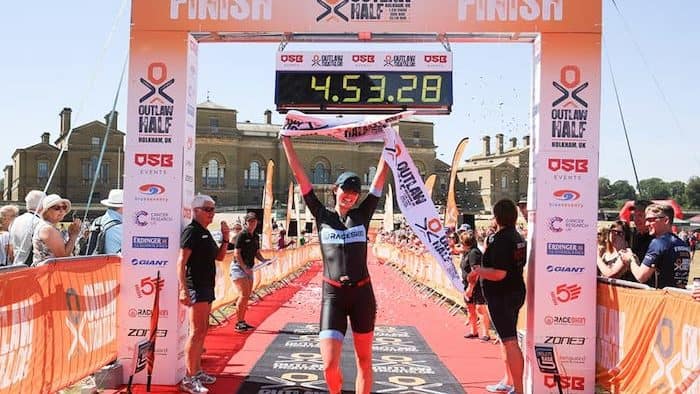 She summed up her performance to echo the thoughts of many more of the 1200 finishers, adding: "It was so hard, it's so hot. It ranks really up there. I'm really proud."
Claire Weller crosses the line 2nd in a close finish @OutlawTriathlon Holkham half, it was Claire's 1st run race this yr after coming back from injury but she done very well after leading most of the bike n run but just couldn't hold on to winner @RachelHawker3 today , well done pic.twitter.com/CfNOYajua1

— Perry Agass (@Tripezza) July 1, 2018
Claire Shea-Simonds finished third overall to add another Outlaw Half podium result to the one she achieved in Nottingham in May.
A few athletes succumbed to the hot and windy conditions, but the vast majority finished, including three men who have done every Outlaw and Outlaw Half event since the first one in 2010. Gary Goacher, Graham Yare and David Manning-Ohren will now prepare to go double the distance at the Outlaw Triathlon on 29 July in Nottingham.
3rd @OutlawTriathlon Holkham finished in 6:28:00. Slightly faster than last year. Outlaw event 17 with 18 in 4 weeks – the small matter of the full!!

— Graham Yare (@UltraOutlaw) July 1, 2018
The final finisher, Tryphina Cooper from Luton, danced on the finishing line after nine hours of swimming, cycling and running. She said: "What an amazing day I had today. Well done to everyone that finished. All the cars that stopped to give me way, apologies to cause you to queue up waiting for me. I really appreciated you clapping me to the final stretch and made it."
Entries for the Outlaw Triathlon are still open, here: http://www.osbevents.com/events/triathlon/outlaw-triathlon/
Entries for 2019 events will start to open in September 2018.
Outlaw Half Holkham – Sunday 1st July 2018
1.2mile swim, 56mile bike, 13.1mile run
Overall Men:
1. Sam Proctor, Elite, 4:13:03
2. Ian Dempsey, Elite, 4:19:54
3. Joe Banns, M30-34, 4:24:47
4. Duncan Shea-Simonds, M45-49, 4:25:51
5. Richard Gibbs, Elite, 4:27:54
#outlawhalf #3rd #overall #beattheelites #1st #agegroup #sunshineyday thanks for a great event and to all volunteers @OutlawTriathlon #holkham pic.twitter.com/WFHxYif3kz

— TeamBanns (@TeamBanns) July 1, 2018
Great to see @DSS123 post his best result of the season so far… 4th fastest OVERALL and winning his AG by almost 20mins at @OSBevents @OutlawTriathlon Holkham – what an absolute rockstar 🌟 @racehub_uk pic.twitter.com/5HfexgHGBG

— Claire Shea-Simonds (@ClaireSSTri) July 2, 2018
Overall Women:
1. Rachel Hawker, Elite, 4:53:27
2. Claire Weller, Elite, 4:53:38
3. Claire Shea-Simonds, Elite, 4:57:26
4. Helen Cross, F35-39, 4:58:42
5. Hannah Bruce, F25-29, 5:05:48
Relay teams:
1. Team Bedford Harriers 1, 4:18:58
2. Team Lincoln Tri, 4:28:21
3. Team 2plus1, Leicester Triathlon Club, 4:34:24