Perfect weather welcomes thousands to Nottingham
I'm not sure just how many weekends I have spent at the National Water Sports Centre, Holme Pierrepont over the past couple of decades at various triathlon events, but the car certainly doesn't need a Sat-Nav to find it. A few of those have seen 'biblical' rain, but this past weekend with the Nottingham Sprint Triathlon (Saturday) and Outlaw Half Triathlon (Sunday) must be right up there with the best in terms of conditions. Blue skies, calm winds and warm – but not too hot – that's about as good as it will ever get in the U.K.
It was a welcome addition too, with approaching 3,000 athletes racing over the two days. Saturday's goal for many was to qualify for the ETU Sprint Triathlon European Championships in Glasgow, while Sunday was the always much-anticipated Outlaw Half. A strong domestic field has been assembled – as previewed – with Will Clarke and Lucy Charles certainly the headline names expected to take the wins and, perhaps, a course record bonus.
Alas, Will was a last minute DNS. That, potentially, opened up the race and while last years course record of 3:56:00 from Mark Threlfall was not beaten, there was some very exciting racing including a sprint finish on the red carpet for podium spots.
No @OutlawTriathlon Half for me today. Bags are by the door at 4am ready to go but I seem to have caught my sons sickness bug in the night. Gutted, was really looking forward to it.

— Will Clarke (@Theclarke) May 20, 2018
Lucy Charles, as expected, was in a class of her own in the women's race – but did come up just short of the impressive course record time of Cat Faux. Worth remembering, I did describe her as 'Catherine the Great(est)' with good reason…
---
Lucy Charles and Sam Pictor won the Outlaw Half Nottingham in glorious conditions at the National Water Sports Centre. No course records were broken, but there was a high-quality field that produced some exciting racing.
The elite men's and women's wave set off at 6:10am towards a beautiful sunrise at the far end of the Regatta Lake. Charles was right up front of the 1900m swim, exiting the water just two seconds behind Matt Leeman before getting on her bike for a 56mile ride around Nottinghamshire. She completed that with a sizeable lead over the rest of the women's field at the start of the 13.1mile run.
Nice work @MattLeeman – 1st out of the water & a solid race @OutlawTriathlon #outlawhalf, just ahead of the brilliant @LucyAnneCharles @ETEracing pic.twitter.com/aSH4eVVome

— Blueseventy (@blueseventy) May 20, 2018
Charles, who is undisputedly one of the best long-distance athletes in the world, was using this as a training event, but had an eye on the course record. She was just short of it at the finish, but won the event by a convincing margin.
She said: "I really enjoyed it. Great course, great crowds out there. I knew it was going to be close for the record. I've got a couple of big races coming up, so I've not been allowed to rest, but the times were pretty good. Hopefully that means that things coming up next will go well."
Leeman was the early leader in the men's race but out on the roads Phil Graves was powering around the bike course demonstrating why he's one of the most highly respected triathlon cyclists in the world. Graves started the run with a small lead over Reece Barclay and Lewis Eccleston. However, it was Pictor, a former World and European Age-Group Duathlon champion, who produced the best run.
Pictor's run split of 1:13:08 propelled him to what he described as his biggest career win to date. He said: "When I heard I was fifth or sixth off the bike I was very surprised and luckily I had my run legs today. I worked my way forward one at a time."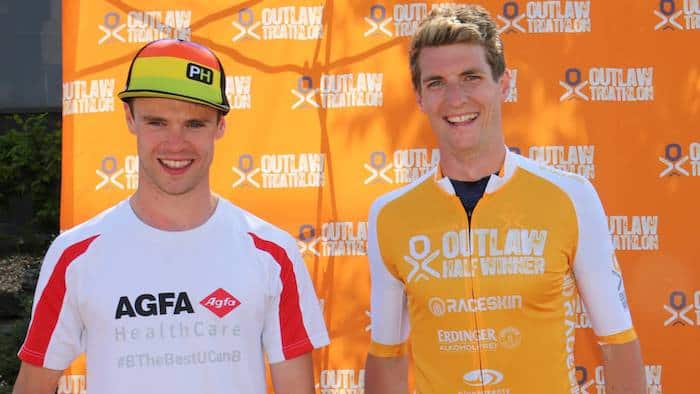 There was expectation of the relay course record being broken by a team including international athletes Chris Hine, Matt Bottrill and Mark Threlfall. However, a puncture put paid to their impressive progress and Team 100% Tri, featuring Matt Jory, Mark Redwood and Jordan Skelly took the lead. They were within seconds of the course record, which is held by Redwood's former shop team, TFN. They finished in 4:02:08 ahead of Team Phil Hall.
Relay winners @100triteam #outlawhalf pic.twitter.com/vaM8NQD3iV

— Outlaw Triathlon (@OutlawTriathlon) May 20, 2018
Th race featured plenty of novices as well as the stars, and many people raising money for charities including Cancer Research UK. Three men, Gary Goacher, David Manning-Ohren and Graham Yare all completed the event, maintaining their record of having completed every Outlaw and every Outlaw Half event since the first launch in 2010.
Entries for Outlaw Half Holkham on 1 July and the full distance Outlaw Triathlon on 29 July are both still open via osbevents.com.
Outlaw Half Nottingham – Sunday 20th May 2018
1.2mile swim, 56mile bike, 13.1mile run:
Overall men:
Sam Pictor, 4:02:02
Recce Barclay, Pulse Fitness, 4:03:18
Lewis Eccleston, MANCHESTER TRI CLUB, 4:03:22
Philip Graves, York Triathlon Club, 4:05:54
Matt Leeman, ETE TriSutto, 4:06:21
Top three men @SamPictor @reece_barclay & Lewis Eccleston #outlawhalf pic.twitter.com/MIsX3R0YXZ

— Outlaw Triathlon (@OutlawTriathlon) May 20, 2018
Overall women:
Lucy Charles, Pulse Fitness, 4:19:11
Naomi Keira Wright, Manchester Tri Club, 4:45:22 (*AG 30-34)
Rachel Hawker, 4:46:00
Claire Shea-Simonds, Race Hub, 4:50:48
Katie Bain, Edinburgh RC, 4:59:45 (*AG 20-24)