Back-to-back ITU World Triathlon Series events in the UK and a very impressive performance from a 20 year-old in Keswick, are just two of the many highlights featured in your Weekend Roundup.
The Lakesman
Fastest iron-distance time ever on UK soil
We'll start this weekend's roundup with a stunning result from the super popular iron-distance, Lakesman Triathlon, based in Keswick. Sam Laidlow (www.samlaidlow.com) wasn't even due to race until a couple of months prior to race day when his father, Richard, snapped his patella tendon. He would win the race by 50 minutes, setting the fastest time in all three disciplines and closing with a 2:42 marathon.
https://www.facebook.com/TheLakesmanTri/videos/443022649811710/
The resulting 8:21:00 finish time is, to the best of my knowledge, the fastest iron-distance performance ever on UK soil.
The previous best times are from IRONMAN UK 2011 (Aaron Farlow (AUS) – 8:24:34, and by the late Julian Jenkinson, who recorded 8:25:22 at The Longest Day triathlon in Wolverhampton, back in 1998. Just 20 years old, Sam finished fourth at the Cannes International Triathlon earlier this year, leading for much of the bike leg and mixing it with Cameron Wurf and Tim Don.
'Born in the UK and raised in the French Pyrénées', Sam represents the Poissy club and will surely have many more great performances ahead of him over the next decade or more.
https://www.instagram.com/p/Byxx9abC-It/
For the women, Jo Shalcross built her winning lead on the bike, but needed it as second placed Caroline Evans closed 10 minutes over the marathon to be less than five minutes behind at the finish.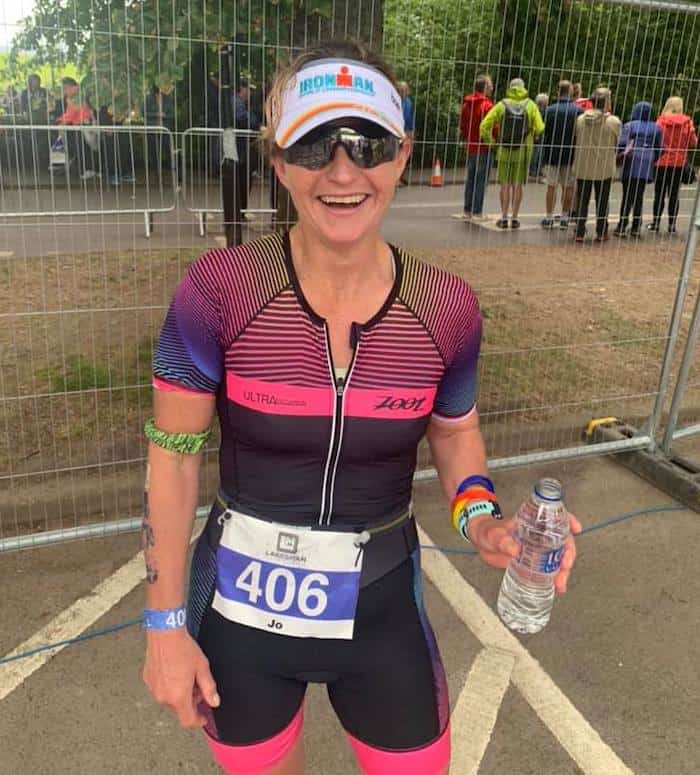 MEN
1st – Sam Laidlow (Poissy) – 8:21:00
2nd – Matthew Alderson (Blaydon Harriers & AC) – 9:11:51
3rd – James Williamson (Waverley Harriers) – 9:25:25
WOMEN
1st – Jo Shalcross (North Shields Polytechnic TC) – 10:52:24
2nd – Caroline Evans (DH Runners) – 10:57:15
3rd – Michelle Harrison – 11:21:46
Royal Windsor Triathlon
Not too much of a surprise to see Thomas Davis adding a second title to his win in 2017 and Emma Pallant (for the seventh time!), taking the honours at the 29th edition of the race set on the banks of the River Thames in Berkshire – full results HERE.
https://www.instagram.com/p/ByxLVjfBOtd/
Celtman! Extreme Scottish Triathlon
It doesn't get much tougher than this relatively new but already iconic Xtri classic. This highlights video will say far more in pictures than I ever could. Look out for a detailed report from the race coming to the site very soon.
https://www.facebook.com/cxtri/videos/2359054251084569/
Women:
1st – 14:30:52 – Rebecca Hoare, UK
2nd – 14:42:15- Rachael Hunt, UK
3rd – 15:10:28 – Magdalena Trumstedt, Sweden
Men:
1st – 11:52:05 – Johan Hasselmark, Sweden
2nd – 12:38:49 – Francesco Mirando, Italy
3rd – 12:41:50 – Graeme Stewart, Scotland
Accenture World Triathlon Mixed Relay Nottingham
A huge amount of rain in the area meant fast a fast running river combined with unsafe water conditions, so all of the racing in Nottingham was switched to a Duathlon format on Saturday. The youthful Great Britain team were superb and from the moment WTS Leeds winner, Georgia Taylor-Brown pulled away on the bike, never looked like doing anything else but winning. Check out the detailed report if you've not see it already HERE.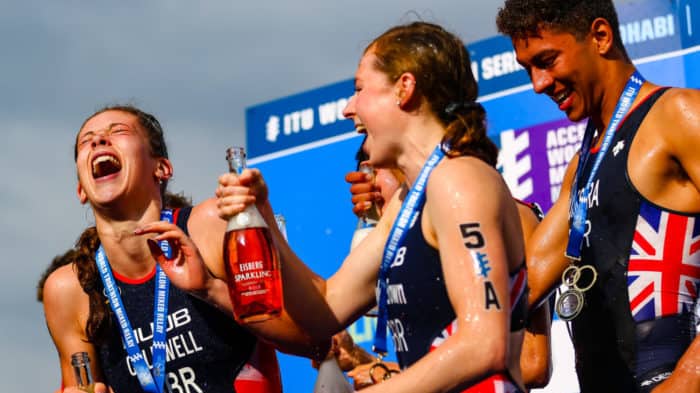 The event also hosted the British Triathlon Age-Group Sprint Distance Championships, with the 750m replaced by an additional 1.5km run. Liam Lloyd (25-29) took the overall win there to add to his three Welsh Championships already this season, while the fastest woman on the day was Nicola Timmins (35-39), who has collected several international World and European Championship medals in recent years.
It's @LiamTLloyd first across the line at @WorldTriNotts in the @BritTri Sprint Distance Championships🥇

Keep up with results and live timing across the day at https://t.co/lCjJI3KUgl 📱 pic.twitter.com/7FSXieFW5J

— British Triathlon (@BritTri) June 15, 2019
One of the features that stood out for me (I was there doing the on-site commentary), was just how close the racing was and how competitive the 'more senior' women are. Michelle Dillon (45-49), was first across the line from the F40+ wave and just 21 seconds behind Nicola overall, while second and third from wave two (and Gold and Silver in F50-54), Jacqui Phillips and Maria Powell (and indeed, Bronze medallist Sara Northover), all went quick enough to have won the F40-44 category!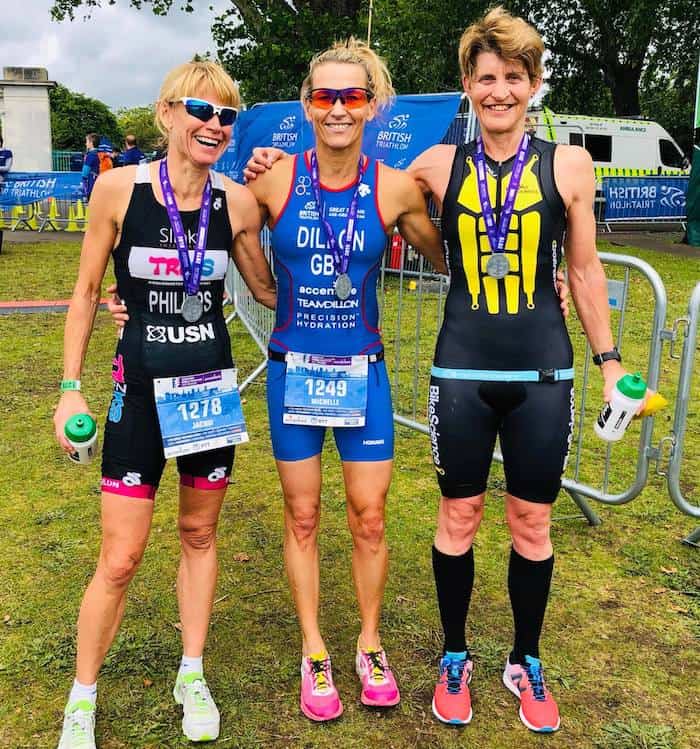 Nur-Sultan ITU Triathlon World Cup, Kazakhstan
Another race impacted by water conditions and turned into a duathlon, the wins went to Matthew Hauser (AUS) and Ai Ueda (JPN), who is a former Duathlon World Champion herself.
Carolyn Hayes (IRL) and Great Britain's Kate Waugh were second and third respectively, both earning their first ITU World Cup podium finishes.
The British men were headed by Morgan Davies (8th), Gordon Benson (11th) and Iestyn Harrett (12th). Men's highlights video can be found HERE.
https://www.instagram.com/p/Byxd3H-BnWE/
Skoka Challenge Geraardsbergen
Full report via and extensive image gallery from Belgium is available HERE, where Fenella Langridge (2nd) and David Bishop (3rd) were British podium finishers, behind the impressive winners, Pieter Heemeryck (BEL) and Daniela Bleymehl (GER).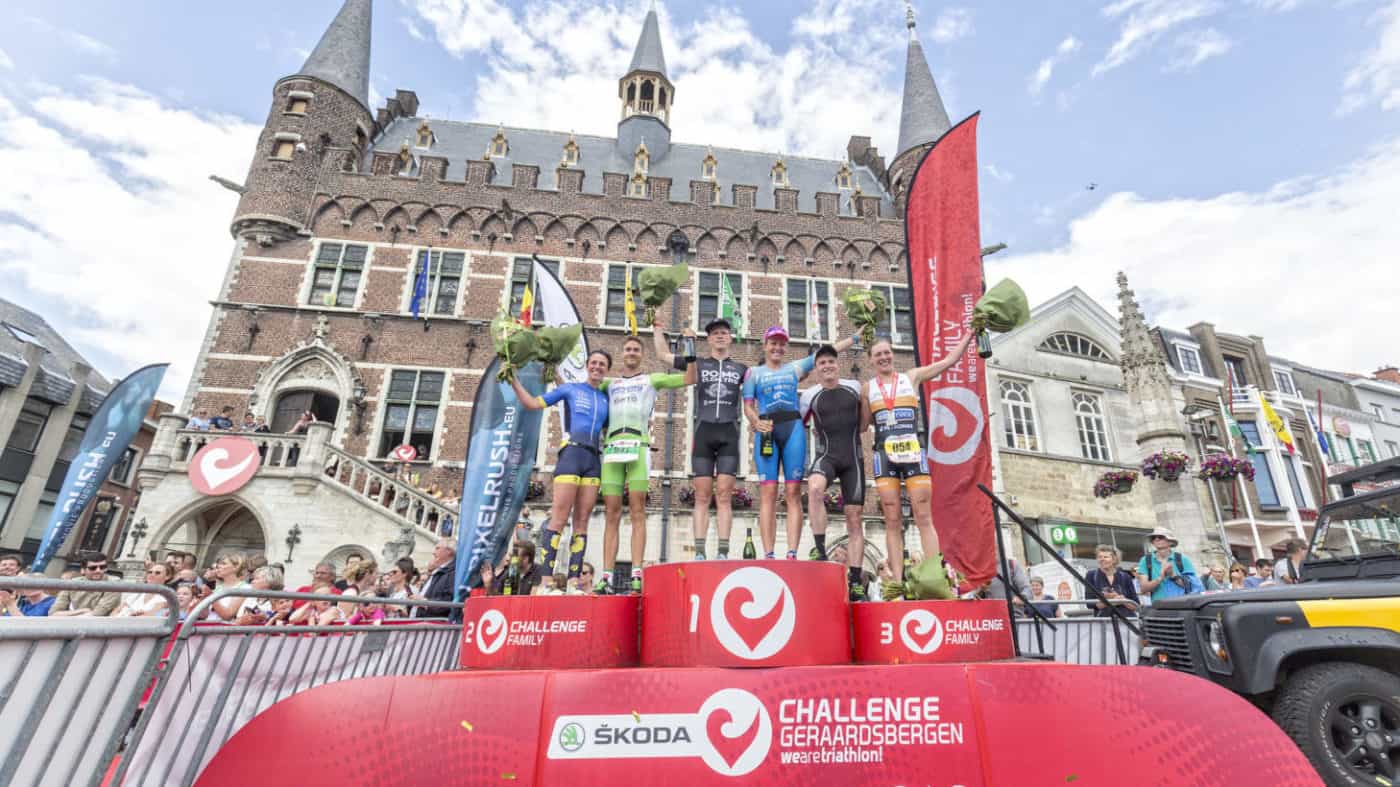 IRONMAN 70.3 Les Sables d'Olonne
Plenty of coverage online already about the debut of what seems to have been a hugely popular race in France. It was a career-best day for Frankie Sanjana, who took the lead late in the run and went on to take her first Pro victory. Check out our coverage on these links:
Besancon ITU Paratriathlon World Cup
Paralympic Champion Andy Lewis (PTS2) and Paralympic Bronze medallist, Melissa Reid (PTVI) took Gold in Besancon. The competition was tough however, with their winning margins just six and seven seconds respectively.
https://www.instagram.com/p/Byx1_w6HSyX/