Former ITU racer steps up to IRONMAN 70.3 – how did it go?
Fergus Roberts on the good, the bad and the ugly of IRONMAN 70.3 Les Sables d'Olonne
Last month I was on holiday in France and met Great Britain's Fergus Roberts. A regular in recent years in the biggest Elite races in the UK plus several ETU European Cup and ITU Triathlon World Cup events, I had a good chat with him (watch it HERE), about a new direction in his triathlon career.
A few weeks ahead of his Pro debut at a new distance at the first edition of IRONMAN 70.3 Les Sables d'Olonne in France at the time, I suggested he write a report for me about the experience. Win or DNF, great race or shocker wasn't important to me – I just wanted to get an insight into what he learned along the way.
Well, Fergus finished ninth yesterday (race report is HERE), and with a quick turnaround, this is his first-hand experience of that first IRONMAN 70.3 Pro start.
---
Pro Debut: 70.3 Les Sables d'Olonne – Race Report
I decided at the end of last season that I wanted to make the switch to racing longer distance. The obvious step up was to race over 70.3 first, build up some experience and hopefully get plenty of good performances under my belt at the top level over this distance.
I have recently been working and training out at Les Stables Tri Camps, where I have managed to get a good block of training done alongside the work I did with the guests and any extras for Mark and Sibs. I really enjoyed the experience and would certainly recommend this to any athlete that is stepping in the direction of trying to make a career out of the sport and to anyone who just enjoys getting outdoors and social interaction with like-minded people. A big thanks to Mark and Sibs for their hospitality and giving me the opportunity to do this and also to meet so many awesome people. Good luck to everyone who I met and I hope to see you around at the races at some point!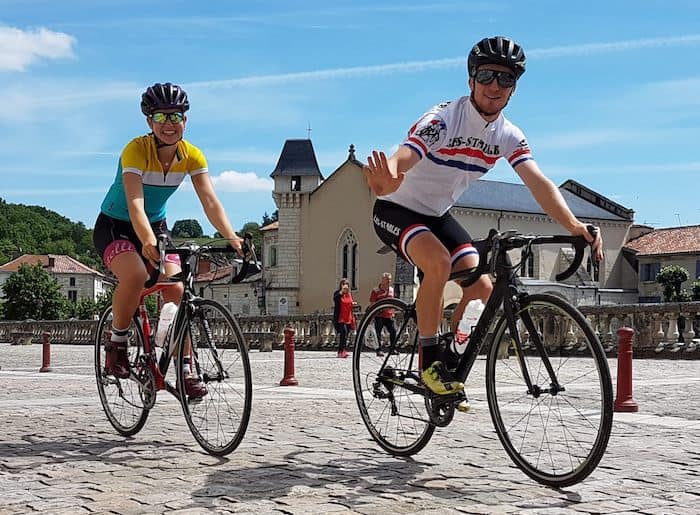 Along with the good block of training I did out at Les Stables, I also had a good winter of training under my coach Andrew Woodroffe based in Stirling. I worked a lot on the bike to get used to sitting at pace and holding power for a longer period than ITU. Unfortunately I picked up quite a serious Achilles injury over Christmas time and was unable to run for 10-12 weeks which was a set back, but as everyone knows what it is like to have an injury, you just get on with what you can and try and not dwell on the negatives.
My first race of the season has just been which is a very late start compared to what I am used to, mainly due to the injury.
Going into the race I was pretty excited but also on edge as I had absolutely no clue what to expect, which is a strange feeling. Usually you have an idea of how things will pan out. I have learnt a hell of a lot this weekend and realised it is not just about the race, but also the planning and logistics of all the pre-race schedule that racing over the long distance requires. This led to a busy day on Saturday and I probably over-stressed it looking back and ended up not relaxing as much as I would have liked. However, I know how things work now so am confident I can dial this in next time and have a smoother lead in to the next race.
Race day came around quick after all the buzz. I was a lot more relaxed before the swim compared with ITU as I knew everyone is slightly less aggressive and the fight isn't such a big thing. The swim went to plan, I took it fairly chilled and sat in the main group as I knew the faster, more experienced athletes (Frederik Van Lierde and Denis Chevrot) were in the pack. No hassle there. Transition was fine and onto the bike.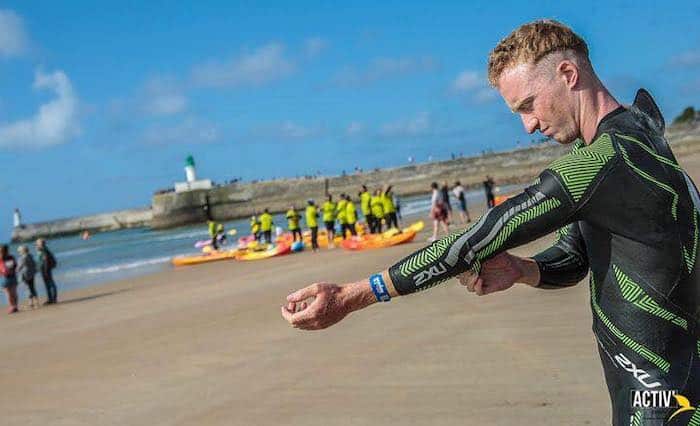 I realised that my power meter hadn't connected so I was in for a blind ride. That would have been fine, but I have trained to power all winter and it would have maybe helped with focus at some points. I was riding behind FVL but decided to let him go as he was riding above my limit and knew I would definitely struggle later on.
I got into my own rhythm and really enjoyed the first 80km; I knew I was riding well and within myself. I was riding in fifth place and within a few minutes to the top two and two minutes up on sixth place. Then, at 80km, I started to really struggle and couldn't hold any power – it was quite a serious bonk as my eyes were going starry. I lost a lot of time in the last 12km and at 90km, two guys overtook me.
I got off the bike and had a few issues with cramp in my glutes and had to walk the first 500m. My black 2XU trisuit was completely white with salt, which I realise is not a good sign. I contemplated a DNF but I knew I needed to get through it and learn about my limits. The first 5km were grim and it only got worse from there really. I stopped at every aid station trying to get some energy back but it was past the point of no return and I couldn't get back on it. I just wanted it to be done but a half marathon is a long old way.
I was really happy to reach the finish line and although it wasn't the start of the season I had hoped for, everyone starts somewhere and I will take a lot from this race for the future and know that I will find a solution through this struggle and be better next time. Thankfully I am supported by Precision Hydration who will help revise a nutrition strategy that works for me. Onto the next one… IRONMAN 70.3 European Championship, Elsinore on Sunday. I finished 9th and 19 minutes down on Frederik Van Lierde, the eventual winner.