Daniela Ryf resumed normal service on Sunday as she powered to a dominant victory at IRONMAN Switzerland 2021, while Britain's Joe Skipper claimed second spot behind Jan van Berkel.
Ryf had been under the weather when being soundly beaten by American prodigy Taylor Knibb in the inaugural Collins Cup last weekend, but back to health and back on home soil, she was peerless as she romped to success.
Skipper meanwhile had to give best to van Berkel and just failed in his bid to claim a second IRONMAN victory of the year after that success in Bolton in July.
PRO Men – van Berkel holds the aces
A big group of men were relatively tightly bunched as they existed Lake Thun early on Sunday. German Andreas Jung led the way with eventual winner van Berkel some 13 seconds back in seventh, and Skipper 22 seconds off the pace in 12th.
The bike leg saw the lead group again tightly bunched until Frenchman William Mennesson blasted clear during the final third of the leg. His split of 4:18:07 was good enough to lead by just over two minutes from van Berkel.
Van Berkel gradually closed the gap in the early stages of the run and passed Mennesson as they approached the halfway mark. By now Skipper, close behind, was the only threat to a home win.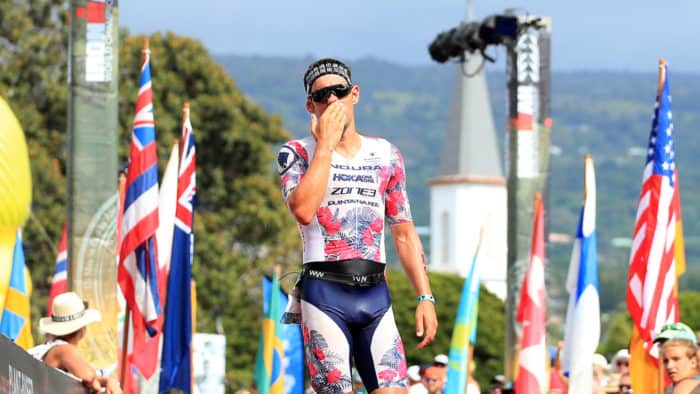 Skipper closed the gap to within a few seconds as they went deep into the marathon, but just eight days out from that half-distance test in the Collins Cup, he could not summon up the reserves to take control.
It was van Berkel who held all the aces in the closing kilometres, surging clear to win by just under one-and-a-half minutes. Another Swiss in Ruedi Wild would complete the podium while Mennesson was forced to settle for fourth.
Sunday's race was also the last as a pro triathlete for Ronnie Schildknecht, who won won IM Switzerland an astonishing NINE times over a 10-year period between 2007 and 2016. He finished 18th here in a time of 8:41:00.
PRO Women – Ryf back on top
Assuming she was back to full health after last Saturday's misery, it was likely only a question of who would finish second to Ryf, and how far she would win by. And so it proved.
The Superfrau was first out of the water in an official time of 39:45, and that was good enough to give her a lead of more than four minutes from American Kayla Kobelin.
Ryf then proceeded to ride the opposition into oblivion in the beautiful Swiss countryside, posting a split of 4:43:44 to lead by just over half an hour from compatriot Petra Eggenschwiler heading into T2.
The procession continued on the run as Ryf came home in a finishing time of 8:32:36 – more than 36 minutes clear of Eggenschwiler. Germany's Kristin Liepold ran well, posting a 2:59:58 marathon to claim the final podium spot.
IRONMAN Switzerland 2021 Results
Sunday September 5, 2021
PRO Men
1. Jan van Berkel (SUI) 7:39:41
2. Joe Skipper (GBR) 7:41:07
3. Ruedi Wild (SUI) 7:49:35
4. William Mennesson (FRA) 7:50:57
5. David Plese (SUl) 7:54:31
PRO Women
1. Daniela Ryf (SUI) 8:32:36
2. Petra Eggenschwiler (SUI) 9:08:44
3. Kristin Liepold (GER) 9:10:25
4. Joanna Ryter (SUI) 9:12:07
5. Corina Hengartner (SUI) 9:29:47