First ITU World Cup podium for Beth Potter in Belgium
A sixth career World Cup win for the USA's Summer Cook
From a first triathlon in 2017, an ETU Triathlon European Cup win in the same season, qualification for the 2018 Commonwealth Games Triathlon and now an ITU World Cup Silver medal – Great Britain's Beth Potter has certainly been on a triathlon 'fast track' to success. The latest step up came today at the Antwerp ITU Triathlon World Cup in Belgium.
After 24th place in Cagliari, Italy two weeks ago, today the Rio 2016 Olympian in the 10,000m finished second in only her third ITU World Cup start, the race won by the USA's Summer Cook – her sixth World Cup win
. @Lucy_Tri and @Sums01 out first #AntwerpWC pic.twitter.com/jjMYpFlpb9

— TriathlonLIVE (@triathlonlive) June 17, 2018
A lead group of 12 – which included Cook and early swim leader, Lucy Hall, started the 5km run with a 20 second lead over their chasers. Potter started the run in 26th position, and with the fastest run split of 16:37 ran all the way through to second. Cook – with a 16:48 run herself – was a clear winner.
And @Sums01 gets her fourth world cup title her in #antwerp, silver for Beth Potter amd bronze for Steinhauser pic.twitter.com/STpZSBCUgA

— TriathlonLIVE (@triathlonlive) June 17, 2018
The men's race saw a fantastic sprint finish, with Jelle Geens (BEL) just getting the better of Tayler Reid (NZL). Commonwealth Games Bronze medallist, Marc Austin, was the top British male finisher in tenth. Recent winner of the British 10,000m championships, Alex Yee, recorded the fastest run split – but time lost on the bike meant even that was only good enough to finish 49th today. Even one level down from the World Triathlon Series, there is little room to recover.
And @GeensJelle gets it! #AntwerpWC pic.twitter.com/hX2nE3BhA8

— TriathlonLIVE (@triathlonlive) June 17, 2018
Antwerp ITU Triathlon World Cup – Sunday 17th June 2018
750m / 22km / 5km
ELITE WOMEN
1st – Summer Cook (USA) – 1:02:52
2nd – Beth Potter (GBR) – 1:03:11
3rd – Verena Steinhauser (ITA) – 1:03:!3
4th – Sandra Dodet (FRA) – 1:03:16
5th – Natalie Van Coevorden (AUS) – 1:03:21
6th – Ilaria Zane (ITA) – 1:03:34
7th – Clare Michel (BEL) – 1:03:37
8th – Nicole Van Der Kaay (NZL) – 1:03:38
9th – Tamara Gorman (USA) – 1:03:39
10th – Jeanne Lehair (FRA) – 1:03:46
13th – Lucy Hall (GBR) – 1:03:58
35th – India Lee (GBR) – 1:06:14
49th – Olivia Mathias (GBR) – 1:07:27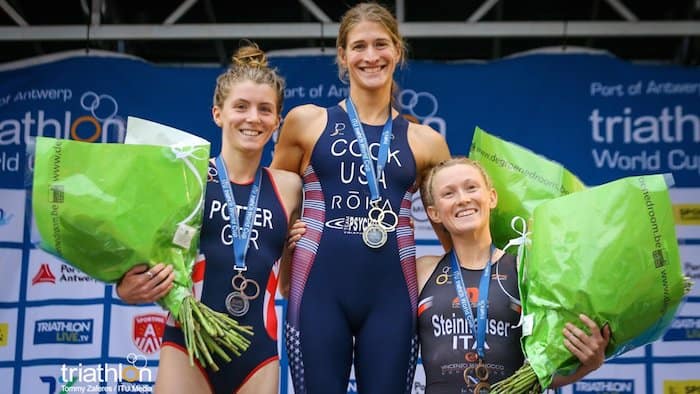 ELITE MEN
1st – Jelle Geens (BEL) – 58:15
2nd – Tayler Reid (NZL) – 58:15
3rd – Tyler Mislawchuk (CAN) – 58:17
4th – Marten Van Riel (BEL) – 58:24
5th – Matthew Sharpe (CAN) – 58:24
6th – Seth Rider (USA) – 58:26
7th – Kyle Smith (NZL) – 58:26
8th – Constantine Doherty (IRL) – 58:26
9th – Casper Stornes (NOR) – 58:31
10th – Marc Austin (GBR) – 58:39
28th – Calum Johnson (GBR) – 59:57
47th – Christopher Perham (GBR) – 1:01:11
49th – Alex Yee (GBR) – 1:01:34
DNF – James Teagle (GBR)