Germany's Frederic Funk extended his superb recent run of form with a clear-cut victory in the inaugural version of Challenge Samarkand. And even more dominant was Aussie Ellie Salthouse in the women's race as she powered to a solo win in what was the first international middle distance race in Uzbekistan.
One of the big draws for Funk heading to there – as well as the chance of racing on the Old Silk Road – was taking on compatriot Sebastian Kienle before the triathlon legend retires.
Unfortunately that didn't materialise as Kienle was unable to take part after picking up a fever which left him with an elevated temperature. However he was still out on course providing updates, and here is how the races unfolded…
Pro Men – Funk sets the beat
Australia's Aaron Royle was first out of the water in 25:03 with a clear lead of around 45 seconds on Filipe Azevedo (POR) and Funk.
The flat and fast two-loop bike course, which passed some iconic centuries-old buildings on the Old Silk Road, didn't have many climbs but on one of the few early on was where Funk overtook Royle to move into the lead.
At the 30km mark Funk was 40 seconds up and he would start to extend that advantage, eventually posting a 1:53:35 bike split over what was a slightly short 86km, later citing the windy conditions as one of his biggest challenges.
That left him more than two minutes up on Royle and the gap would stay constant pretty much throughout the run, with Funk stopping the clock in 3:38:34.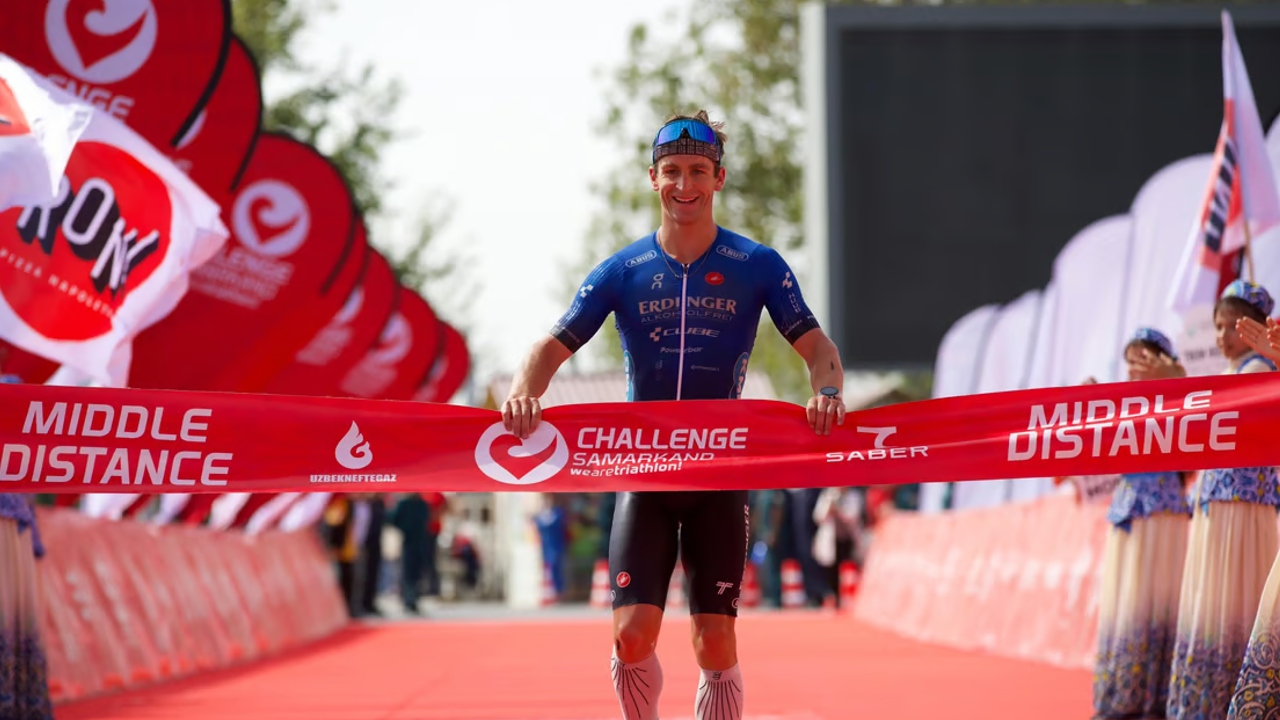 Royle was second, a fraction over three minutes behind, and Azevedo third as Funk followed up a superb runner-up spot at the 70.3 World Championships in Finland and a victory at 70.3 Zell am See in Austria just a fortnight ago.
Pro Women – Solo for Salthouse
It was a wire-to-wire success for Salthouse against a small but select women's pro field.
She was first out of the water in 28:17 – eight seconds ahead of Margie Santimaria (ITA), with Lottie Lucas (UAE) at +17s and Emma Pallant-Browne (GBR) at +53s
Salthouse had extended that early on the bike, with Pallant-Browne now her closest pursuer but the gap was going out all the time as the Aussie attacked to try and give herself enough of an advantage against one of the sport's swiftest runners.
And that was so effective that by the time she got to T2 she was more than six minutes to the good.
Pallant-Browne's cause wasn't helped soon after by a 30-seconds stop-and-go penalty, apparently for racking her bike in the wrong place.
The Brit was also reported to be struggling with the rising temperatures but she got things back on track to at least make second place her own.
Salthouse crossed the line in 4:02:54 for the win, nearly 10 minutes clear of Pallant-Browne, with Santimaria in third.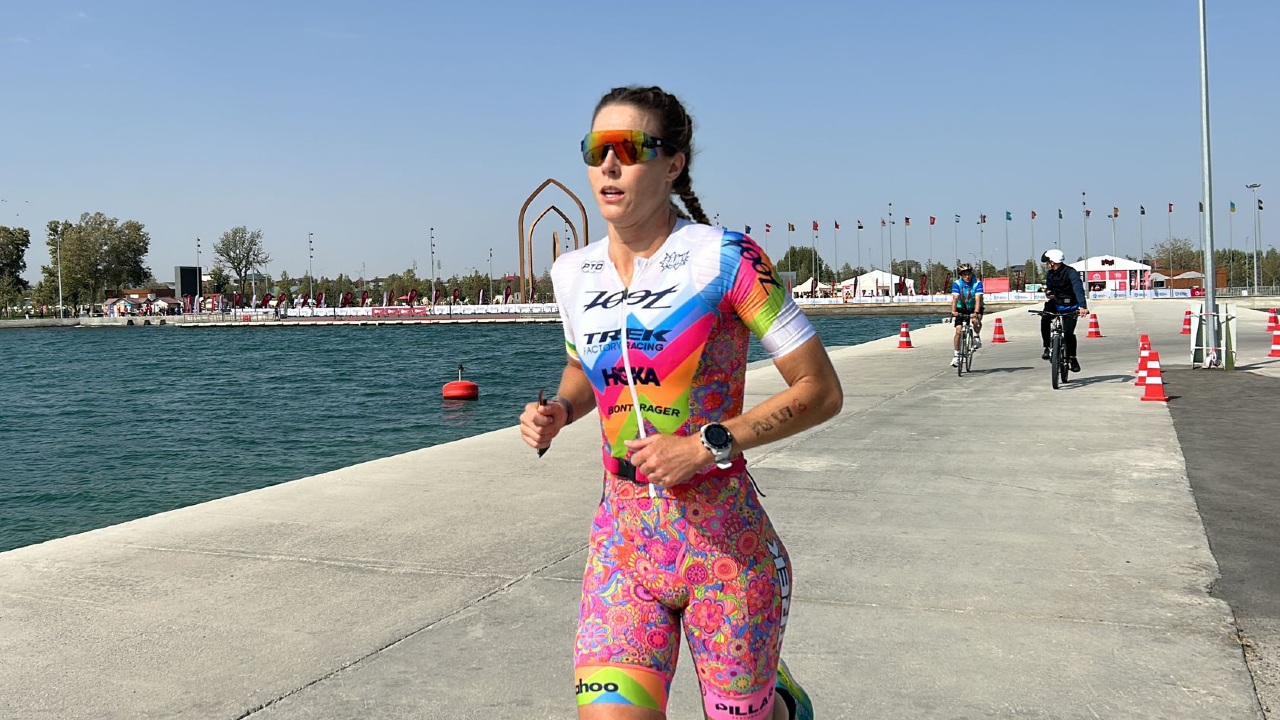 Challenge Samarkand results 2023
Sunday September 17, 2023
Pro Men
1. Frederic Funk (GER) – 3:38:34
2. Aaron Royle (AUS) – 3:41:35
3. Filipe Azevedo (POR) – 3:43:45
Pro Women
1. Ellie Salthouse (AUS) – 4:02:54
2. Emma Pallant-Browne (GBR) – 4:12:50
3. Margie Santimaria (ITA) – 4:18:16