Lucy Charles wins her first Pro IRONMAN in Lanzarote
Corinne Abraham and Lucy Gossage complete the British run of success
Another great day for the seemingly always impressive Great Britain Elite women on Saturday. The 26th edition of Club La Santa IRONMAN Lanzarote saw a complete podium sweep – and four of the top six female finishers representing the Union flag. The undoubted star of the show was Lucy Charles. She made her Pro debut at IRONMAN Lazarote 12 months ago and finished third. Now, she is an IRONMAN Champion…
Here is an extended report courtesy Brian Martin Rasmussen.
---
Big wins for Bart Aernouts and Lucy Charles at the 26th Club La Santa IRONMAN Lanzarote
What a day of intense racing, big, gutsy moves on the bike, tough and hot conditions – and in the end, Belgium's Bart Aernouts and Great Britain's Lucy Charles used exceptionally strong bike rides to win the 2017 Club La Santa IRONMAN Lanzarote titles.
Lanzarote is usually windy, but luckily today, the wind was behaving better than the previous days, which made for fast bike times, and the the biggest factor on the day was the scorching sun and 26 degrees temperatures in the big oven made the day challenging for many.
Bart Aernouts won a great victory and finished in 8 hours, 34 minutes and 13 seconds, only 4 minutes from Timo Bracht's 2011 course record.
Lucy Charles also came close to Paula Newby-Frazers course record from 1995 (9:24:39) but had to 'settle' for a new bike course record with 5:23:30 and and total time of 9:35:40.
A total of 1.600 athletes started the race at 7am in the morning in Puerto del Carmen for the 26th edition of Club La Santa IRONMAN Lanzarote.
Men's race:
In the men's race, Russian Georgii Kaurov and Spain's Carlos López Díaz took command and made the race hard for the other male pros, while female super swimmer Lucy Charles was right up there in the front pack, as expected by many, after the first lap, where she was right in the heels of Stephen Bayliss (GBR).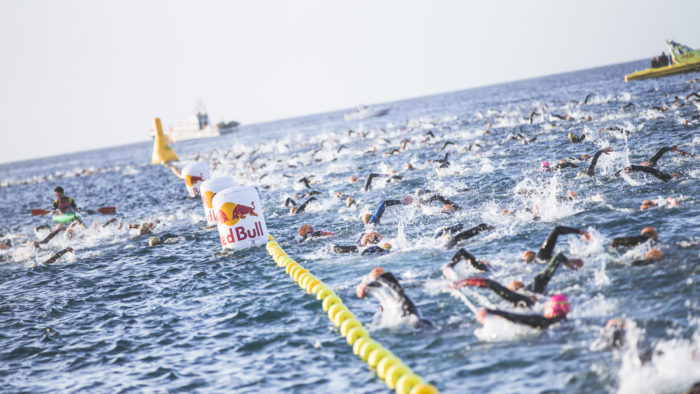 Pre race favourites like Romain Guillaume (FRA), Jesse Thomas (USA) and Alessandro Degasperi (ITA) were up there too and no major gaps were made on the second swim lap among the male pros. Kaurov won the 3.8 km swim in 46:58 and the male favourites were all within five minutes of each other which made for an interesting 180km bike ride through the very challenging and hilly Lanzarote landscape:
Out on the toughest challenge of the day, the 180 kmbike ride with a total elevation of 2.550 meters, France's Romain Guillaume powered his way to the front quickly and was pursued by BMC-Etixx teammate Bart Aernouts (BEL), who used a good swim and great cycling legs to close the gap before the ride up towards Mirador del Rio. Around 100km the fast riding Belgian took the lead and tried to bridge a gap on Guillaume, but the two rode within minutes of each other the next 80 km.
Defending champion Jesse Thomas made his way through the field early on the bike to ride in third position most of the way, alone, a situation Alessandro Degasperi also found himself in in fourth position, and the two former winners (Thomas last year, Degasperi in 2015 while Guillaume won in 2014), tried to limit time loss before heading out onto the run and the two lingered between four and eight minutes off the front coming down towards Puerto del Carmen and T2.
Aernouts continued to push, but Guillaume was a close second in T2, only 30 seconds behind, and runing out of T2, Aernouts had Guillaume right on his heels. Thomas was seven minutes down, but lost a minute in T2 as he forgot his sunglasses running out of the changing tent.
Aernouts quickly dropped his teammate and Guillaume would soon start to suffer through most of the marathon. Aernouts looked strong and kept a steady pace, despite a very fast bike ride of 4:48. Would fast runners Jesse Thomas and Alessandro Degasperi be able to catch the Belgian?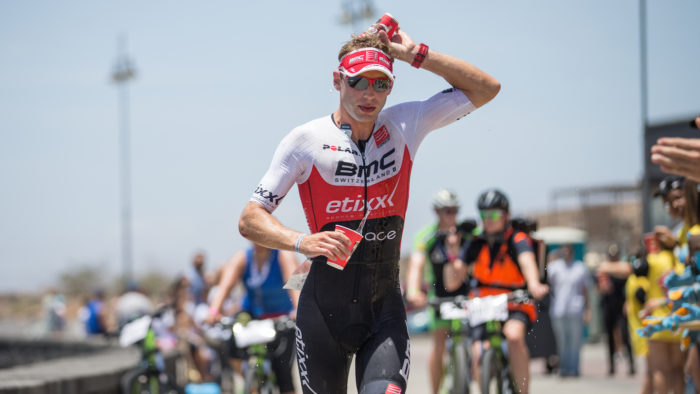 Degasperi started to make a move on Thomas for second position and was chasing the lead, but Aernouts didn't break and actually extended his lead on a brutal day after Guillaume got stomach issues and could not take in energy or fluids.
The fight for second…
With the win seemingly going to Aernouts, Thomas and Degasperi had their own little battle for second, and even though the Italian got closer, Thomas held him off over halfway on the run. Degasperi would soon take second place when the defending champion started to fade. Degasperi now was on the hunt for the win, but Aernouts looked too good on the day and the Italian was running out of both time and kilometers.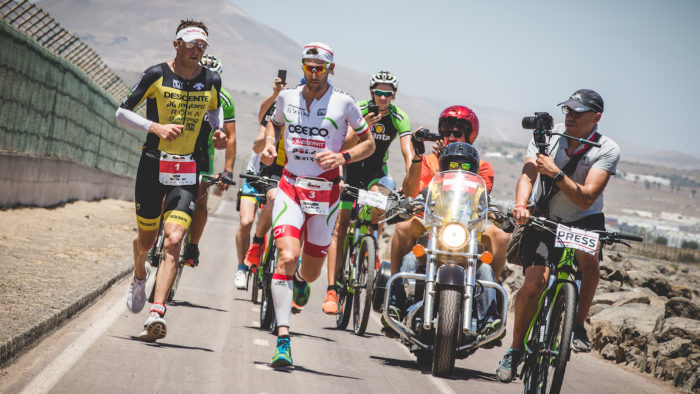 At the end, Aernouts would take a much deserved victory with a finishing time of 8:34:23, only four minutes off Timo Bracht's 2011 course record, and it was a huge win for the Belgian who won with an impressive nine minutes to Degasperi and 15 minutes to Thomas who would hang on for third on a tough day where the American visited dark places he had never seen before. Peru Ildefonso was a surprising 4th place finisher and Guillaume, who was on the brink of a major breakdown the last 12 km, somehow managed to reach the finish line where dehydrated, he collapsed and after a few worrying moments, he luckily ended up being fine after a much needed visit to the medical tent.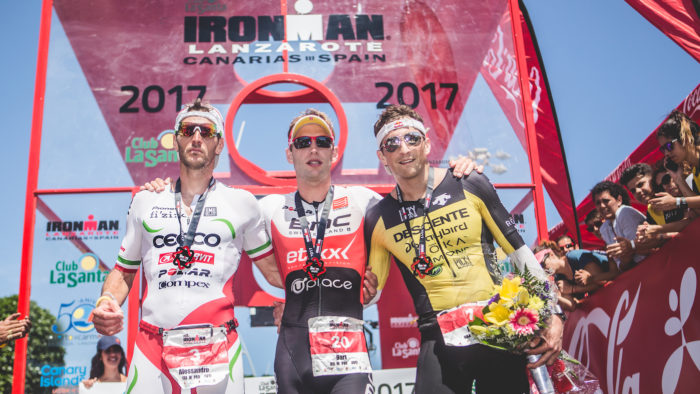 Female race:
24 year old Lucy Charles (GBR) was by many viewed as the biggest favourite after a great 2016 race and pro debut, where she finished third. The top swimmer has showed promising form with a couple of great results on the half distance the past month and she proved she could handle the pressure with a 6th fastest overall swim time of 47.06, only eight seconds from the leading male swimmer.
She headed out on the bike course with a healthy five minute lead over Kate Comber (GBR) and eight minutes lead over Saleta Castro. Defending champion Tine Holst lost a whopping 16 minutes to Charles, and the race seemed over before it even began for the defending champion.
Lucy Charles set out on a blistering pace and just continued to push on the bike course, and over El Golfo, towards Famara and the climb to Teguise and further up to Mirador del Rio, she put a huge gap on her pursuing women, with Jeanne Collonge (FRA) and Saleta Castro (ESP) as the first chasers, but soon Lucy Gossage and Corinne Abraham started to make their presence known.
At the 100 km mark in Mirador del Rio, Lucy Charles had an advantage of more than 13 minutes to Jeanne Collonge in 2nd, Lucy Gossage in 3rd was more than 15 minutes behind, while Corinne Abraham would to see if her run legs could close the huge gap – and hope that Charles had stretched herself too far on the bike.
The British powerhouse wouldn't fade and instead increased her lead heading into T2, where a new bike course record earned her a dominant gap of almost 20 minutes over Lucy Gossage who had overtaken Collange, while Corinne Abraham was 25 minutes down. Even with a marathon to run, it seemed inevitable that Lucy Charles would let the win slip away.
Experienced Abraham started to make up a lot of ground early on the run, but 25 minutes on a marathon is too much – especially in the scorching Lanzarote sun.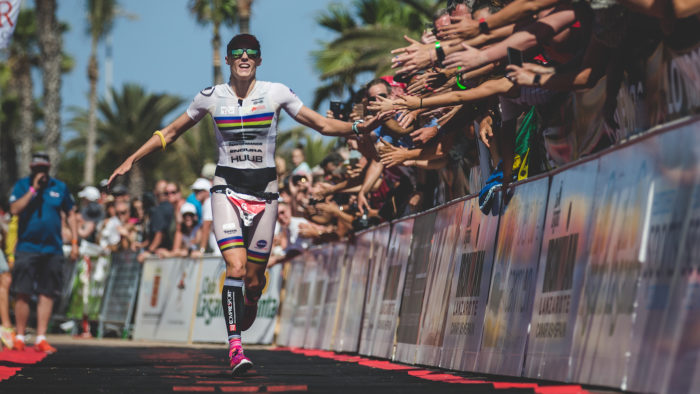 Charles could ease into a good rhythm and get her fluids and nutrition sorted and control the race from the front. Behind her, the two veterans Abraham and 2014 winner Lucy Gossage were on the perfect path towards the podium, but the day belonged to young Lucy Charles, who would take a dominant win, her first IRONMAN win in her only second race of that distance, and great joy and celebration from her on the finish line. With a female race best marathon of 3:03, Abraham suffered home a second place finish and Lucy Gossage would round off a British podium, and a very moved Gossage crossed the finish line in tears of joy.
Today a dream was achieved at the world's hardest Ironman @clublasanta @IMLanzarote 🎉🏆Thanks for all the support out there today! 😘 pic.twitter.com/s2nyyxihj2

— Lucy Charles-Barclay (@LucyAnneCharles) May 20, 2017
Pro Race Results:
1) #20 Bart Aernouts, BEL, 8:34:13 (swim 50:34, bike 4:48:23, run 2:48:29)
2) #3 Alessandro Degasperi, ITA, 8:43:23 (swim 50:33, bike 4:59:19, 2:47:40)
3) #1 Jesse Thomas, USA 8:49:02 (swim 50:35, bike 04:55:54, run 2:55:25)
4) #26 Peru Alfaro San Ildefonso, 8:52:31 (swim 47:04, bike 5:02:28, run 2:55:29)
5) #5 Romain Guillaume, FRA, 8:57:01 (swim 48:29, bike 4:50:54, run 03:11:16)
11) #12 Nicolas Ward Munoz, GBR, 9:23:44 (swim 53:32, bike 5:21:48, run 3:00:33)
23) #10 Stephen Bayliss, GBR, 10:52:58 (swim 47:05, bike 5:14:17, run 4:44:39)
1) #6 Lucy Charles, GBR, 9:35:40 (swim 47:06, bike 5:23:30*, run 3:18:35)
2) #17 Corinne Abraham, GBR, 9:44:29 (swim 57:14, bike 5:37:18, run 3:03:53)
3) #8 Lucy Gossage, GBR, 9:50:22 (swim 1:00:40, bike 5:29:45, run 3:13:05)
4) #15 Jeanne Collonge, FRA, 10:04:46 (swim 58:12, bike 5:31:43, run 3:26:31)
5) #13 Saleta Castro Nogueira, ESP, 10:11:45 (swim 55:41, bike 5:47:29, run 3:21:01)
6) #25 Kate Comber, GBR, 10:22:34 (swim 52:26, bike 5:52:14, run 3:29:22)
*NEW Lanzarote bike record