South African Schoeman continues his 2018 form on the Gold Coast
The Brownlee brothers fade as Scotland's Marc Austin shines brightly
Ok, can anyone out there claim to have correctly predicted the men's Commonwealth Games podium today?!
The weather had turned at Southport Broadwater Parklands and storms and rain had added to the high winds and chop on the water since the women's race three and a half hours previously. It looked like it would be 'Brownlee' conditions – but come the finish of the race, it would not be their day.
That said, Alistair in particular was a major factor in the dictating the outcome of the race. The calf issue that had kept him out of the WTS event in Abu Dhabi had kept his running preparations limited, so he was going to make his efforts early and try and find another way to win. That included another fast swim, where he lead out the field, closely followed by Tayler Reid (NZL), Henri Schoeman (RSA), Matt Hauser (AUS) and brother Jonathan. The gap to the next group of athletes wasn't major – but, just like that we saw in the women's race between Duffy and Coldwell at the beginning of the ride, it would be crucial.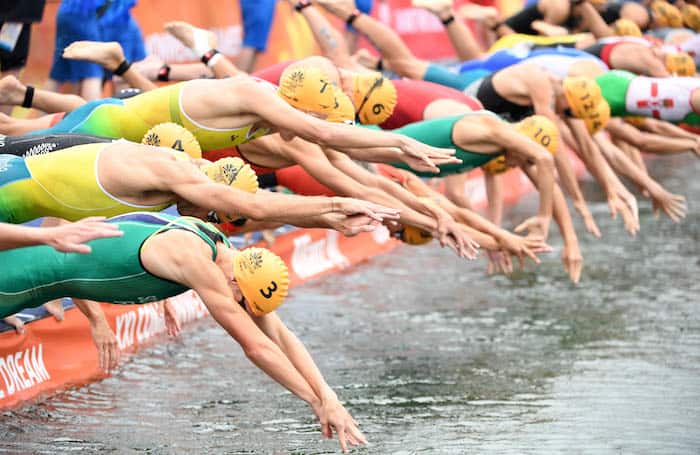 in typical style – and with Alistair clearly the primary driving force – the leading six out of the swim formed a lead group early in the bike, intent on keeping the speedy running legs of Jake Birtwhistle (AUS), Richard Murray (RSA) and Co. behind them.
With Alistair showing that his draft-legal cycling prowess was seemingly as strong as ever, Austin and Hauser looked in danger of possibly losing the wheel a few times. It may have been deja vu for Austin after his efforts at Glasgow 2014, but this time he refused to be dropped. He had earned his position from the swim and did not want to give it up easily. How crucial that would prove – his rewards would soon follow.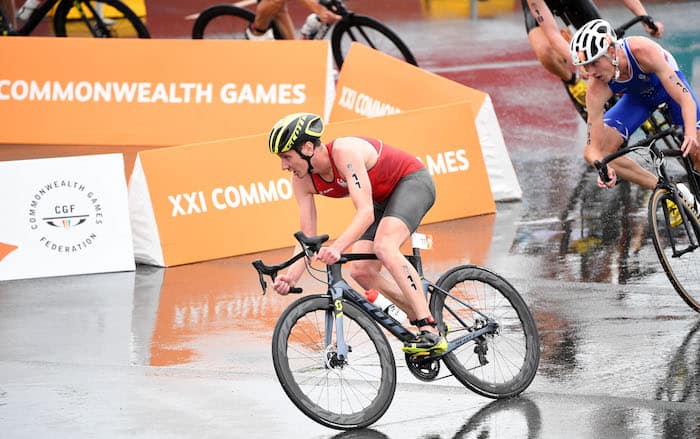 At T2 that leading six had around 27 seconds over the chasers. It was significant but it wasn't, yet at least, safe. Reid was first on to the run and Alistair lost a couple of seconds through transition. His run shape became very clear – with the first few hundred metres this was clearly not going to be his day. By contrast, Schoeman soon passed Reid and within the first 500m was running super smoothly and clear. He'd shown what he was capable of in Abu Dhabi, and at this pace, the race was going to be his despite anything that the chase group might be able to conjure up.
What shape was Jonathan in? He'd been quite open that it hasn't been his best winter of training, but he was now holding second place with Scotland's Marc Austin showing little sign of his efforts on the bike. They were locked together, 14 second behind Schoeman with 2.5km to go.
Didn't have the legs today. Gave it everything but disappointed not to hold on for a medal. Will recover and be ready for the relay on Saturday #GoldCoast2018

— Jonathan Brownlee (@jonny_brownlee) April 5, 2018
Form the chase group, Birtwhistle, Murray and Ryan Sissons (NZL) were making up ground. Schoeman looked totally in control and safe for Gold, but Silver and Bronze were still up for grabs. Into the second half of the run and Jake hit the gas and quickly bridged up to and passed the Brownlee / Austin duo… at which point Austin just gritted his teeth even more and went with him! Birtwhistle surged, but Marc was going to leave it all out there. He needed to run strong too as Matt Hauser was also still in contention.
Outstanding from @marcja94 – many times he looked like he could get dropped on the bike, but his efforts to stay with that group rewarded on the run.

— TRI247 (@tri247) April 5, 2018
Schoeman could enjoy his final 500m and take the applause of the crowd, Birtwhistle would set the fast run of the day (14:36) to take Silver and Austin took a surprise, but very hard-earned and well deserved Bronze. Hauser, Sissons and Murray all moved past Jonathan (7th) in the late stages of the run, while Alistair was left to complete the race in an uncharacteristic 10th place.
One happy triathlete with his bronze medal! Well done @marcja94 on a truly outstanding performance! #TeamScot2018 pic.twitter.com/9gUzvU182o

— Team Scotland (@Team_Scotland) April 5, 2018
A superbly executed race from Schoeman, inspired running from Birtwhistle and brilliantly brave racing from Austin would fill the podium slots. Expect to see all three racing again on Saturday in the Mixed Relay.
So proud of you @marcja94 you have always believed in yourself & stuck at it through tough times. Ur 1st major games medal. @Team_Scotland

— Blair Cartmell (@Blaircartmell) April 5, 2018
Commonwealth Games Triathlon, Gold Coast, Australia – Thursday 5th April 2018
750m / 20km / 5km – ELITE MEN
1st – Henri Schoeman (RSA) – 52:31
2nd – Jacob Birtwhistle (AUS) – 52:38
3rd – Marc Austin (SCO) – 52:44
4th – Matt Hauser (AUS) – 52:46
5th – Ryan Sissons (NZL) – 52:49
6th – Richard Murray (RSA) – 53:04
7th – Jonathan Brownlee (ENG) – 53:09
8th – Luke Willian (AUS) – 53:33
9th – Matthew Sharpe (CAN) – 53:34
10th – Alistair Brownlee (ENG) – 53:37
Congrats to @H_Schoeman for the 🥇 in #GC2018 🥈@JakeBirtwhistle and🥉@marcja94 What a race!! pic.twitter.com/UjfyHyRIcf

— World Triathlon (@worldtriathlon) April 5, 2018
14th – Russell White (NIR) – 54:38
17th – Grant Sheldon (SCO) – 55:42
19th – Tom Bishop (ENG) – 56:15
22nd – James Edgar (NIR) – 58:01
24th – Joshua Lewis (GGY) – 58:45
26th – Oliver Turner (JER) – 1:00:06
28th – Andrew Gordon (GIB) – 1:00:59
29th – Chris Walker (GIB) – 1:02:00
31st – Robert Matto (GIB) – 1:05:47