New money and new formats coming into elite triathlon has been one of THE storylines of the pandemic era – we can now add the Couples Championship to the list.
Significant funding and the introduction of major events is apparently not just the domain of the Professional Triathletes Organisation (PTO). Others are following.
Ben Atkins, Chairman of the Board at Waterfall Bank, is the man behind this weekend's event in Florida, and he admits it is partly intended as a wake-up call for the sport, and some race organisers.
Atkins began to grasp the struggles swim/bike/run poses for professional athletes when he moved to Boulder with his wife. He would eventually meet U.S. star Justin Metzler, and he was shocked by what he heard.
Triathlon 'poverty'
"We kind of struck up a friendship and I got to know a bunch of the other triathlete couples. And I don't know how to say this without it sounding insulting or bad, but I was shocked at the poverty level of couples that do triathlons.
"I think people just don't realize just how hard it is for a couple to make a living when they're both doing triathlon. For couples, especially during COVID, there was suddenly virtually zero income to either of them.
"Justin and I would knock around the concept of a couple's triathlon. And the idea was kind of born."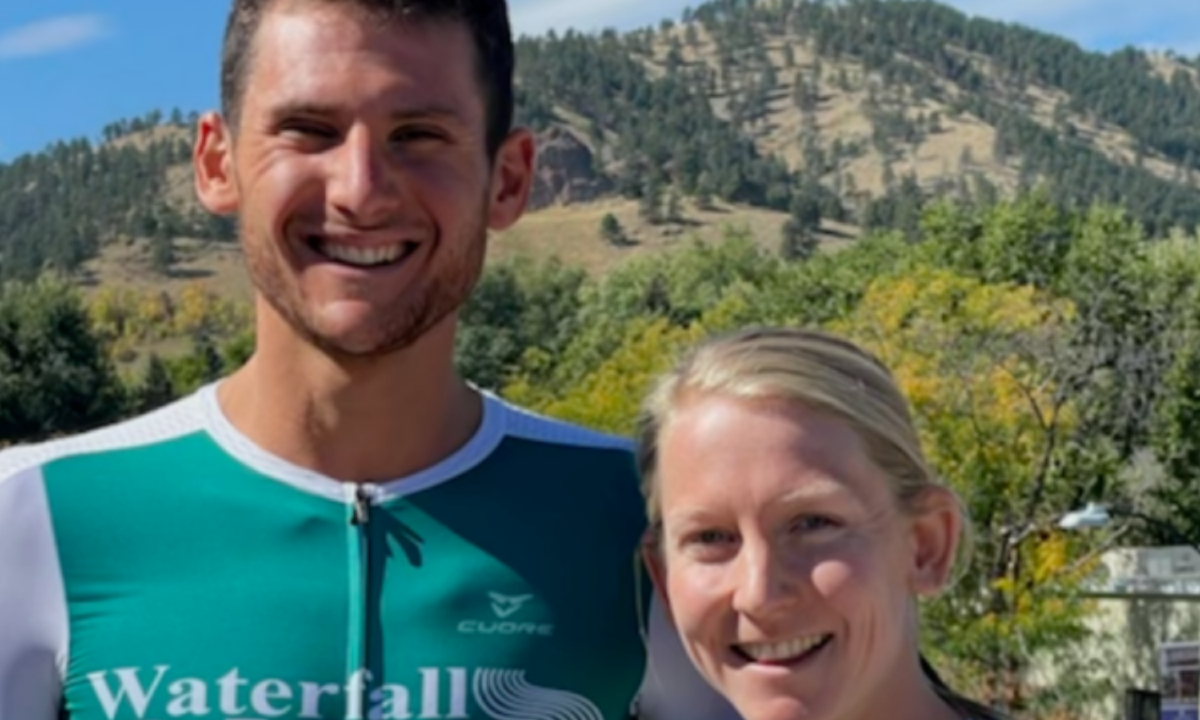 Atkins began to put meat on the bones, and pretty soon the idea was heading towards reality. One where athletes would have guaranteed return for their participation, and the opportunity to change their lives overnight.
Taking it to another level
"Hearing about many race experiences where the expenses are huge for very little reward, I took it to another level saying, you know what, let's do a race and actually pay the couples a $10,000 participation fee.
"So that way, this COVID year we are coming off, they would have some money and then all expenses are paid in terms of their travel, their hotel and so on.
"Everyone was telling me that 'normal' prize money, was say, something like five grand for first, three grand for second and I was: 'This is ridiculous, we need to humiliate Ironman and these other races because it's absurd, the prize money they're paying'.
"So my logic was we're going to pay $100,000 for first place just to make a statement that something like Kona should be paying a million dollars to the person that wins it. It should be a life-changing event for someone to win a World Championship."
Atkins uses other sports to ram home his point about the level of prize money and funding in elite triathlon.
An insane landscape
"If you won Wimbledon and you got a cheque for like 50 grand or something, they would look at you like you're crazy.
"Imagine Nike saying to a golfer, we're going to give you five pairs of shoes, and that's your sponsorship thing. I mean, that conversation would never even happen. But that's the life of a triathlete. I'll give you 20 bars a month and you do an Instagram holding up a nutrition bar.
"It's just so insane to me so that's kind of where the passion was, and then it just kept growing from there."
The inaugural Couples Championship has been very much a family endeavour for Atkins, as he explained. He also talked about the PPV model employed – fans are currently being asked to pay $9.99 or £9.99 to watch via a live stream on Facebook.
"My daughter Em and her wife June have been the people that have been putting the whole thing together in the background and doing all the work. And the concept was let's televise it through a live stream and let's charge a reasonable amount.
"Why not charge under $10 for people to view this? And if we can get enough views and then take this as a platform to say that if you create races that are interesting, people will want to talk about them."
Atkins is at pains to stress that one of his goals was to create an event that would get people talking, where there were imponderables and questions that would interest an audience and potentially have them tune in.
Reasons to watch
"So like the difference, I think, is let's say you and I were chatting about Ironman Boulder for example. The only conversation we're having is probably one of two – what the weather is like for the race and who's the likely first finisher of the male and female races.
"For Sunday's race people are discussing, is partner one going to go first or is partner two going to go first? Is Paula [Findlay] going to go on the water with 13 guys? Is it going to be all women going first? And then people are saying Phil Gaimon on the bike, is he going to destroy the triathletes because he does hill climbs all day? Or are the triathletes going to destroy him? Brooke Bennett has three Olympic gold medals – will she destroy everybody in the water?
"All these different conversations are coming up and then people are saying what about ITU versus long-course, how will that play out? Is everybody going to be sprinting across the finish line at the same time in a large pack, or will people be five minutes ahead?
"There's so much to discuss, but if the sport was done correctly, that's what should be discussed at every race. So we're trying to create a platform of a type of race that then we can afford over the years to sustain by asking viewers to watch and to buy the Facebook Live video."
As well as the pro race, there is also a philanthropic aspect to the Couples Championship and around $160,000 will be donated to local food banks and a number of charities, per Atkins.
Now all that remains is for the event to play out on Sunday. Another new format and new event for elite triathlon. How will this one measure up?