Dixon and Britton the fastest Youths of Super League Triathlon Jersey
As well as Elite Junior races (covered HERE), Saturday at Super League Triathlon Jersey included races in the Elite Youth category too.
Again, close racing was the order of the day with some very tired bodies at the finish line after less than 15 minutes of all-out effort (raced twice through).
The Youth Boys race saw Jack Stanton-Stock – recent winner at the British Triathlon Under-20's Festival – take a small, but potentially significant lead out on to the run – but while it was enough for a podium finish, it wouldn't prove to be enough to secure the win.
Jack Stanton-Stock leading the way @SuperLeagueTri Youth Men – can he hold on? pic.twitter.com/oxwU0MfQGe

— TRI247 (@tri247) September 29, 2018
The victory went to Daniel Dixon, a winner this year on the ETU Junior European Cup circuit, who ran through from T2 to cross the line four seconds ahead of Hamish Reilly.
It's Dixon, Reilly, Stanton-Stock, Salcedo @SuperLeagueTri Youth Men finish. Cracking run from Daniel. pic.twitter.com/QOWak4Aq0H

— TRI247 (@tri247) September 29, 2018
I spoke to Daniel shortly after his race about his Jersey experience.
The Youth Girls was also a close battle with Isla Britton taking the top step on the podium ahead of Germany's Francesca Henseleit.
Top-3 @SuperLeagueTri Youth Girls – Isla Britton, Franca Henseleit (GER), Eden Schiller cc: @BritTri pic.twitter.com/NGc1NRBlEk

— TRI247 (@tri247) September 29, 2018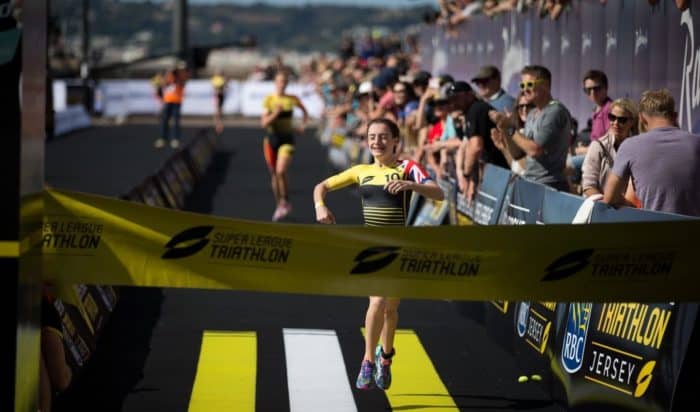 Super League Triathlon Jersey – Saturday 29th September 2018
Youth Elite Races
Youth Girls
1st – Isla Britton – 13:33
2nd – Frana Henseleit (GER) – 13:37
3rd – Eden Schiller – 13:46
4th – Lizzie Edge – 13:52
5th – Fanny Nussberger (SUI) – 14:04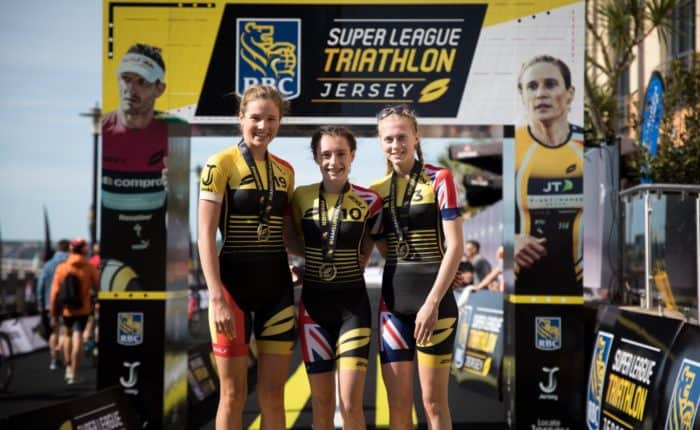 Youth Boys
1st – Daniel Dixon – 12:27
2nd – Hamish Reilly – 12:31
3rd – Jack Stanton-Stock – 12:32
4th – Xavi Salcedo – 12:37
5th – Dominic Coy -12:44