Can Daniela Ryf beat 8:18:13 at Challenge Roth 2017?
As the defending IRONMAN World Champion and already have won IRONMAN South Africa this year, Daniela Ryf has no concerns about qualifying for Kona (which wasn't the case last year).
Having enjoyed the race last year, Daniela has just confirmed that she will be returning to Challenge Roth in July – and has the target of a new world best time on her mind. On her race last year, she said:
"It made me realise on a perfect day the world record of Chrissy Wellington could possibly be in reach. I am fascinated by Chrissy's record and i will try my best on race day to see how fast i can go."
12 months ago Jan Frodeno was able to deliver on his objectives – setting a new all-time fastest men's iron-distance time. Can Angry Bird do the same?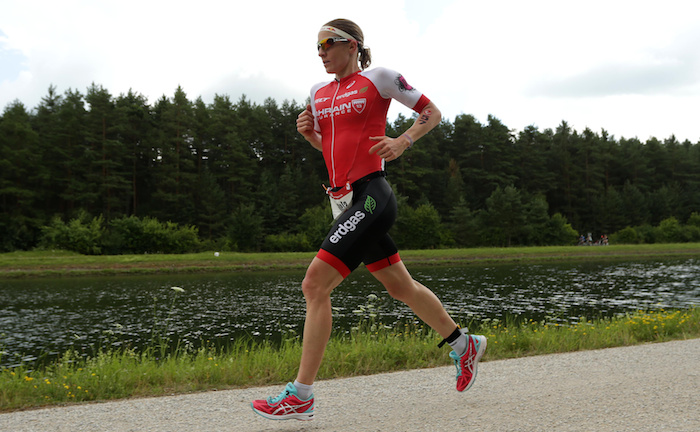 Fastest Female Iron Distance Athletes (Best Time Only)
| Athlete | Country | Event | Year | Time |
| --- | --- | --- | --- | --- |
| Chrissie Wellington | GBR | Challenge Roth | 2011 | 08:18:13 |
| Daniela Ryf | SUI | Challenge Roth | 2016 | 08:22:04 |
| Caroline Steffen | SUI | Ironman Melbourne | 2012 | 08:34:51 |
| Eva Wutti | AUT | Ironman Copenhagen | 2013 | 08:37:36 |
| Mirinda Carfrae | AUS | Challenge Roth | 2014 | 08:38:53 |
| Rebekah Keat | AUS | Challenge Roth | 2009 | 08:39:24 |
| Carrie Lester | AUS | Challenge Roth | 2016 | 08:42:14 |
| Rachel Joyce | GBR | Challenge Roth | 2014 | 08:42:25 |
| Linsey Corbin | USA | Ironman Austria | 2014 | 08:42:42 |
| Yvonne van Vlerken | NED | Ironman Florida | 2013 | 08:43:07 |
| Mary Beth Ellis | USA | Ironman Austria | 2011 | 08:43:35 |
| Meredith Kessler | USA | Ironman Arizona | 2015 | 08:44:00 |
| Erica Csomor | HUN | Challenge Roth | 2008 | 08:47:05 |
| Sandra Wallenhorst | GER | Ironman Austria | 2008 | 08:47:26 |
| Catriona Morrison | GBR | Challenge Roth | 2009 | 08:48:11 |
| Kaisa Lehtonen | FIN | Ironman Barcelona | 2015 | 08:48:40 |
| Leanda Cave | GBR | Ironman Arizona | 2011 | 08:49:00 |
| Ashley Clifford | USA | Ironman Florida | 2013 | 08:49:03 |
| Simone BrŠndli | SUI | Ironman Austria | 2014 | 08:49:16 |
| Sonja Tajsich | GER | Challenge Roth | 2012 | 08:49:47 |
| Bella Bayliss | GBR | Ironman Austria | 2009 | 08:50:13 |
| Paula Newby Fraser | USA | Ironman Europe (Roth) | 1994 | 08:50:53 |
| Diana Riesler | GER | Challenge Regensburg | 2017 | 08:51:02 |
| Julia Gajer (nee Wagner) | GER | Challenge Roth | 2013 | 08:51:04 |
| Lisa Huetthaler | AUT | Ironman Barcelona | 2017 | 08:51:21 |
| Lori Bowden | CAN | Ironman Austria | 2002 | 08:51:22 |
| Laura Siddall | GBR | Challenge Roth | 2017 | 08:51:38 |
| Susie Cheetham | GBR | Ironman Brasil | 2017 | 08:52:00 |
| Amanda Stevens | USA | Ironman Arizona | 2015 | 08:52:31 |
| Corinne Abraham | GBR | Ironman European Champs (Frankfurt) | 2014 | 08:52:40 |
| Melissa Hauschildt | AUS | Ironman Melbourne | 2015 | 08:52:51 |
| Lisa Roberts | USA | Ironman Cozumel | 2017 | 08:54:00 |
| Kate Allen | AUT | Ironman Austria | 2003 | 08:54:01 |
| Jodie Swallow | GBR | Ironman Kalmar | 2013 | 08:54:01 |
| Elisabeth Gruber | AUT | Ironman Barcelona | 2015 | 08:54:03 |
| Elizabeth Lyles | USA | Ironman Brasil (South American Champs) | 2016 | 08:54:10 |
| Astrid Stienen | GER | Ironman Barcelona | 2016 | 08:54:27 |
| Kelly Williamson | USA | Ironman Texas | 2014 | 08:54:42 |
| Angela Naeth | CAN | Ironman Chattanooga | 2014 | 08:54:55 |
| Jessica Jacobs | USA | Ironman Florida | 2011 | 08:55:10 |
| Daniela Sammler | GER | Ironman Barcelona | 2017 | 08:55:11 |
| Anja Beranek | GER | Challenge Roth | 2015 | 08:55:19 |
| Thea Sybesma | NED | Ironman Europe (Roth) | 1991 | 08:55:29 |
| Helle Frederiksen | DEN | Ironman Arizona | 2017 | 08:55:35 |
| Camilla Pedersen | DEN | Ironman European Champs (Frankfurt) | 2013 | 08:56:01 |
| Ines Estedt | GER | Euro Champs Detern/Jumme | 1995 | 08:56:05 |
| Lucy Charles | GBR | Ironman South Africa (African Champs) | 2018 | 08:56:06 |
| Heleen Bij De Vaate | NED | Ironman Austria | 2011 | 08:56:12 |
| Irma Heeren | NED | Almere | 1999 | 08:56:23 |
| Jodie Robertson | USA | Ironman Texas | 2017 | 08:56:32 |
| Britta Martin | NZL | Ironman Western Australia | 2014 | 08:56:34 |
| Sara Gross | CAN | Ironman Brasil | 2014 | 08:56:41 |
| Eimear Mullan | IRL | Ironman Barcelona | 2015 | 08:56:51 |
| Katinka Wiltenburg | NED | Almere | 1996 | 08:56:57 |
| Sofie Gooes | BEL | Ironman Austria | 2014 | 08:57:08 |
| Katja Konschak | GER | Ironman Barcelona | 2017 | 08:57:12 |
| Gina Ferguson | NZL | Challenge Roth | 2008 | 08:57:18 |
| Malindi Elmore | CAN | Ironman Arizona | 2016 | 08:57:22 |
| Michi Herlbauer | AUT | Ironman Austria | 2016 | 08:57:23 |
| Michelle Vesterby | DEN | Ironman Arizona | 2013 | 08:57:24 |
| Lucie Reed | CZE | Challenge Barcelona | 2013 | 08:57:34 |
| Mareen Hufe | GER | Ironman Western Australia | 2016 | 08:57:36 |
| Belinda Granger | AUS | Challenge Roth | 2008 | 08:58:08 |
| Sarah Crowley | AUS | Ironman Cairns | 2017 | 08:58:14 |
| Joanna Lawn | NZL | Challenge Roth | 2007 | 08:58:25 |
| Kirsty Jahn | CAN | Ironman Cozumel | 2017 | 08:58:27 |
| Nina Kraft | GER | Ironman Frankfurt | 2004 | 08:58:37 |
| Lucy Gossage | GBR | Challenge Barcelona | 2012 | 08:58:43 |
| Haley Chura | US | Ironman Brasil | 2017 | 08:58:45 |
| Sarah Piampiano | USA | Ironman Western Australia | 2016 | 08:58:51 |
| Ariane Monitceli | BRA | Ironman Latin American Championship | 2015 | 08:59:08 |
| Jen Annett | CAN | Ironman Arizona | 2017 | 08:59:27 |
| Sue Latshaw | USA | Ironman Europe (Roth) | 1997 | 08:59:31 |
| Edith Niederfriniger | ITA | Ironman Austria | 2008 | 08:59:45 |