British long-course star and fan favourite David McNamee believes he is coming into form at just the right time for the PTO Tour European Open after a long time out injured.
The Scot, who took back-to-back third place finishes at the IRONMAN World Championships in 2017 and 2018, has struggled for form in recent years but is ready for a battle on the Balearic Island.
Ahead of his second ever PTO event, McNamee spoke to us on Friday about how the build-up to Ibiza has gone, what he hopes to get out of the race and how he sees the stacked men's race panning out.
Reigniting the love for the sport
McNamee, who lives in the triathlon hub of Girona, has been rubbing shoulders with a number of short-course stars in training during the build-up to Ibiza, as he prepared for the race alongside the likes of Vincent Luis, Jelle Geens and Bence Bicsak.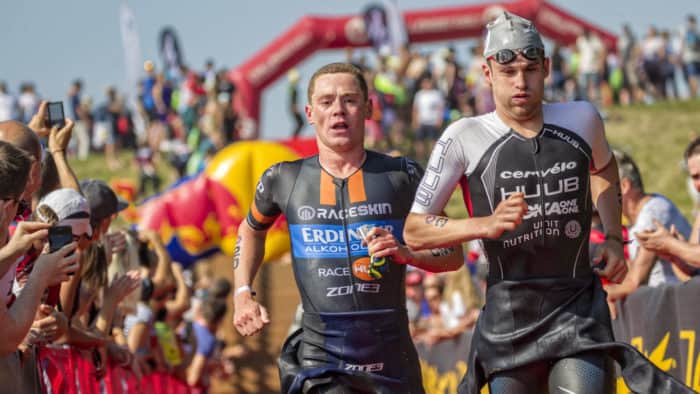 The 35-year-old said the chance to share a daily training environment with members of the Joel Filliol training group has been a breath of fresh air, with the youthful company helping him reignite his love for the sport.
"I've lived in Girona now for almost 10 years, and I used to be part of Joel's group back in 2014-2015, but recently over the last couple of years more and more athletes have been coming to Girona for training, so I have started to join in with them over quite a few sessions, especially swimming and running.
"I'm fortunate now that I get to join in with the group when I want and train with them most days. I really enjoy the company and it's really refreshing to be honest as it has given me that little bit of love that I was lacking in the sport.
"It's been refreshing to see that sort of enthusiasm and eagerness to train hard from the younger people in the group and that's the type of people I love to train with."
"Training is one thing and racing is another"
Having struggled with injuries for an extended period of time, McNamee says putting together an injury-free training period in preparation for Ibiza has given him the confidence that he is nearing his previous form.
"Training has been really good actually, last year I suffered a lot with injuries but since February this year I have had no problems at all so it's been great to have three months of proper work done.
"Middle-distance wise, I think I am in similar shape to 2017-18 where I really felt like I was always amongst the Top 5 in the world. However, training is one thing and racing is another. Definitely over the middle distance, I am in the best form I have been for years." 
Despite good training partners and no injuries making for great training ahead of Ibiza, McNamee was quick to point out that the true test of fitness comes on raceday.
"We always have good races and bad races, but I think if I race well tomorrow I can always be in the mix. I think one of the key things is making sure I have a good swim, I know I won't be the first out of the water but I really want to be in that front group of ten or so athletes.
"I have been riding well in training, so I think I can keep myself in the mix all day and I think it is just going to come down to how I feel over the last 5km of the run. I think I can fight for the podium, I don't know exactly what shape I'm in, but I feel good and I feel ready."
Race tactics
With the race coming so early in the season, McNamee believes it is hard to know exactly how things will play out, but is certain that the pace will be hot from the beginning.
"You have a lot of athletes who are racing their first event of the season here, and it is only the start of May, meaning it is always going to be slightly unpredictable how the race goes.
"I think it is going to be very fast from the start. If you want to win this race you want to avoid a run battle with Kristian or Jason West. I think Aaron, Alistair and Jan will very much go hard at the start.
"I know Alistair was injured after pulling out of IRONMAN South Africa, so I don't think he has his top run fitness right now and if that is the case then I think he will push the bike hard to break away."
Despite the prospect of a firefight from the very start, McNamee is relishing the challenge and actually believes a hard early tempo might actually suit him.
"The harder the race is, the more it generally favours me. I have always done well when it is really hard from the beginning.
"Even if I am not at the front at the start, that early intensity generally kills a lot of people off and I think that always plays into my strengths in the second half of the race.