Another year, another British double at Gran Canaria ETU Triathlon European Cup
12 months ago it was over the Standard distance, where Jess Learmonth and Lucy Hall took the top two spots. Another year, another (Sprint) distance and this years ETU Triathlon European Cup event in Gran Canaria saw more British success, from two more British female Elite athletes.
Sunday / Funday
first race of the year , let's get 2018 started 💥 pic.twitter.com/BmiT3Uu7mY

— Jodie Stimpson (@jodiestimpson) March 18, 2018
While Spain's Sara Perez Sala tried to breakaway on the bike (having gained 30 seconds on the field during the swim), when a lead group of around eight athletes started the 5km run with two British athletes present, it was looking good for more British success. Julie Derron (SUI) put up a brave fight against the Brits until the final kilometre, where 2014 double Commonwealth Games champion, Jodie Stimpson, tried to up the pace and make it a long run for home.
That effort dropped the Swiss athlete, but Taylor-Brown has been showing good form on the run of late in the domestic cross country season, and she would prove a little sharper than Stimpson. Taking the lead with around 400m remaining, she kept an eye on the chasing Stimpson but was looking strong and in control and victory would be hers as she reached the blue carpet with a handful of seconds to spare.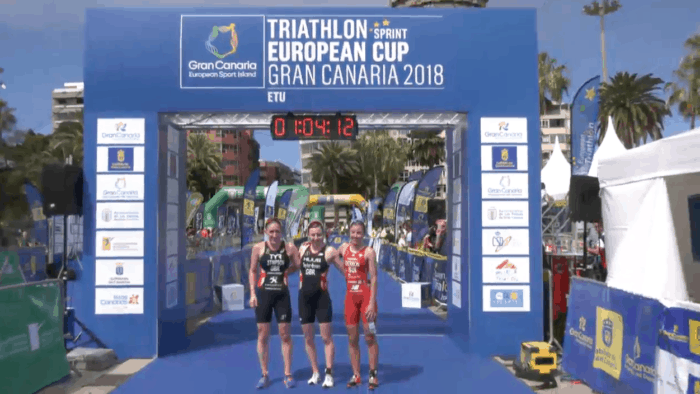 First race of the year done, coming away with 2nd so that's my starting point to build on,nice to share the podium with @georgiatb and seeing training partner @barclayizzard take his first of many to come wins thank you to @carriestimp and Lara for my support out here pic.twitter.com/RBM8XTNNWa

— Jodie Stimpson (@jodiestimpson) March 18, 2018
Gran Canaria ETU Triathlon European Cup – Sunday 18th March 2018
750m / 20km / 5km – ELITE WOMEN
1st – Georgia Taylor-Brown (GBR) – 1:03:36
2nd – Jodie Stimpson (GBR) – 1:03:43
3rd – Julie Derron (SUI) – 1:03:46
4th – Alberte Kjaer Pedersen (DEN) – 1:04:23
5th – Justine Guerard (FRA) – 1:04:40
6th – Giorgia Priarone (ITA) – 1:05:11
7th – Putra Kuikova (CZE) – 1:05:13
8th – Cecilia Santamaria Surroca (ESP) – 1:05:13
9th – Anne Holm (DEN) – 1:05:16
10th – Anna Godoy Contreras (ESP) – 1:05:32