The family of double Paralympic medallist George Peasgood say the team treating him are "pleased with his progress, but he still has a long way to go on his road to recovery".
Britain's Peasgood suffered a freak accident, with no other parties involved, when on a training ride on October 1st last year, the day before his 27th birthday.
It left him with severe injuries – specifically a grade three diffuse axonal injury – and he was in a coma for seven weeks.
Long journey ahead
George's girlfriend Frankie Hall has been by his side throughout and she posted an encouraging update on Instagram at the end of 2022 (see photo below), which read: "I'm so proud of you @george_peasgood, you're the hardest working person I know, and you're making leaps and bounds every week. 
"We have a long journey ahead of us, but as you've said, as long as we have each other, everything will be okay."
Frankie has set up a JustGiving page and she will be tackling the London Marathon in April as part of that fundraising initiative.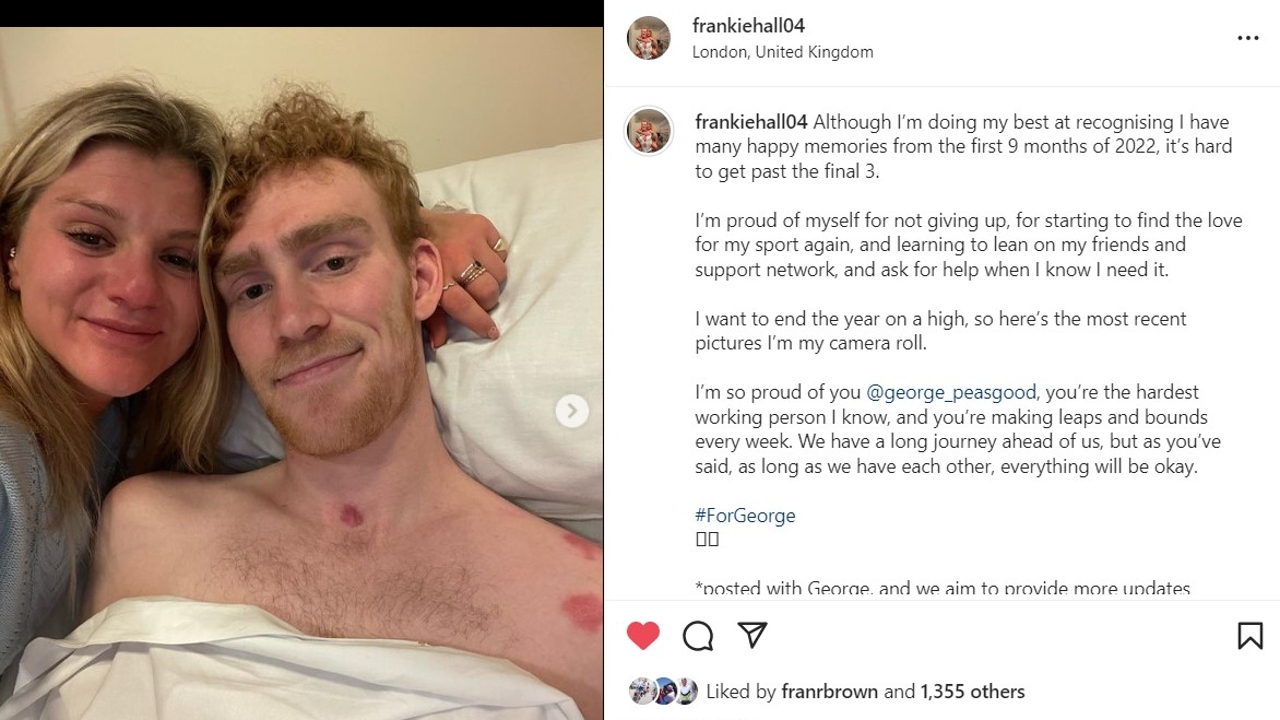 Following that Instagram post on New Year's Eve, TRI247 contacted the family through British Triathlon, who are handling all media enquiries.
And a little earlier today after a review meeting with medical staff, the family told us: "George has now been at the neurological rehabilitation centre since the end of November where he has been receiving support from a number of different specialists including speech and occupational therapy and physiotherapy.
"After a review meeting, the team are pleased with his progress, but he still has a long way to go on his road to recovery.
"The next steps for George are regaining more of his speech, increasing the movements in his arms and legs which should result in him being able to stand and walk again in time.
"The family and Frankie are supporting George as his recovery continues, with his brother Jack and sister-in-law Alison moving from Scotland to Loughborough to be closer to the rehab centre."
It's wonderful to see the progress that has already been made and everyone at TRI247 sends our best wishes to George, his family and Frankie as that recovery continues.
Marathon fundraiser
Another focus for Frankie over the coming months will be London Marathon training.
A cyclist on the Loughborough Lightning team, Frankie is taking on London along with George's mum Teresa.
Writing on the JustGiving page they have set up, Frankie says: "We would like to raise money to support the emergency services and the air ambulance charity that attended the scene on the day, as well as various different establishments that are going to be supporting George over the next months and years.
"This page is going to be open throughout George's recovery, as we know there are going to be many challenges to overcome; and many different charities and people that help us along the way."
And speaking to Loughborough Sport, Frankie explained the significance of this particular challenge: "George had always said he'd like to run the London Marathon, it was probably going to be after [the] Paris [Paralympics].
"He did manage to say the other day that he really wants to be there and watch us. So it's a big target for him to be able to be in the position where he could have the day out of the hospital."
#ForGeorge
Loughborough-based Peasgood competes at the highest level in both triathlon and cycling, winning a silver medal in the PTS5 Paratriathlon and a bronze in the C4 Time Trial in the Tokyo Paralympcs in 2021.
He is also a multiple Para-Cycling Time Trial World Champion in the C4 category, having successfully defended his title in Canada in August as well as taking bronze in a reduced bunch sprint in the road race.
He's also one of the most popular figures within the British Triathlon community, with fantastic support shown to him ever since his accident, not least at the season-ending WTCS Finals in Abu Dhabi.
All the British competitors proudly sported #ForGeorge on their trisuits, inspiring them to a superb set of results.