Gwen Jorgensen said she decided to trust herself rather than follow the four leaders when they took what proved a race-ending route over the finish line midway through the run at World Triathlon Cup Vina del Mar in Chile on Sunday.
Katie Zaferes, Tereza Zimovjanova, Anna Godoy and Mathilde Gautier would go on to finish first, second, fourth and fifth respectively but it was Jorgensen – who charged up to third on the final lap – who was awarded the win when all four were disqualified due to taking the wrong turn.
'We all knew the course and the map'
Vina del Mar was Jorgensen's fourth World Cup victory of a season where she has podiumed in six of her seven World Cups on her return to the sport.
But the 2016 Rio Olympics champion told World Triathlon afterwards: "This is not the way that you want to win a race, I would have much rather raced to the line on a fair competition.
"But we all knew the course and the map.
When I saw them going straight I was very confused, I didn't know why they were going that way and didn't know what to do, but I decided to trust myself.
"I told myself that I know the course and I just should follow the course, and I took a longer line. It is a really unfortunate situation and we are all sad about it."
Giving it her all
Equally though there were plenty more positives for Jorgensen to take from her own performance as she bids to make the US Olympics team for Paris next year.
She added: "I had a good race. My swim was almost there. I'm coming from a lot of racing and I feel like I haven't had the chance of training, I'm always either racing, recovering or traveling, with so many trips that I had to do to get points.
"But I gave everything I had until the end, and I am proud of that."
It took three hours for the medal ceremony to take place in Chile, with original sixth Gina Sereno and seventh Vicky Holland joining Jorgensen on the podium.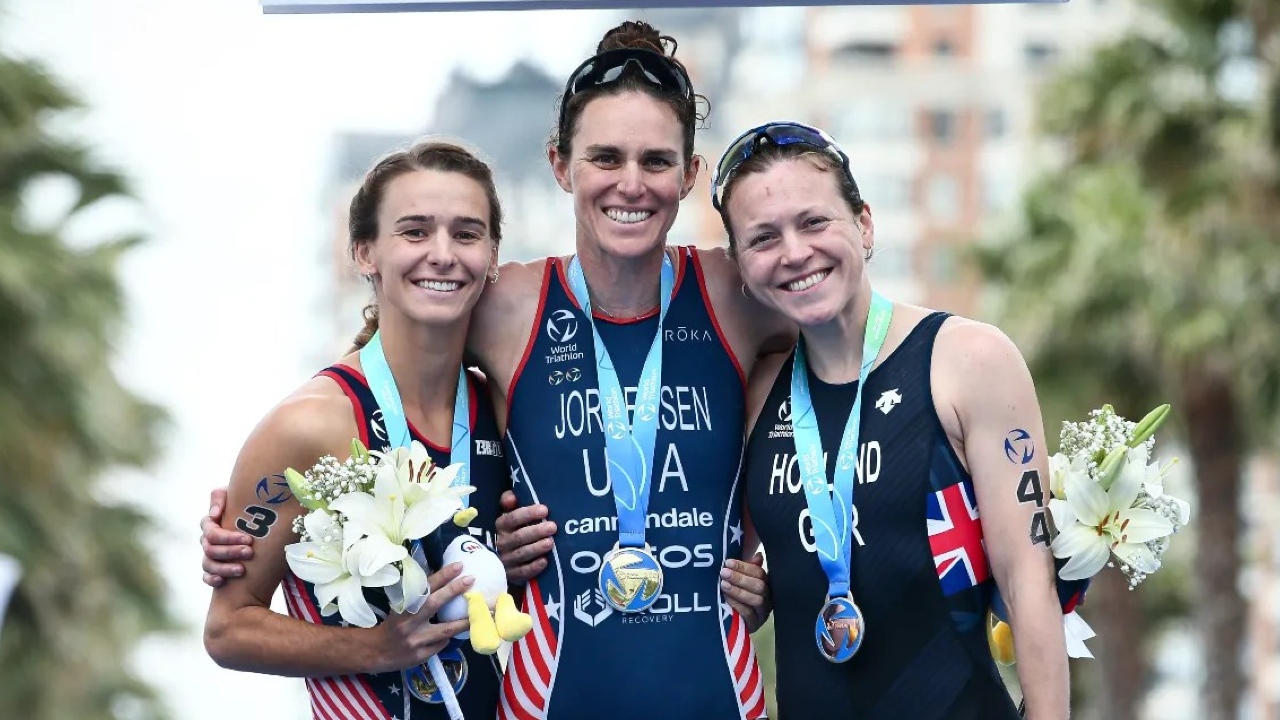 'My heart goes out to those penalised'
Course knowledge was important for runner-up Sereno, who also got silver in Vina del Mar last year, and who was second in the Pan American Games Mixed Relay over the route a week before.
Talking about the incident, Sereno said: "We heard people yelling at us 'izquierda, izquierda' – left, in Spanish – and I was familiar with the course, because I had done it last week and also last year. But these type of things are mentioned usually in the race briefing.
"My heart goes to those who are being penalised for this, because they were at the front, they were dominating the race and we don't want to be on the podium because of this but at the same time we all have to follow the rules."