Harry Wiltshire – Barrister. IRONMAN Champion. Celtman Winner.
Inspired by the original Xtreme Triathlon, Norseman, the CELTMAN! Extreme Scottish Triathlon (www.cxtri.com) started in 2012 and has been building its own legend ever since. The event is now part of the expanding Xtri World Tour (www.xtriworldtour.com).
With a 3.4km swim in "in cold, deep and jellyfish infested Atlantic waters", a 202km cycle "on incredible scenic (and often very windy) Highland roads", and a 42km run "through an ancient drover's pass and over the Beinn Eighe mountain range", it is a considerable challenge – all in search of a coveted Blue T-Shirt.
In recent years we've been used to seeing Harry Wiltshire racing (lots), in search of qualification for the IRONMAN World Championship in Kona. Last October Harry had his best race in Hawaii to date, his finishing time of 8:35:41 (21st) making him the third fastest British athlete ever in Kona.
With no Hawaii on the schedule for 2018, Harry was looking for something different this year and The Celtman fitted the bill. It worked out rather well too – he won, and broke the course record in the process. As I found out, that's not the end of his Extreme/Xtreme goals for the year either.
---
First off, when did entering The Celtman first appear on your radar – and what was the attraction of it?
I had planned to do Norseman last year, but Kona qualification took longer than I had hoped. I knew I wanted a year of more varied races and some Extreme Triathlon seemed like a good idea. I got booked up not long after I got back from Hawaii last year.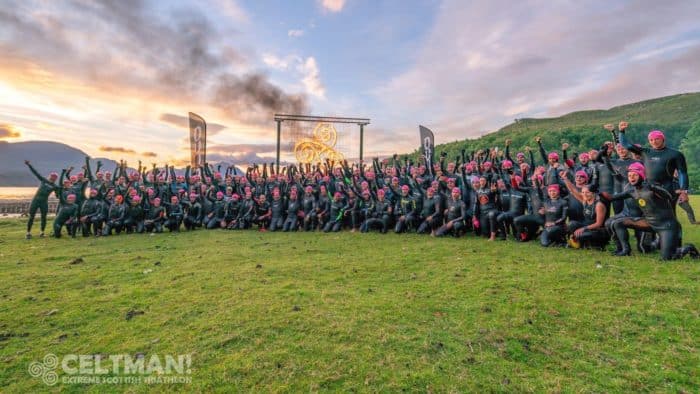 Did you change much in your training and preparation for the event, versus a 'regular' iron-distance race?
Not really. I would have liked to have got up a few more mountains but didn't manage that over the winter. I decided that doing hard down hill runs over the last six weeks was going to be more risky than rewarding. I wish I'd done more cold water prep.
We know you are a great swimmer, but what were conditions / water temperature like? Did you have any addition kit versus what you would normally use?
Yes, I've struggled with cold water in the past. I had a full hood, gloves and socks. It still wasn't enough. I've chatted to Dean at HUUB and we are going to work on a vest for Norseman.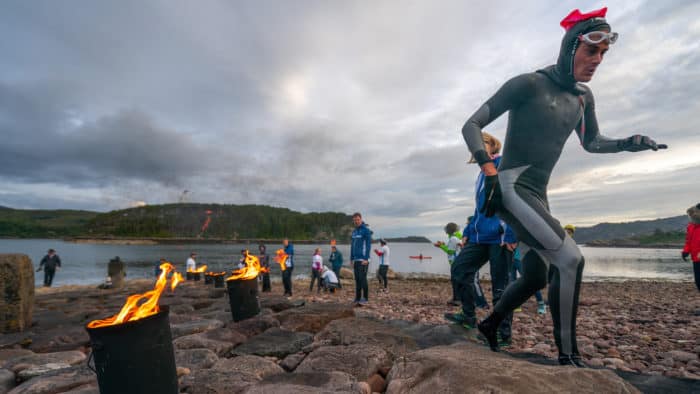 Were you able to quickly recover from the cold water ahead of the bike?
I had a cup of tea in T1 and was put in a thick jacket. I was shaking for the first 20 minutes and couldn't put my shoes on. I was ok after the first hour.
I believe conditions were pretty challenging – cold / wet / windy – for the bike leg. What kit did you use for that – and did you have to change / add to that during the day?
I had the HUUB Norseman race suit on, which has got a thick wind resistant front. I kept my jacket on throughout the bike and also wore toe covers. The aero helmet also helped keep me warm. Once I recovered from the swim I was ok, not much different from a November day in Leeds. I got changed into shorts and t-shirt for the run and had to put my jacket on coming off the mountain when the rain really started.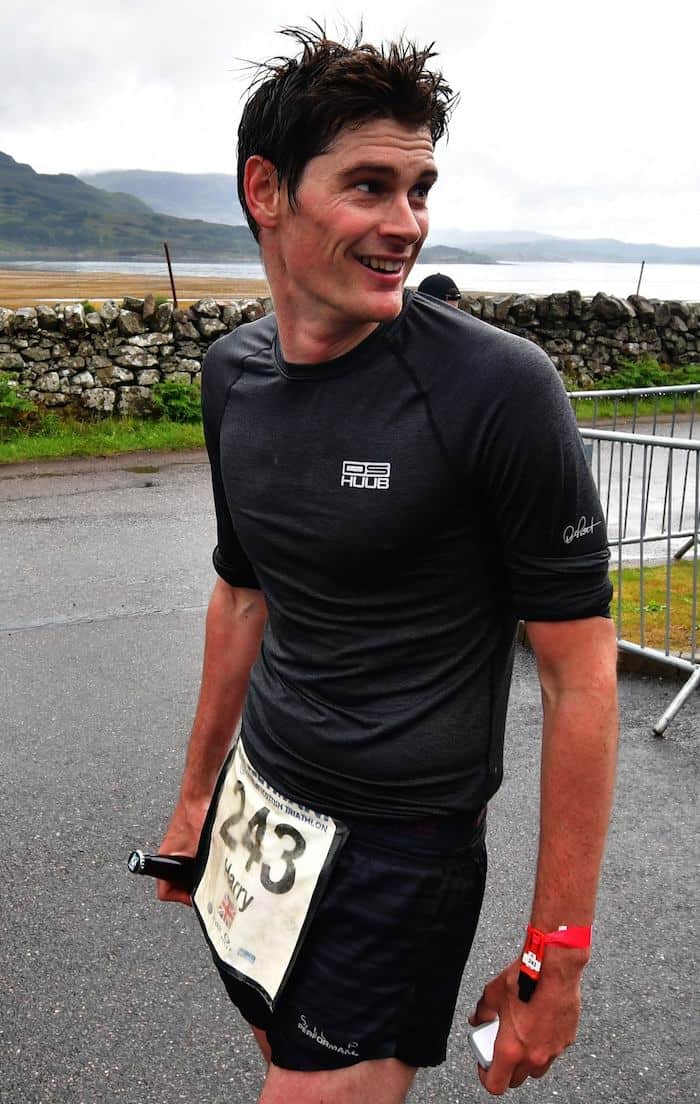 Can you describe the bike course for us in terms of terrain, roads and views?
Certainly hilly. I never look around as much as I'd like, but once or twice I glimpsed up to see some stunning views. Roads were surprisingly good quality.
You are used to an Ironman taking you perhaps eight and half / nine hours. At Celtman you are almost seven hours into the race before you even start a (very tough), off-road marathon. What was that like, both physically by also mentally?
I broke the run up in my head. It was basically a hilly half marathon followed by a 45 min scramble up a hill, an hour coming down and a 10k slightly down hill road run. Surprisingly, the race took less out of my legs than a normal iron distance. Keeping off the concrete and varying gradient reduced the muscle damage.
How did the run go for you? Looking at some of the images, I'm guessing that at points it must be almost walk/hike given some of the terrain?
I had a friend of mine from Tavistock AC guiding me on the mountain. He's no spring chicken, but still pretty nippy. The guide picks you up at the start of the climb, so about eight hours in for me. He was killing me up the climb and I had to tell him we were walking or I would have popped. It's maybe 3km over rocks at 20 percent.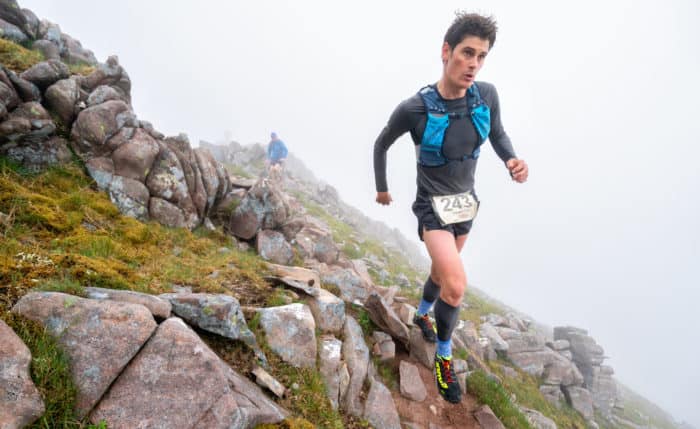 You broke the course record – but with an event of this nature and so different to what you had done previously, was that even a consideration beforehand?
I was told after the mountain that I was 15 mins clear but if I kept pushing I would break the record. I swore… walking home was very appealing at that stage.
Extreme races like this require / mandate a support crew – how key is that role, and who did you have on your team for that?
They did all the work. The prep was more difficult than the race and success is all about the support team making your life easy. Martin and Linda couldn't have done a better job.
What surprised you the most about racing in this style of Extreme racing?
I hadn't researched the mountain enough. I was shocked by how extreme it was.
For someone considering it, what would be you biggest pieces of advice to them?
The race is about knowing what you can hold and not crossing the line. Push too hard too early and it's all over.
The Norseman is the original XTRI race. Having done Celtman now, is that – or perhaps one of the other races of that style – on your schedule, either this year or in the future?
Norseman is next.
In recent years we've become accustomed to seeing you race multiple IRONMAN races by this time of the season – does that indicate a change of plan for this year?
I'm not chasing Kona this year and I'm certainly enjoying focusing more on an individual event rather than a qualification procedure. Kona will be a single race qualification from next year, so that might influence how my racing goes.
Finally, can you sum up your overall Celtman memories/experience that you will look back on?
Triathlon has always been about cool places, people and experiences for me. I'm really lucky to have done some funky races in my time, Celtman was right up there with the coolest races I've done. I won't forget being on the scree slope in the cloud at the top of the mountain.