Mike Phillips followed up his IRONMAN New Zealand victory at the start of the month by taking the title at IRONMAN 70.3 Geelong on Sunday while local favourite Grace Thek came out on top in the women's race.
PRO Men – Phillips holds off Aussies
Phillips just got the better of an epic battle with fellow Kiwi Braden Currie three weeks ago in Taupo and he was again made to work hard here.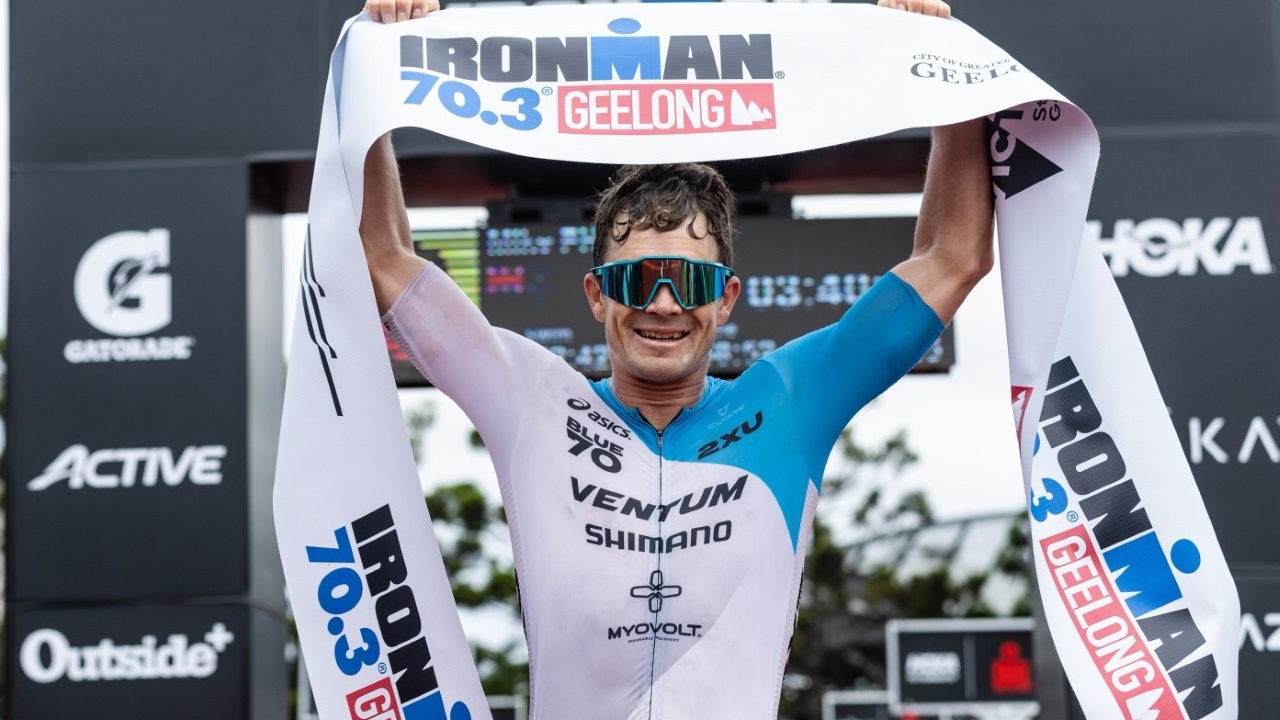 He was a fraction outside the top 10 after the swim, just over a minute behind Matthew Roberts but he'd moved into a clear lead early on the bike, with Aussies Mitch Kibby and Caleb Noble leading the chase.
His advantage was over five minutes at T2, with Steve McKenna (AUS) having moved into second and the 2021 winner would emerge as the big threat.
The five-minute gap had been halved by the midway point on the run and it was under a minute with 3km remaining.
But that proved just enough of a buffer despite McKenna's 1:10:16 for the half, with Phillips 39 seconds to the good in what was his first appearance in Geelong.
Phillips said afterwards: "That was a pretty wobbly last 10km there, probably didn't help biking that hard but I'm stoked to win.
"I got a bit of an average start in the swim but I was surrounded by the guys I knew I'd come out with so I wasn't too worried and I thought my only chance was to take the opportunity on the bike, I thought a few might follow me but I had clear air straight away so I just got to work to get as much of a lead as I could."
"I was pretty stoked to hear five minutes when I got off the bike, you do the maths in your head and work out how much slower you can run than them, it was definitely touch and go at the end," added Phillips. "I'm pretty ruined now though, I said I'd have a break after this race, I'm pretty happy to shut it down for a few weeks now."
PRO Women – Sweet win for Thek
It was a long-awaited first Geelong success in front of her friends and family for Thek – the sixth successive time she'd been on the Geelong pro podium but the first time on the top step.
The scene of her first 70.3 back in 2017 and also her first pro race a year later, this victory continued a memorable start to the year which has seen her get married and claim second at IRONMAN 70.3 Tasmania as well as a win at Challenge Wanaka.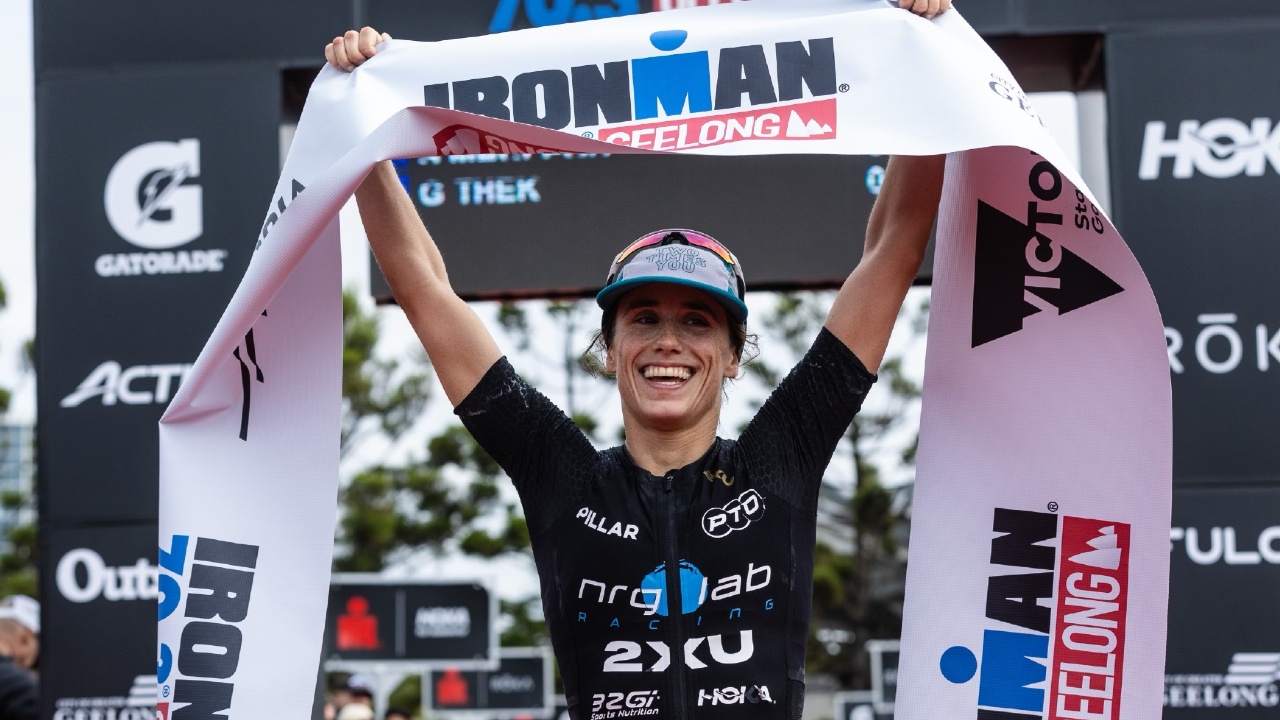 The 'big three' of defending champion Lotte Wilms (NED), Radka Kahlefeldt (AUS) and Thek were to the fore in the swim, with the first two around 40 seconds up early on the bike.
But Thek chipped away at that and they were riding together from midway onwards and there was still nothing between them at T2.
However Thek was strongest from that point onwards, leading by 30 seconds after 10km and extending that to over two minutes by the finish thanks to a 1:19:59 half marathon, by far the quickest of the day.
"Feeling pretty great, it was a long time coming, five podiums, finally got that top step this year to make my sixth race here in Geelong and I'm absolutely thrilled to take the win against a classy field of women," said Thek. "It means a lot, I consider Geelong my hometown race. I'm from Melbourne born and raised and today was particularly special because I had my whole family here, my grandparents even came to watch for the first time, that was really exciting, I had my aunties here, my coach and so much support out on course from fellow Melbourne triathletes and that triathlon community.
"I knew I had to work hard on the run to get the win and I'm absolutely thrilled. It was more of a gradual go at my own pace and I managed to gain some seconds and I couldn't ease off at all because you never know what happens and Radka is a strong runner so I wasn't sure if she would get a second wind," she said. "They kept me honest all day and I'm just happy with my performance."
The 31-year-old won't have much time to relax and enjoy the win, as she's heading overseas to continue her season in 48 hours' time.
"I'm heading to the US on Tuesday, I'm entered for IRONMAN 70.3 Oceanside on Saturday. We'll just have to see how I pull up after today and the long haul flight, otherwise I've got my eyes set on a bunch of races in Europe, I've qualified already for the IRONMAN 70.3 World Championship and that's one of my key races for the season," she added.
IRONMAN 70.3 Geelong 2023 results
Sunday 26 March 2023 – 1.9km / 90km / 21.1km
PRO Men
1. Mike Phillips (NZL) – 3:40:00
2. Steve McKenna (AUS) – 3:40:39
3. Nicholas Free (AUS) – 3:41:58
4. Caleb Noble (AUS) – 3:42:20
5. Kye Wylde (AUS) – 3:44:08
PRO Women
1. Grace Thek (AUS) – 4:10:11
2. Radka Kahlefeldt (AUS) – 4:12:39
3. Lotte Wilms (NED) – 4:14:28
4. Renee Kiley (AUS) – 4:21:49
5. Sophie Perry (AUS) – 4:22:30