Sebastian Kienle and Sarah Crowley secure fine wins in Frankfurt
Lucy Charles adds another impressive podium to her 2017 C.V.
With wins in 2014, 2016 and now 2017, Germany's Sebastian Kienle added to his status as an IRONMAN European Championship legend on Sunday, by becoming the first athlete to win in Frankfurt three times. With further second places in 2012 and 2015, it is no wonder that that the three-time World Champion races here every year.
For the women, just four weeks after winning the IRONMAN Asia Pacific Championship in Cairns, Australia's Sarah Crowley backed it up with another impressive display to add another Regional title (and another $30,000), running down Great Britain's Lucy Charles in the second half of the marathon.
Fast times recorded too – though note that the bike course was 3km less than normal this year do to construction work which meant that, for 2017 only, the route had to be shortened. (Alas – on this Editor's records at least (!) – no additions to the Sub-8 / Sub-9 archives this time around…).
Pro Men
The lack of wetsuits didn't appear to slow the swim too much for the leaders in Frankfurt, Lukas Wojt (GER) exiting with a very speedy 45:44 and a minute and a half lead over a loose group which include Andi Boecherer (GER), Patrick Lange (GER), Michael Raelert (GER) and Patrik Nilsson (SWE) from the expected pre-race favourites. The next group (which included Philip Graves, James Cunnama (RSA), Giulio Molinari (ITA), Bas Diederen (NED) were over three minutes behind the pace-setting Wojt, while defending champion, Sebastian Kienle (50:11) was a further 1:20 back.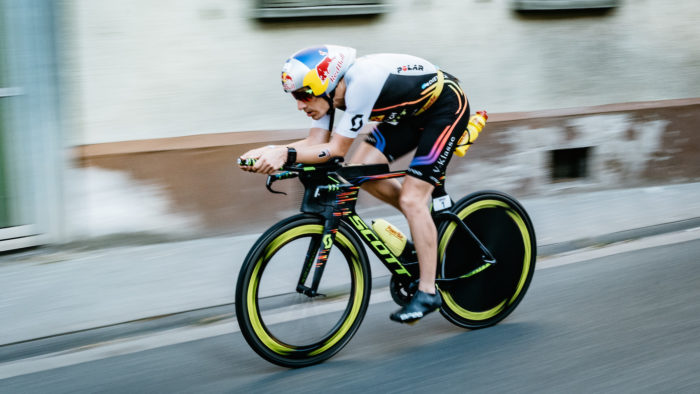 By the midpoint of the ride, Andi Boecherer was alone at the front, Kienle and powered through the field to second (+0.50), with Patrick Lange and James Cunnama two minutes down on the 2016 second placer. Kienle (4;02:22) and Boecherer (4:04:56) had the fastest bike splits of the day, though James Cunnama (4:09:25) can also be pretty pleased with that effort when measured against two the sports uber-bikers. Boecherer and Kienle hit the change tent together, Cunnama and Lange were next, six minutes down, and then the gaps increased to almost 13 minutes to Marko Albert (EST), Molinari, Nilsson, Evert Scheltinga (NED), Ivan Tutukin (RUS) and Philipp Koutny (SUI). Michael Raelert withdrew during the bike leg.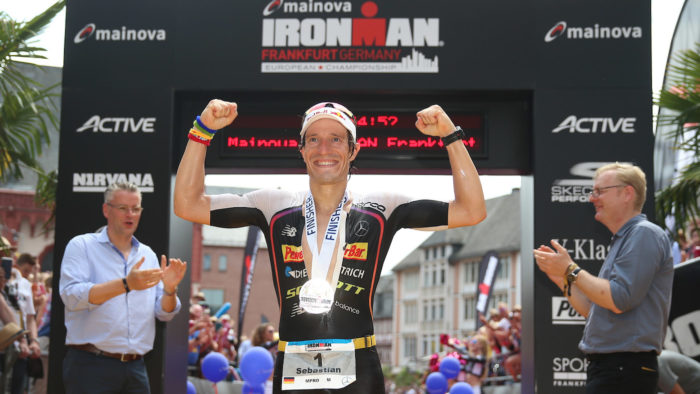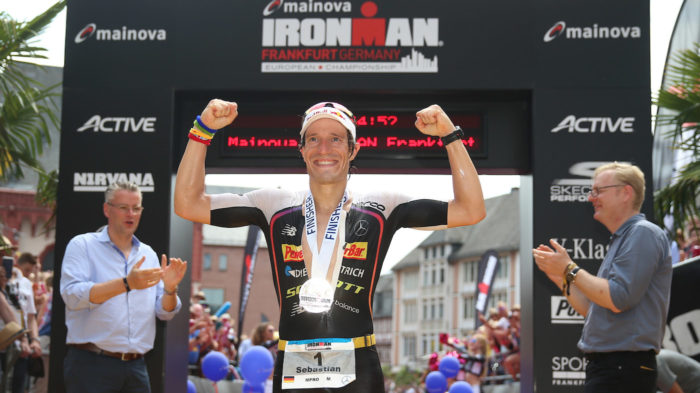 Kienle proved once again what a great runner he is off of a hard bike leg. He looked very strong while running 2:45:09, while Boecherer (2:49:48) wasn't going to give up too much of his cycling efforts either, to secure silver. Patrik Nilsson (SWE) ran a race best 2:40:58 to complete the podium. Positions 3-6 were separated by less than two minutes, reflecting the depth of quality of the field. Cunnama (4th), Tutukin (5th) and Lange (6th) can take a lot from their performances.
Pro Women
Water temperatures at the Strandband Langener Waldsee swim venue meant a non-wetsuit swim (for Pro's only). Wetsuit or not, Great Britain's Lucy Charles was always going to emerge from the wet stuff first, which she did in 48:29. The German pairing of Anja Beranek and Katja Konschak were next out of the swim with the clock approaching five minutes, followed at +7:45 by Magali Tisseyre (CAN), Sarah Crowley (AUS) and Michaela Herlbauer (AUT).
Charles would remain at the front, solo, for the entire 177km ride, completed in 4:45:08. That was faster than all but Sarah Crowley (4:40:32), who would arrive at T2 just shy of four minutes after Charles and almost five minutes ahead of Beranek. During the early stages of the run, both Charles and Crowley looked great. Lucy looked like she had settled into her desired pace, while the high turnover of Crowley made light of any efforts on the bike. The gap to Charles was closing – steadily – neither were fading or showing huge signs of fatigue.
The catch eventually came early on lap three of the four loop run course, Crowley passing strongly and Charles not looking (or able?) to try and latch on to the pace of the Aussie. Crowley continued in fine style to the finish (3:05:12 marathon), while the 3:13:18 from Lucy Charles secured second place, just under four minutes later.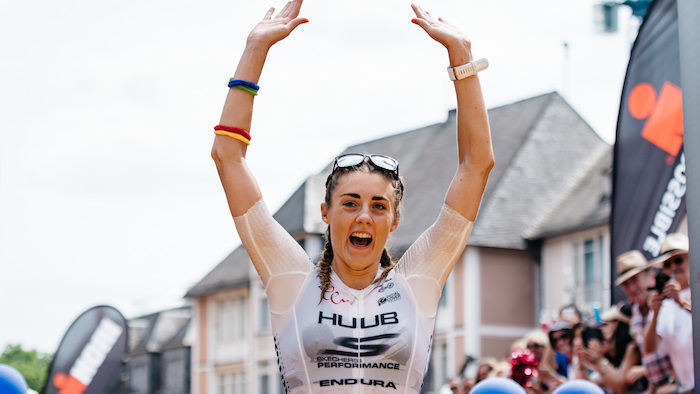 The battle for the final podium spot went to Belgium's Alexandra Tondeur, via a 3:04:47 run. Just dipping under the nine hour mark, she finished just two minutes clear of Liz Lyles (USA).
2nd place & sub 9hrs at #IMEuroChamps @IRONMANtri #Frankfurt bring on Kona 💪🏼🍾🎉 Thanks for all the support here & around the 🌍 pic.twitter.com/Frge12Gx28

— Lucy Charles-Barclay (@LucyAnneCharles) July 9, 2017
Mainova IRONMAN European Championships Frankfurt – Sunday 9th July 2017
3.8km / 177km*** / 42.2km (** bike short due to contraction work on the course)
MEN (PRO)
1st – Sebastian Kienle (GER) – 7:41:42
2nd – Andi Boecherer (GER) – 7:46:07
3rd – Partrik Nilsson (SWE) – 7:50:16
4th – James Cunnama (RSA) – 7:51:02
5th – Ivan Tutukin (RUS) – 7:51:56
6th – Patrick Lange (GER) – 7:52:06
7th – Marko Albert (EST) – 8:04:08
8th – Evert Scheltinga (NED) – 8:05:13
9th – Giulio Molinari (ITA) – 8:12:53
10th – Philipp Koutny (SUI) – 8:16:43
21st – Philipp Graves (GBR) – 8:44:47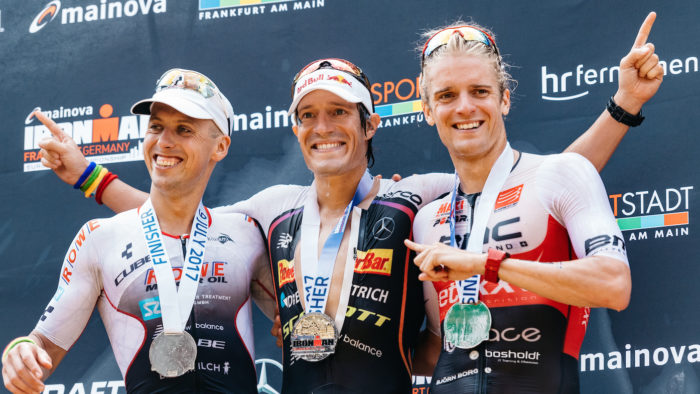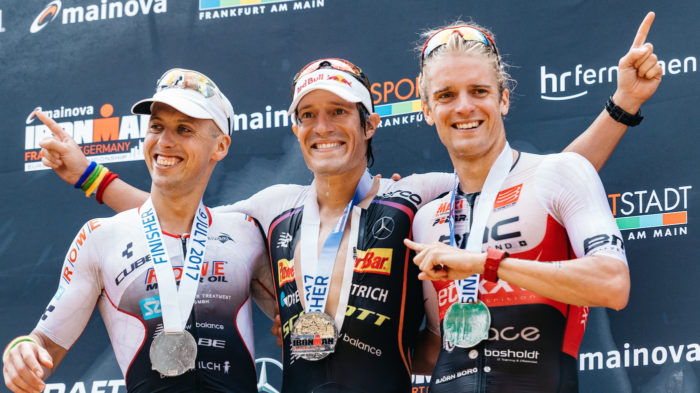 WOMEN (PRO)
1st – Sarah Crowley (AUS) – 8:47:58
2nd – Lucy Charles (GBR) – 8:51:50
3rd – Alexandre Tondeur (BEL) – 8:59:55
4th – Liz Lyles (USA) – 9:01:59
5th – Michaela Herlbauer (AUT) – 9:05:09
6th – Sonja Tajsich (GER) – 9:07:51
7th – Dimity Lee-Duke (AUS) – 9:08:54
8th – Anja Beranek (GER) – 9:27:43
9th – Pamela Tastets (CHI) – 9:33:17
10th – Shiao-Yu, Li (TPE) – 9:37:10