American duo Collin Chartier and Haley Chura were the winners of IRONMAN Mont-Tremblant on Sunday, the final qualifying race of the year for the IRONMAN World Championship in Kona this October.
Chartier got the better of long-time leader Josh Amberger (AUS) midway through the run, with Cody Beals (CAN) closing out the podium in third.
And Chura was in the lead early on the bike and never threatened thereafter.
Pro Men – Classy display from Chartier
Uber-swimmer Amberger didn't actually lead out of the water, that honour going to Canada's Antoine Jolicoeur Desroches as the pair put over three minutes into the rest of the field.
But within 25km of the bike leg it was Amberger who had taken over in front.
His advantage was over four minutes midway through, but by now Chartier was starting to charge and at T2 the gap between the pair was 2:15.
By the halfway point in the run that had dipped to less than a minute and Chartier moved into the lead soon after.
It was one-way traffic after that and when the line came Chartier's marathon time of 2:45:59 gave him more than a four-minutes advantage over Amberger, with Beals in third.
In terms of Kona, Amberger and Beals are already there so David Plese's fourth should have booked his slot.
Pro Women – Chura in charge throughout
In the women's event, Chura was also in the the relatively unusual position of not leading out the swim as Rachel Zilinskas (USA) set the pace.
But it didn't take long for Chura to move to the front on the bike and she took complete control from then on.
Her lead was up to four minutes after 33km and she maintained that, meaning that starting the run she had a 5:13 advantage.
Jen Annett (CAN) chased her home in second, with Zilinskas third, which takes on extra significance as Annett is already Kona qualified.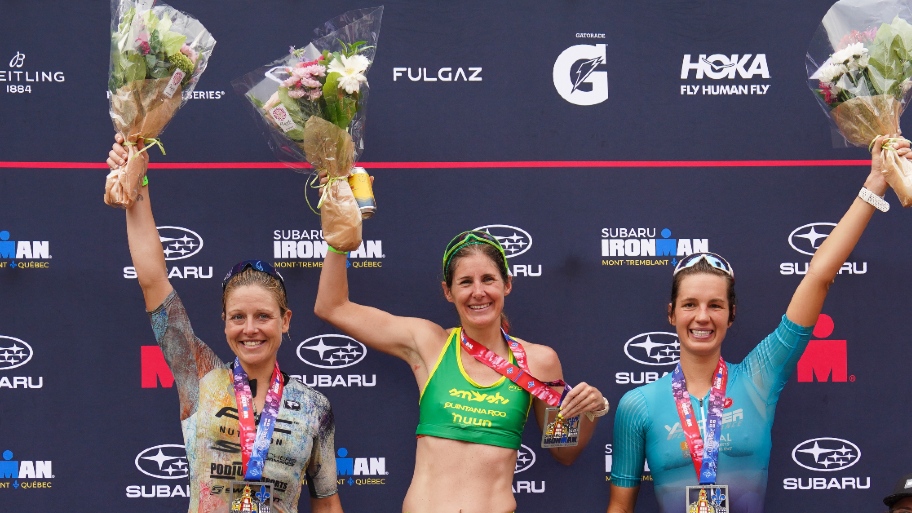 IRONMAN Mont-Tremblant 2022 results
Sunday 21 August 2022 – 3.8km / 180km / 42.2km
PRO Men
1. Collin Chartier (USA) – 8:08:40
2. Josh Amberger (AUS) – 8:13:11
3. Cody Beals (CAN) – 8:14:13
4. David Plese (SLV) – 8:18:25
5. Maximillian Hammerle (AUT) – 8:19:56
PRO Women
1. Haley Chura (USA) – 9:17:21
2. Jen Annett (CAN) – 9:24:20
3. Rachel Zilinskas (USA) – 9:30:38
4. Renee Kiley (AUS) – 9:33:53
5. Chloe Lane (AUS) – 9:38:31