"I retired about 10 times out there," said Cameron Brown of his 25th and final appearance at IRONMAN New Zealand as a professional athlete.
It was a tough but rewarding day for the 12-time IRONMAN NZ champion, who at 50 years old clocked 8:42:15 to place seventh behind winner Mike Phillips as he bid farewell to a race he has given so much to over the years.
'It was still a good day'
"It was a tough day, when you're 50 you want to keep up with the young fellas but it's really hard now," he explained. "The game has been lifted every year but I'm pretty happy with the result. I'm pretty proud of what I did today – it's 25 years of fantastic memories and to get seventh today, top 10 at nearly 51, you can't complain really."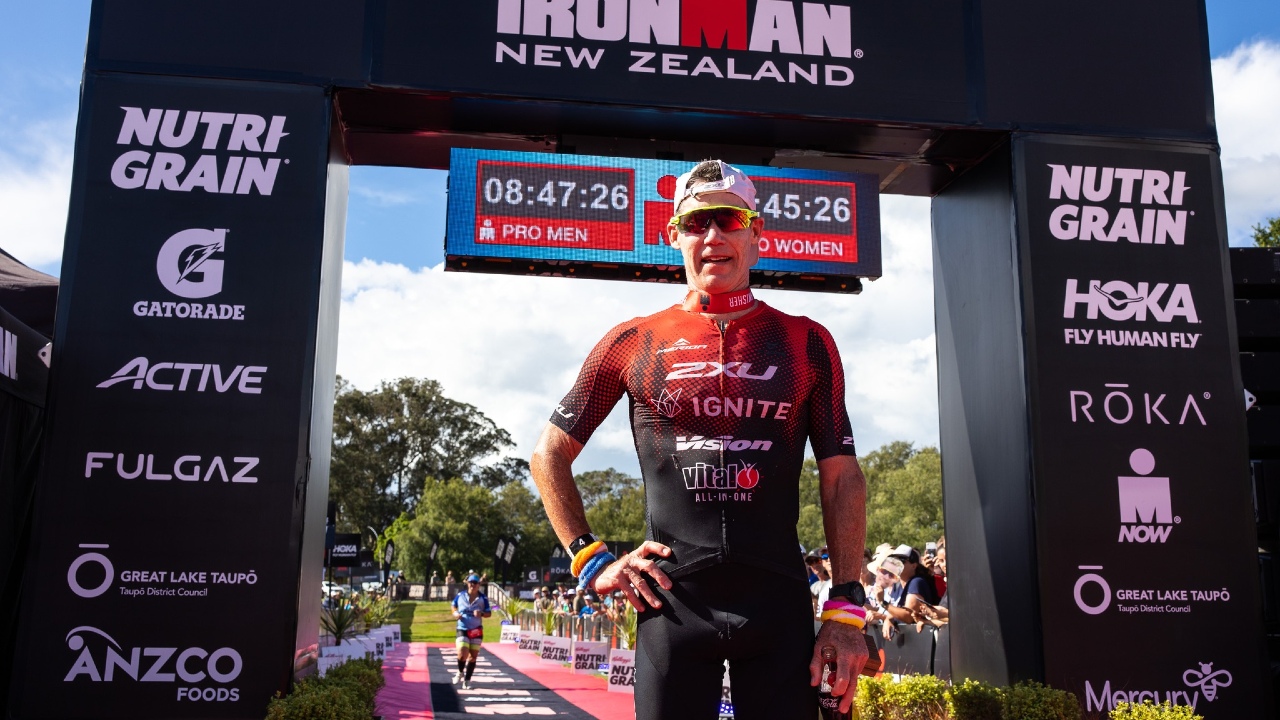 Brown was 11th out of the water but put together a solid ride to pull himself up to eighth heading back into transition two, and further elevated himself to seventh with a good run.
"It was tough, after the swim, I struggle to get my heart rate up there nowadays, I was a long way behind after the water and just sort of worked my way in the ride, had a solid ride and a good run, so it was pleasing and I can't expect too much. It was still a good day and well under nine hours, so it was good," he added.
It was an emotional finish for Brown, who was welcomed home by rapturous crowds and greeted across the line by his wife, Jenny.
Brown was then presented with a pounamu by Race Director Wayne Reardon and celebrated with a haka in respect of the Aucklander's incredible career.
"It was pretty special to have that at the end of a race and just to have that support out there, it's incredible in town and they get behind this race. The volunteers, the spectators, my support crew, it's why I wanted to come back and make it special this last one here.
"Mixed emotions, my family got me across the line and thinking about my dad, he passed away last year and just pushing through, there's so many hard moments you have out there. It's a long time to go through those processes but you just push on and try and grit your teeth as much as you can and just try and get to that finish line in one piece," said Brown.
What's next for Brown?
As for what's next for the man who finished on the podium on 20 occasions at IRONMAN New Zealand, for starters it's getting back into the daily routine, and then maybe focusing on a few more big races to sign off his final year of professional racing in the sport of triathlon.
"Who knows, I retired about 10 times out there, I'll see. I need to keep the body moving. I'll have a few days off and then start getting back into it. I head back to St Kents College (where Brown coaches) on Monday to get them training for their nationals so yeah, get the body moving again."