American star Jocelyn McCauley posted a convincing victory at IRONMAN Texas 2022 on Saturday afternoon.
The 34-year-old McCauley came home a long way in front of fellow American Lauren Brandon and Joanna Ryter of Switzerland.
She produced a terrific bike leg to take control of the race, and then continued to build on that lead to clinch victory on the run.
It was a fine performance from McCauley, who went one better than that fine second in the same race behind the great Daniela Ryf in 2019.
Swim – Brandon leads the way
There was no surprise when Brandon came out of the water first, just ahead of another American in Rachel Zilinskas – a former All-American swimmer at the University of Georgia. McCauley meanwhile was 5:36 back in third
Bike – McCauley puts the hammer down
Jocelyn set about reducing the gap to Brandon swiftly once they were out of T1 and onto two wheels. By the 40-mile mark she had flipped the standings and was in front.
McCauley continued to turn up the pressure, and gradually pulled clear while Brandon tried desperately to keep pace.
By the time the leader reached T2 her advantage was just over seven minutes after an excellent 4:43:04 bike split.
Run – Jocelyn brings it home
McCauley continued to add to her lead on the run, despite moving with a slight limp for most of the marathon journey.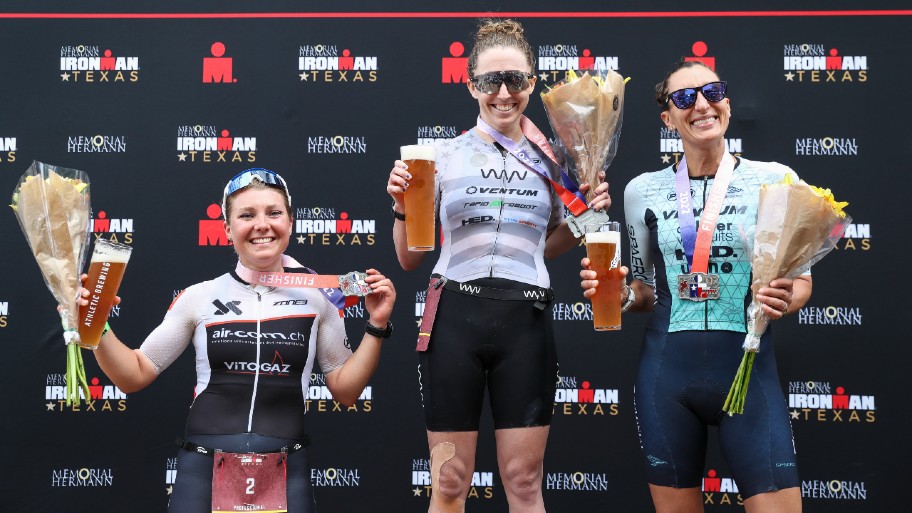 Brandon clung onto second spot – 12 minutes behind McCauley – while it was Swiss star Ryter who moved through the field to claim the final spot on the podium thanks to the fastest run of the day – a 3:02:53 marathon.
McCauley clocked a winning time of a shade under nine hours closed out by a 3:13 marathon, and like the men's Pro winner Ben Hoffman she will now head on to St George for the 2021 IRONMAN World Championship on Saturday May 7.
IRONMAN Texas 2022 Results
PRO Women
Saturday April 23, 2022
1. Jocelyn McCauley (USA) 8:58:13
2. Lauren Brandon (USA) 9:10:43
3. Joanna Ryter (SUI) 9:13:24
4. Rachel Zilinskas (USA) 9:23:36
5. Jen Annett (CAN) 9:25:52