Many full-distance fans have concerns at the recent news that races such as IRONMAN Bolton and IRONMAN Mont-Tremblant will switch to 70.3 events only after this year, something our very own John Levison discusses in detail here.
But Chris McCormack provided a different perspective when we caught up with the two-time IRONMAN World Champion to get his view on Andrew Messick's 12-year tenure as CEO of the M-Dot brand.
Indeed he thinks that from a professional point of view – and age-group too – less can often be more.
Macca on Messick IM reign
Explaining why, he told us: "I didn't race IRONMANs under the leadership of Andrew, but I've dealt with him a fair bit. It's probably crass of me to stand here at the end of his tenure and go, 'wow, I would have done this and this'. I would have done things differently, I guess. And everyone probably says that.
"But you have to appreciate what he did. He definitely grew the business. He was lucky enough – or fortunate – to come under the Dalian Wanda Group. They were very highly capitalised and they acquired a lot of businesses. They took it really from a licensing model per se and became event producers. I remember seeing events in Australia get bought out and thinking, wow, lucky.
"But I then saw his IRONMAN tenure as basically a monopoly. They took out all the little community people, certainly here in Australia. I liked the old 'qualification system' where it seemed to feed the sport from bottom up, I guess.
"I just feel like it's lost something, but maybe that's just me"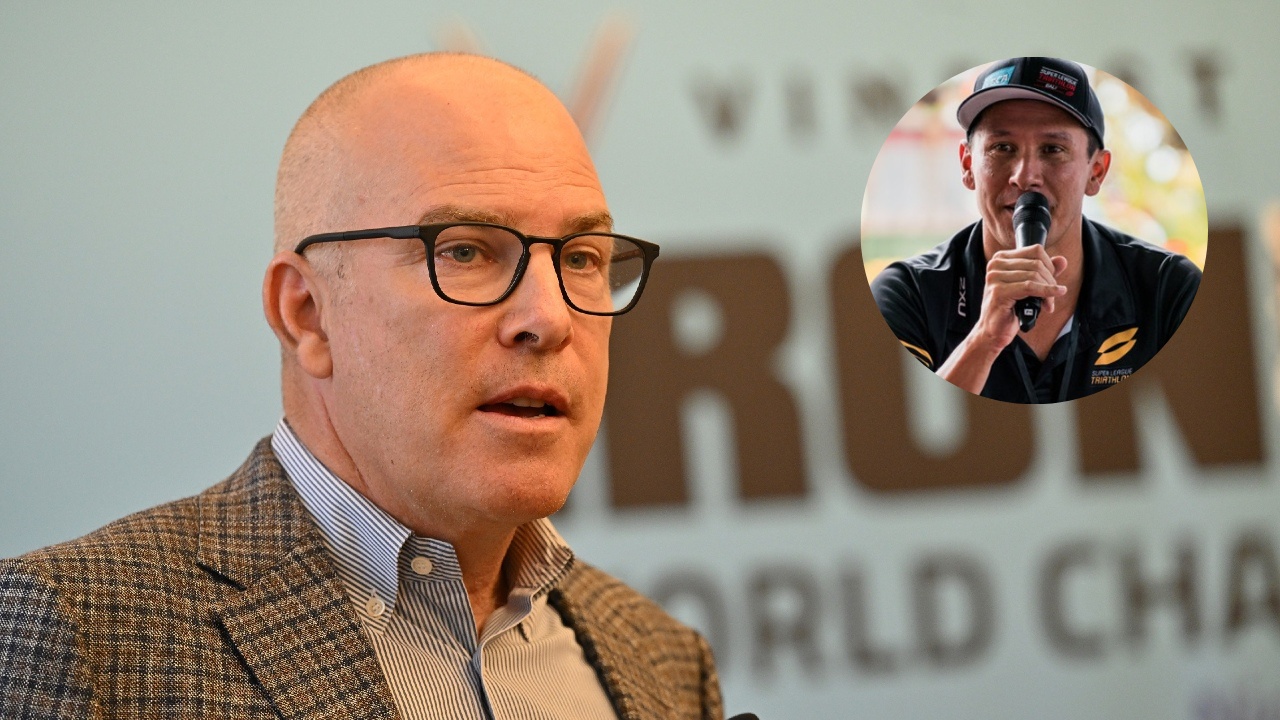 What is missing now?
I asked Macca to pinpoint what he thinks is now missing and he adds: "I guess it's the sheer enormity of IRONMAN and his [Messick's] kill or be killed mentality, where they just took everything over.
"They really killed off a lot of the events that had pushed people into the sport in the first place. An IRONMAN race was a big deal and a big event back in the day. Nowadays, you pay the fee, you do it and you're done.
"I think back to when I was an 18-year-old kid back in Australia watching Greg Welch and watching Mark Allen, and it was a much smaller sport, but it inspired you. The events here were sold out and triathlon events were on the boom. They're definitely on the decline here now, and I do blame IRONMAN for that, but I understand why they did it.
"Right now, the entry point for an IRONMAN is you're a gym guy or you might be in a running club, then you just do an IRONMAN and you're done with triathlon. It's sort of like box ticked, whereas before people stayed in the sport. So I think IRONMAN, for all its growth, has sort of cannibalised the sport, and I think that's had some detrimental effects. I'm prepared to argue that with anybody. Maybe I'm wrong, but I feel that way. It's sad. Whether that's Andrew's fault, that's arguable too.
"There's a lot of great things he did and I think it's easy to be critical of people, especially on their departure.
"But I think what he missed, arguably, was understanding how IRONMAN is one piece of the broader sport. And if the sport's healthy, IRONMAN's healthier. I think he was like a kill or be killed mentality and he just sort of wiped everything else out. Now it's sort of like this barren desert that's only got IRONMAN from a participation level.
"At the end of the day I think when you look at what people are doing, 80% of the people are doing one or two IRONMANs in their life. And then sort of moving away from them. So if people are doing that, it's like Mount Everest which people are paying $100,000 to climb. You can charge a lot higher premium for that IRONMAN entry. So instead of having more IRONMAN events, increase the price tag to get into it and make the 70.3s [the way] to qualify for it. So keep that aspirational step up.
"That's probably an unpopular view now but that's how we were looking at it when we discussed it internally as a business proposition. But instead, they just felt quantity was the way to go. More is better. And then you suddenly had eight IRONMANs on in the same weekend across the world.
"I get it with athletes that are looking for sponsorship when they contact me and say they've won seven IRONMANs and I've never heard of them. Whereas before an IRONMAN win was rare. I think scarcity is basic economic value.
Make the sport aspirational
"I always think that I was inspired by the sport. I was a runner, and I came across and was like, wow, this is a really interesting dynamic with three sports and trying to perfect them all. And I was very inspired by the professionals that were doing it. I was inspired by the events and what they meant, the Hawaiis especially.
"And I think this split of this World Championship, I know it's been talked about lots but you don't need to bring 3,000 people to Kona, keep it at 1,800, make that aspirational too.
"Maybe I'll be proved wrong. I often said back in my days, I wish they had split the World Championships. I hated Hawaii. And had they split it, like it I'd probably have seven world titles. But they didn't. I had to perfect it. And my whole career was built around my performances in Hawaii.
"So I'm not sold on it, especially splitting the men and the women. I guess from a business perspective it makes a hell of a lot of sense, I'm sure, on paper when you look at the spreadsheets. But from a core sports perspective and the longevity of the sport and what it means and how you inspire and how you bring people and engage people and make someone watch something and go, I want to do that, I think you may kill that part off.
And that's a very, very important part. An immeasurable part of any sport is inspiring people."
Messick successes
While McCormack, the co-founder of Super League Triathlon at the other end of the distance spectrum, may have his misgivings about IRONMAN races, he does acknowledge that there were definitely some big successes for Messick.
"He really grew that 70.3 series, without question. There were probably 20 or so in the world, now more like 50 or 60. Moving that World Championship around [has worked] too.
"Did he do a great job? He sold the company twice. He couldn't have done that bad a job!"
Asked about his own personal interactions with Messick, Macca admits it's been an up-and-down relationship: "I didn't have a lot to do with him, but some small snippets that I did have with him were not very pleasant. We've had a few heated words over the years. But we sort of made peace.
"There's a lot of swinging parts and there's a lot of things to answer when you're running private equity, there's definitely a long-term play and he successfully did that. So I applaud him and wish him the best."
Asked who he thinks might take over from Messick – and whether it will be an internal of external appointment, McCormack answered: "It was funny I was talking this over with my guys here in our company. We thought Geoff Meyer [the Managing Director for Oceania] was probably the one they were going to sort of elevate. He's been leading this part of the world for a long period of time.
"I know Geoff really, really well. He's a diehard triathlete and he understands the ethos of the sport. I guess Andrew did, too. But I think when you've been at the helm for a long period of time, you may lose that.
"But we discussed that maybe it is time to bring someone outside of the sport in. But I also think that Andrew was that – yeah, he did a couple of triathlons, but he was that guy.
"I fear that someone outside the sport may not appreciate that what I said earlier about the bigger picture. But it's private equity, they have very different objectives. It's about building. It's not a sport per se, it's a business model and it's about maximising profits."