Several of Australia's most talented triathletes will do battle this weekend as IRONMAN Western Australia takes place in the idyllic seaside town of Busselton.
On the women's side, defending champion Kylie Simpson returns in an attempt to retain her crown, with Matt Burton on the men's side also looking to win consecutive IRONMAN Western Australia titles .
It will be no easy feat, however, as there is a plethora of Aussie and international competitors eager to knock the defending champions off their perch.
Burton aims to go back-to-back
Burton, 34, took victory last year by over nine minutes from Steven McKenna – who re-opposes him 2022 – with the Australian describing last year's success as an important one for him.
"It sort of felt like it was the end of the pandemic," said Burton.
"In 2019 when I raced, I was second to Alistair Brownlee and went sub eight, it was fantastic, and I qualified for Kona and then things stretched on so long, so it [2021] was the first time I've performed since then."
Burton is hoping to put the disappointment of a DNF at the 2022 IRONMAN World Championships in the rearview mirror, and is excited to 'come home' to Busselton to race.
"Coming home, the beauty of Busso, you don't do anything irritational when the next commitment is in your back yard and I've raced here well enough a few times, posted some good times and good results.
"I still feel from the training I've done now they're a long way from what I would expect of myself at home, because I've always believed to be successful anywhere you've got to be good in your own environment," he said.
Opposing the defending champion are a number of high-calibre talents. The aforementioned McKenna made his IRONMAN bow in last year's event, and comes in to the race in good form after victory at IRONMAN 70.3 Western Australia last month.
"I only freshened up in the last few days really," explained McKenna on his recovery from the 70.3 victory.
"I went from IRONMAN 70.3 Melbourne to a training camp so I was really tired but I can feel some benefits from that camp and the race so it's going to feel like a bit of step down pushing the power and cadence we do for an IRONMAN," he said.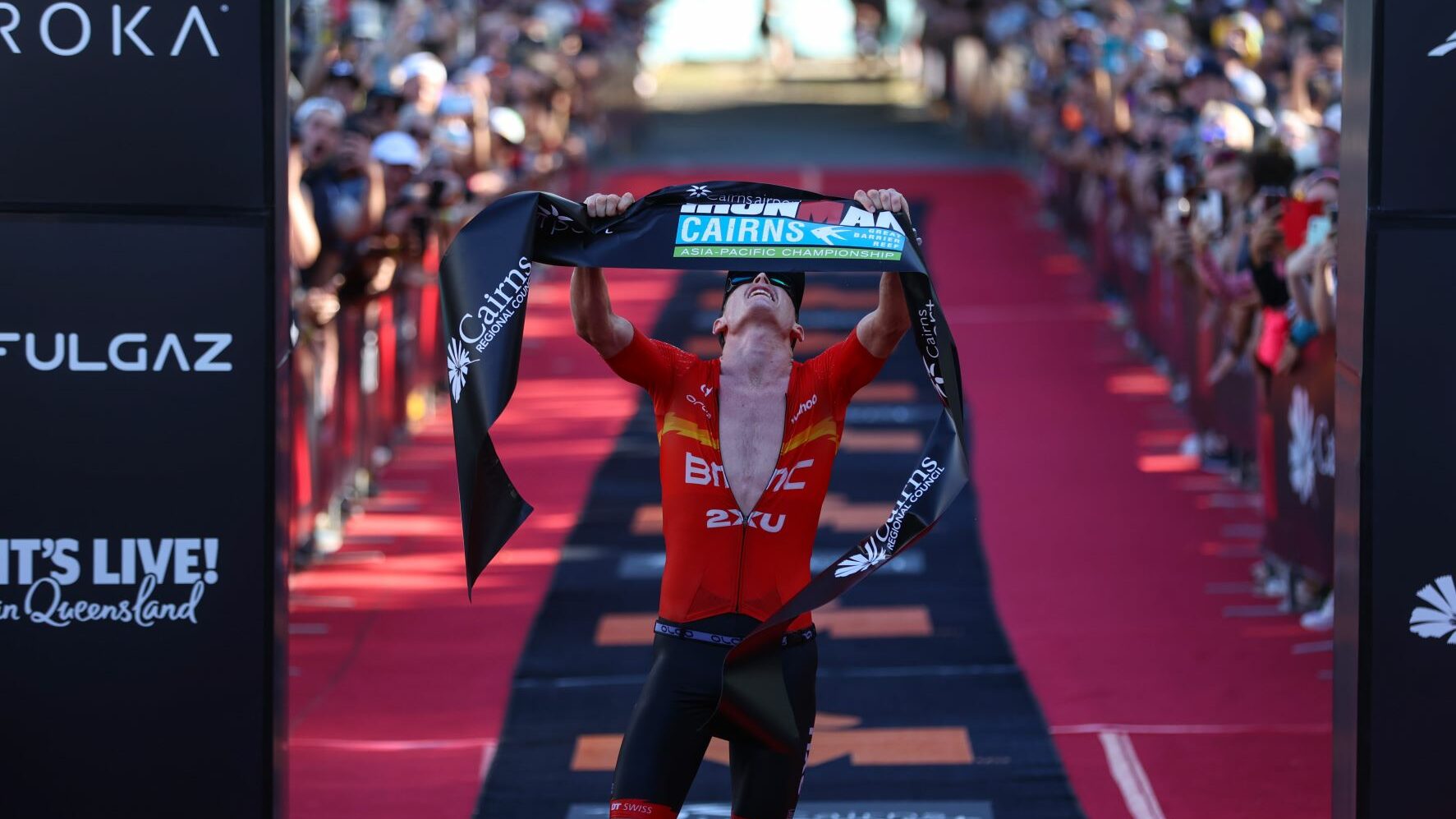 Neumann boasts Kona form
Also on the start line is Max Neumann who finished fourth in the IRONMAN World Championship in Hawaii in October.
"Kona was definitely a special race to me. The build-up of the last three years with no Kona made this year's edition a mega event," said Neumann. "To put together one of my better performances on the biggest day in our sport was something I'm proud of. It's definitely been hard to keep the training rolling post Kona, but IRONMAN racing is odd in the fact that sometimes fresh is best.
"My only goal from Busselton is to get across the finish line and whatever place that gets me on the day I'll be happy with," he said. "Of course a podium would be great but I just love racing in Australia so I'll definitely just try and enjoy myself out there on Sunday."
The likes of Fraser Walsh, Sweden's Patrik Nilsson (SWE) and 2012 IRONMAN World Champion Pete Jacobs will also been on the startline, with in total 25 professionals ready top roll in Busselton.
Simpson heads women's race
Kylie Simpson returns to Busselton 12 months on from winning by almost 50 minutes in a time of 9:06:15. However, in 2022, she'll face a much stronger field aiming to knock her off her throne.
"It was a great way to finish off the 2021 season with the win at IRONMAN Western Australia, securing my Kona slot as well. There were only two IRONMAN races in Australia last year and winning them both was special."
Simpson finished a creditable 22nd at the IRONMAN World Championship in Kona in October, and comes into the race off the back of a solid block of training.
"We've had a really good lead into IRONMAN Western Australia with some good racing in the past month," said Simpson.
Crowley eyes domestic treble
Sarah Crowley has been in exceptional form in Australia in 2022 – victory in Busselton would make her the first professional to win all three Australian IRONMANs in the same calendar year.
"I love racing in Australia and I love supporting Australian races, although I have had great success overseas nothing is like racing and winning at home," said Crowley.
"Winning all three races in the same year would also be something to hold onto as a legacy from my career."
PTO World Ranked #25 Crowley will oppose Simpson this weekend on the back of a seventh place finish in Kona.
"After a short break following Kona we returned to Australia and started a block specifically for IRONMAN Western Australia," she said.
"Things have gone well, we were able to fit in some big training weeks around IRONMAN 70.3 Melbourne which we used as preparation for this race.
"I was a little stale for Melbourne after only a couple of weeks back training and with the broader goal of IRONMAN Western Australia, this has meant that I am ready for this IRONMAN."
Dutchwomen Lotte Wilms is another contender, she steps up to the IRONMAN distance for the first time, but being based in Australia she also enjoys home comforts this weekend.
The preparation for IRONMAN Western Australia has gone really well, though it was very short," said Wilms. "I can't say I have experienced a full IRONMAN training prep yet. I have built up my training hours since August this year and I trust my team that I have done enough to be in a great shape for my first IRONMAN.
"What I'm looking forward to the most is that feeling everyone talks about when you become an IRONMAN, I'm very curious to know how that feels," she said.
Others to lookout for on the start list include Sarah Thomas (GBR), Els Visser (NED) and Renee Kiley (AUS).