Twelve months ago Jess Learmonth was the impressive winner of SLT London, so who better to provide the inside track on this year's renewal on Sunday, which again uses the 'Triple Mix' format.
She won three of the four Super League Championship Series races in 2021 but was just pipped for the overall title by great friend Georgia Taylor-Brown, alongside whom she won Olympic gold in the Mixed Team Relay in Tokyo.
Unfortunately Jess misses SLT this season through injury but she's joined us to preview the London showdown, which will again pan out as follows:
Stage One – Swim, Bike, Run
Stage Two – Run, Bike, Swim
Stage Three – Bike, Swim, Run (started in pursuit style)
'You've got to be switched on'
Jess told us: "Triple Mix really does spice things up a bit. And sometimes you don't realise the advantages you can get from the swim on stage two. I probably won in London because of that.
"Because the top end is going to be so tight, I think athletes that are maybe not thought of as contenders at the pointy end of the race have a real opportunity. They need to consider attacking during that swim and will potentially get a good result if they commit."
And being clued up is crucial she reckons: "It's about knowing exactly what you are doing – if you don't pay attention to the small details then it's easy to find yourself getting a bit confused because it is fast and furious. You've got to be switched on.
"And with it being the first one, there's also the chance that there could be a bit of rustiness about in the SLT format."
Technical challenge
An added dimension this year is that the tight, technical course which features cobblestones will see the start and finish now at the opposite end of West India Quay and the circuit running in reverse.
And Learmonth explained: "The switch around of the course means that when they're coming into T2 on the bike it's going to be cobbles – and not small ones – leading up to it and a sharp corner.
"If you remember last year, Georgia decked it coming into transition – so let's all pray for G!
"It's still going to be really technical on the bike and a bit harder towards the end – though easier at the beginning.
"In general it's a really undulating course for the bike – it's going to be tricky and if you're not confident on corners and the like then I think you're going to struggle.
Attacking opportunity
"But at the same time, people who are confident like G will try and expose others that are potentially a bit unsure.
"So if it was me I would be trying to pressure the race in certain aspects like attacking on the bike and the swim and not leaving it down to the run.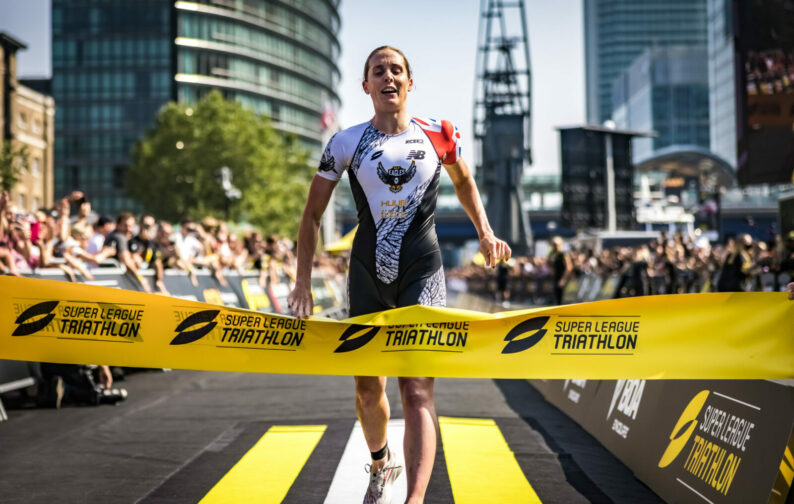 "The other thing that was quite interesting about London last year was the wetsuit aspect. I quite liked the fact that they just left it down to the athletes to decide whether it was wetsuit or not, though obviously it depends on the temperature.
"I seem to remember a lot of people were a bit nervous and not sure which way to go whereas I was all in for non-wetsuit. It will be interesting to see if people make their own mind up or are a bit worried and wait to see who else does what."