Super League Triathlon seldom fails to deliver spectacular results, and it again produced terrific action in London on Sunday as Jessica Learmonth and Hayden Wilde claimed brilliant victories.
The first weekend of the 2021 Championship Series saw Learmonth take victory in the women's race at Canary Wharf, while Wilde made maximum use of a short chute late in the day to triumph in a thrilling climax to the men's event.
Women's Race – Triple Mix
Team GB's Olympians provided star attraction for the crowds in Canary Wharf, and they did not disappoint as they claimed a brilliant 1-2-3 in glorious sunshine.
Georgia Taylor-Brown tore the field apart in Stage 1 of the Triple Mix with a silky-smooth performance to come home convincingly ahead of fellow Brits Beth Potter, Vicky Holland, Learmonth and Non Stanford as they closed out the top five.
GTB saw her hopes of victory disappear though when she came off her bike heading for the dismount line on Stage 2 after catching a wheel with her shoe as she prepared for transition. She recovered quickly but was never able to get back on terms.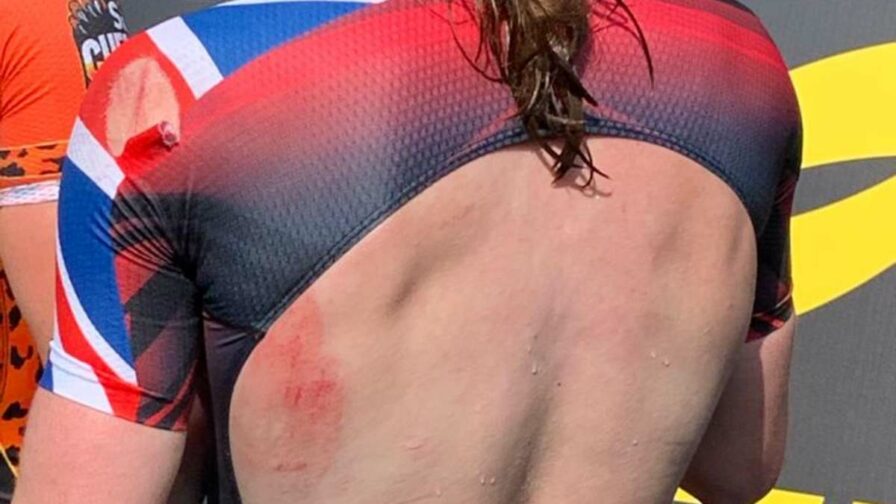 It was Learmonth and American two-time Super League champion Katie Zaferes – who had finished well off the pace after a disastrous Stage 1 – who filled the top two positions on Stage 2.
The closing Pursuit race saw Learmonth start with a couple of seconds to spare over Holland with Taylor-Brown a further four seconds back in third. Any chance she had of closing that gap ended during the bike leg when she made a mistake round a tight hairpin turn and lost further time.
Up front it was Learmonth all the way as she romped clear to a highly impressive victory, while Taylor-Brown passed the flagging Holland (who later revealed she had suffered health problems this week) for second in the closing stages. Zaferes would eventually finish in fourth place.
Men's Race – Triple Mix
Olympic bronze medalist Wilde and team-mate Vasco Vilaca filled the first two spots on Stage 1, with Vincent Luis and Jonathan Brownlee right behind them.
The order was still bunched after the bike leg on Stage 2, with Wilde just diving into the water ahead of Luis. Brownlee joined Luis at the front, swimming on his feet. And they crossed the line virtually together to end the stage, with Luis just ahead.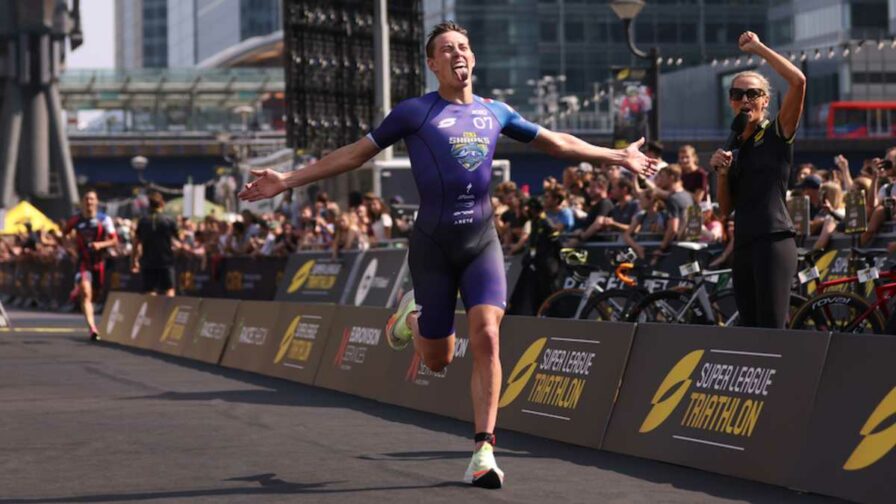 Luis started the pursuit just a second clear of Brownlee, with Wilde eight seconds off the pace. Olympic silver medalist Alex Yee meanwhile was 24 seconds away from the lead after falling back on the swim in Stage 2.
With several of the starting field eliminated in Stage 2 (only 13 made it through) it was a select band who started the final pursuit stage, and Wilde wasted no time on the bike in making up that eight-second gap as he joined Luis and Brownlee at the front. Yee meanwhile was steadily making up time further back.
Luis led them into the water, just ahead of Brownlee and Wilde with a thrilling race developing. Valaca meanwhile had joined the back of that lead group after a terrific transition.
After a breathless swim it was Brownlee who led them out onto the decisive run, just ahead of Luis with Wilde and Valaca desperately trying to hang in there. Yee was in fifth but with too much ground to make up.
Luis and Brownlee still held sway in the early stages of the run but Wilde gradually closed the gap – and crucially still had a short chute to deploy. When he did deploy it, the trump card opened up what looked a significant gap over Luis with Brownlee in third.
Wilde then poured it on in a brutal closing stretch to come home in front of Luis, with Brownlee third and Valaca fourth. Yee would come home in fifth.
The roadshow now moves on to Munich next weekend – and again we'll bring you every second of the action live.
Super League Triathlon Standings – Individual
After SLT London, September 5, 2021
Women
1. Jessica Learmonth 15pts
2. Georgia Taylor-Brown 14pts
3. Vicky Holland 13pts
4. Katie Zaferes 12pts
5. Sophie Coldwell 11pts
6. Taylor Spivey 10pts
7. Beth Potter 9pts
8. Leonie Periault 8pts
9. Maya Kingma 7pts
10. Cassandre Beaugrand 6pts
11. Emelie Morier 5pts
12. Rachel Klamer 4pts
13. Yuko Takahashi 3pts
14. Valerie Barthelemy 2pts
15. Non Stanford 1pt
Men
1. Hayden Wilde 15pts
2. Vincent Luis 14pts
3. Jonathan Brownlee 13pts
4. Vasco Vilaca 12pts
5. Alex Yee 11pts
6. Seth Rider 10pts
7. Jake Birtwhistle 9pts
8. Shachar Sagiv 8pts
9. Alessandro Fabian 7pts
10. Aaron Royle 6pts
11. Max Studer 5pts
12. Gordon Benson 4pts
13. Jonas Schomburg 3pts
14. Tayler Reid 2pts
15. Matt Hauser 1pt
Super League Triathlon Standings – Team
After SLT London, September 5, 2021
1. Eagles 93pts
2. Scorpions 71pts
3. Sharks 66pts
4. Cheetahs 61pts
5. Rhinos 35pts