Jodie Cunnama, Romain Guillaume take victory in Buffalo City
Last week we spoke to Great Britain's Jodie Cunnama about her preparation and thoughts ahead of attempting to win a seventh consecutive IRONMAN 70.3 South Africa title.
If there was any pressure to perform, she didn't show it, taking the win again – with fellow Brit, Susie Cheetham, taking second at a race she suffered a huge crash at last year.
---
JODIE CUNNAMA MAKES IT LUCKY NUMBER SEVEN

Jodie Cunnama stamped her name firmly on the Standard Bank IRONMAN 70.3 South Africa with her seventh consecutive win, continuing her dominance in East London.
Predictably, Cunnama was first out of the water in 26:31 minutes followed by compatriot, Susie Cheetham 02:40 minutes back and Poland's Agnieszka Jerzyk a further 8 seconds behind.
Swallow transferred her time cushion onto the bike extending her lead to over three minutes. Cunnama entered T2 first with Cheetham trailing by close to three minutes in second and Jerzyk third. On the run, Cheetham set out to cut Cunnama's lead but the champion managed to keep her at bay running to her seventh Standard Bank IRONMAN 70.3 South Africa win in 04:39:49. Cheetham finished second, just over one minute back. Jerzyk completed the podium a further 06:58 minutes behind.
Yay I got number 7. Fairly drama free work day for me #im703sa. Good to feel the pressure lift as I xed the line. Thanks for all ur tweets x pic.twitter.com/cFIm1f0cfv

— Jodie Cunnama (@jodiecunnama) January 29, 2017
And the previous six wins in pictures, too…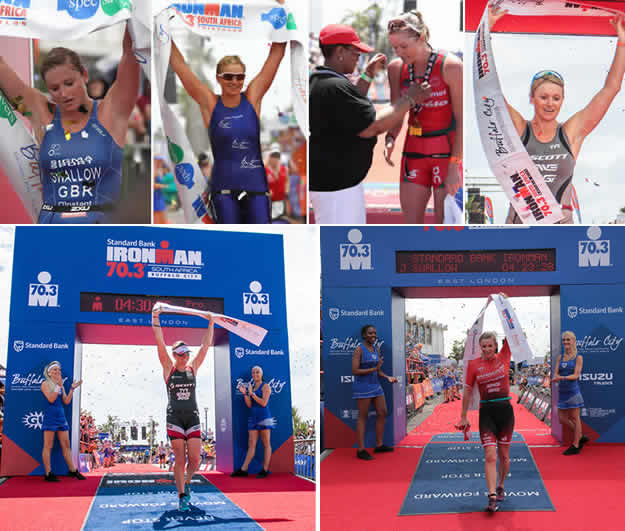 ROMAIN GUILLAUME BANISHES RUN DEMONS
In the absence of Matt Trautman, a new champion would be crowned and a tough battle would emerge between 2014 winner, James Cunnama and France's Romain Guillaume. The first athlete out of the water was Great Britain's Mark Threlfall in 25:49 minutes followed closely by Balazs Csoke, Rudolf Naude and Dutch athlete, Evert Scheltinga. Guillaume followed in fifth with Buckingham and Cunnama 7th and 8th respectively.
With Threlfall in the early lead, Guillaume quickly made up ground to take the lead. Scheltinga moved into third with the positions remaining the same until the last 18km where Cunnama and Buckingham moved up the field to close the gap to Threlfall. Guillaume entered T2 first with a lead of 6 minutes over Threlfall followed by Cunnama, Buckingham and Scheltinga. With Guillaume in a commanding position, Cunnama moved into second place passing Threlfall early in the run. Threlfall fell further back with Buckingham moving into third after 10km into the run.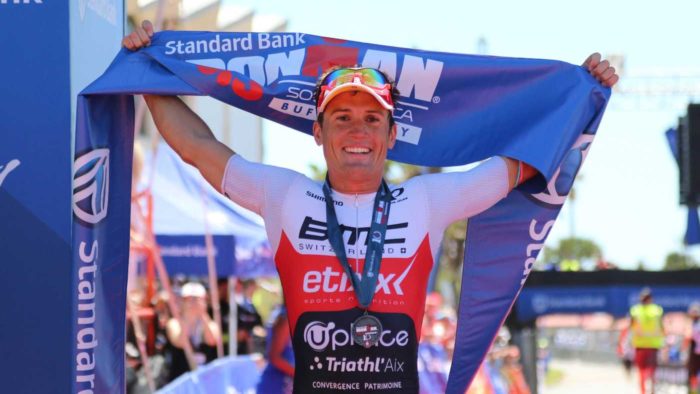 Much like the 2014 race, Guillaume took a strong lead from the bike onto the run but this time he would not be caught running to victory in a time of 04:08:58. James Cunnama finished second 02:29 minutes back and Buckingham making up third a further 02:57 minutes back.
IRONMAN 70.3 South Africa 2017 Pro Results
Sunday 29th January 2017 - Buffalo City, East London
| Pos | Men | Women |
| --- | --- | --- |
| 1st | Romain Guillaume (FRA) 4:08:58 | Jodie Cunnama (GBR) 4:39:49 |
| 2nd | James Cunnama (RSA) 4:11:27 | Susie Cheetham (GBR) 4:40:51 |
| 3rd | Kyle Buckingham (RSA) 4:14:30 | Agnieszka Jerzyk (POL) 4:47:49 |
| 4th | Stuart Marais (RSA) 4:15:54 | Kristin Moeller (GER) 4:49:05 |
| 5th | Mark Threlfall (GBR) 4:16:52 | Annah Watkinson (RSA) 4:53:30 |