Jonny Brownlee has had his fair share of success, with a full set of Olympic medals to show for his massively successful career in triathlon so far, but the British star has now shared the one thing he regrets the most.
Jonny talked at length ahead of Saturday night's Super League Triathlon Championship Series in Malibu, and he spoke at length about one of the biggest races of his career.
Recounting his second Olympic Games in Rio in 2016, Brownlee told 'Breakfast With Bob' that it contained the one moment he regrets most in that glittering career so far.
Leading the way with brother Alistair Brownlee, Jonny says he made a vital mistake which gave Alistair the edge and saw him go on to take his second consecutive Olympic Gold, whilst he was left to settle for silver.
Jonny Brownlee on Rio 2016
Looking back on the race, Jonny said that after the elation of success at a home games four years earlier in London, Rio was initially a bit of a shock to the system.
"Rio was a completely different Olympic Games, firstly because it wasn't London, which was my first Olympics and what I thought they would all be like, before I then realised the difference when it's not a home Olympics.
"I also knew in Rio that the course suited us perfectly, and that the hill would split up the bike. We didn't have the perfect build-up, I had a stress fracture the year before and Alistair had some ankle issues, but we started the [2016] season well and by the time we got to Rio, we were absolutely flying."
Heading into the race, the pair from Yorkshire had highlighted the danger men they knew they would need to keep an eye on, but were given an unexpected boost when one of their main rivals, London 2012 silver medallist Javier Gomez, was forced to withdraw through injury.
"We knew it was a good opportunity for us, because [Javier] Gomez was the big worry, but that was another reason why things became clearer, because he got knocked off his bike and couldn't go. Vincent [Luis] of France was another worry, because we knew the swim and the bike were going to be on, so it was mainly Vince and Gomez, and then without Gomez everything became a little clearer."
Never show weakness
On the day of the race, both Alistair and Jonny found themselves in the front pack on the bike, and from there they executed their race plan to perfection by gaining a big gap on the chase pack and tiring out their fellow competitors at the front.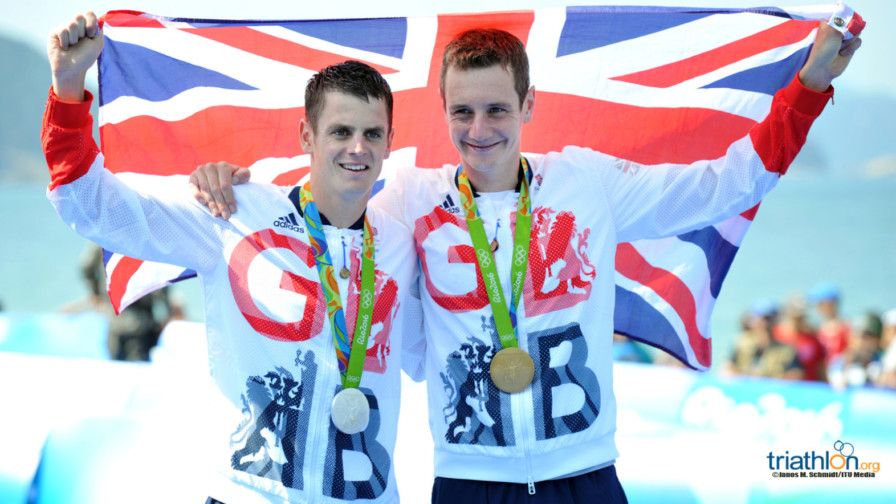 "We had a group of about 12 on the bike and we hit that first climb really hard and ended up getting around 90 seconds coming into T2. It was me, Ali and Vince on the run, then we dropped Vince after around 2km and it was just Alistair and myself."
Jonny's big mistake
It was at this point, with the brothers alone at the front of the race, that Jonny says he made his big mistake, one which opened the door for Alistair to seize the initiative.
"I then made the biggest mistake of my career. It was about 6km into the run, it was a hot day and I knew it was between Alistair and myself and I said to him 'relax'. I didn't want either of us to blow up and fall apart on the course, but he took that as a sign of weakness and thought 'Jonny is struggling, I'm off'.
"I wish I had never shown any weakness, because the months before I had been dropping Alistair in training and running faster than him, but I should have just never shown him any weakness. If I could go back and do it again, I would have kept my poker face on."
This weekend in Malibu, Brownlee will take on one of the strongest fields of the Super League 2023 series so far in a bid to keep his spot at the top of the overall standings.