Daniela Ryf destroys Kona record by 20 minutes for another Hawaii victory
Second again for Great Britain's Lucy Charles
If you've read the men's Pro report (HERE), you'll know it was a fast day – perhaps the best conditions ever – at the IRONMAN World Championship. If the men's race showed that, the women took it to a different level.
ALL of the top TEN finishers went Sub-9 hours (that has never happened before, anywhere).
Daniela Ryf set a new Kona women's best time by more than TWENTY minutes. Lucy Charles broke the previous best in Kona by more than ten minutes… but was still ten minutes adrift of the Swiss legend at the finish.
Lucy Charles broke the swim course record.
Lucy also broke the previous bike course record of 4:44:19 with a 4:38:11. Unfortunately for her, the Swiss star amazingly went an additional 12 minutes quicker than that with a staggering 4:26:07.
The final podium – the same athletes, in the same order, as the IRONMAN 70.3 World Championship last month.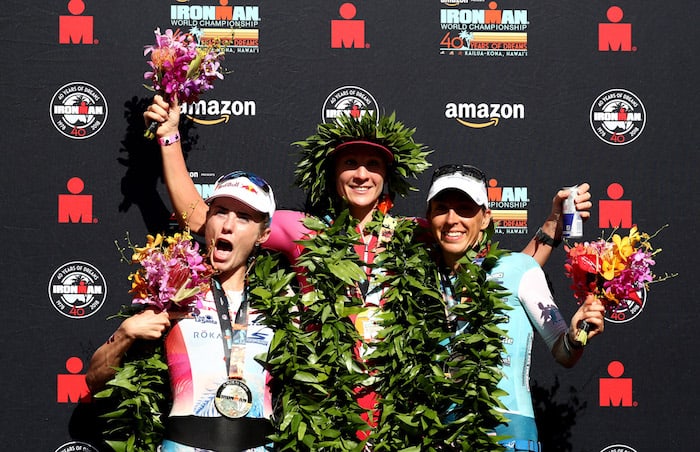 The Swim – 3.8km
Despite finishing second overall last year, Lucy Charles was frustrated that she didn't break the swim course record. Swimming with Lauren Brandon 12 months ago, most assumed it would be similar this time around, but Lucy had other plans. 400m into the swim she was solo and powering through the water away from everyone. 48:13 is the new Kona standard. Even Brandon was almost three minutes behind at the swim exit.
#IMWC @LucyAnneCharles out of the water in with the lead followed by @lb_brandon +2:53, @TeresaJAdam), +3:45, Hele @helle_f +3:48, @sgroffy +3:52, @Liz_Blatchford +3:55, @Rachel_McB +5:50, @JoceMcCauley +5:58 and and @mbkessler +5:59. pic.twitter.com/dxG3wDll2j

— IRONMANLive (@IRONMANLive) October 13, 2018
More than nine minutes back was absolutely not the expected start from the three-time and defending champion, Daniela Ryf. Stung by jellyfish just minutes before the start it would prove a challenging swim for the Swiss legend and while she (and we) knew that she would be chasing Lucy Charles for much of the day, providing her with more than a ten minute head start.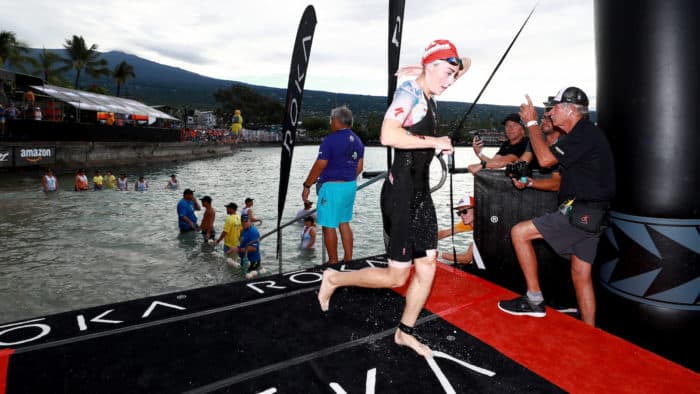 In addition to Lucy, all of the other Pro Brits were out of the water in very close order: Susie Cheetham (58:18), Emma Pallant (58:23), Laura Siddall (58:38) and Corinne Abraham (58:42).
The Bike – 180km
40 miles into the ride, Lucy's chances of potentially upsetting the odds-on favourite, Ryf, were looking good. She was still eight minutes ahead with Daniela who had now worked herself through to second place, alongside Sarah Crowley (AUS), who was third. After wins at IRONMAN France and Kalmar, Corinne Abraham was riding well and up to fourth. She was matching the speed of Charles.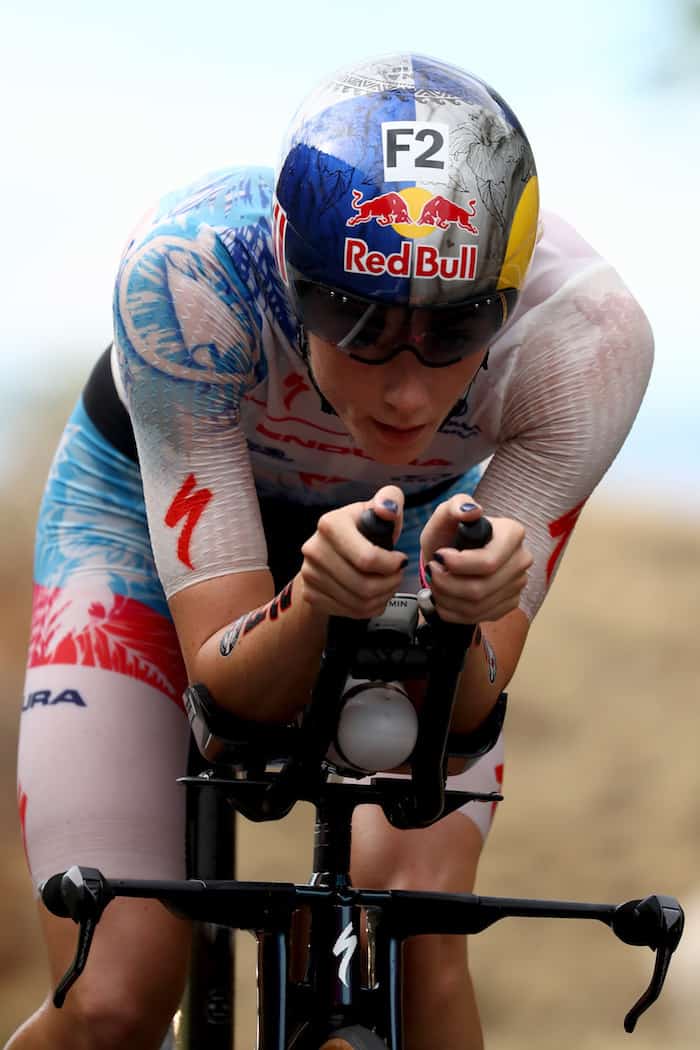 The climb to the Hawi turnaround saw Ryf and Crowley chip away at the lead of Charles, but the Brit was still seven minutes ahead, while Abraham was now on her own in fourth a further four and a half minutes behind that duo, ahead of a big group of chasers around 14 minutes down on Charles.
#IMWC The lead trio of women have made the turnaround at Hawi with @LucyAnneCharles out front. @danielaryf and @Sarah_Crowley1 continue to chip away at @LucyAnneCharles's advanatge and the pair are facing a +7:03 and +7:09 deficits to the leader.

— IRONMANLive (@IRONMANLive) October 13, 2018
And then… Daniela Ryf hit turbo mode. Her return from Hawi to T2 may be one of the most incredible bike sections ever in the history of women's triathlon. She not only closed that seven minute lead of Charles, but she pushed on and extended her lead. For context, Cameron Wurf (who set a men's bike course record), completed the 'Hawi to T2' section in 1:55:14. Ryf for the same section clocked 1:57:49. Staggering.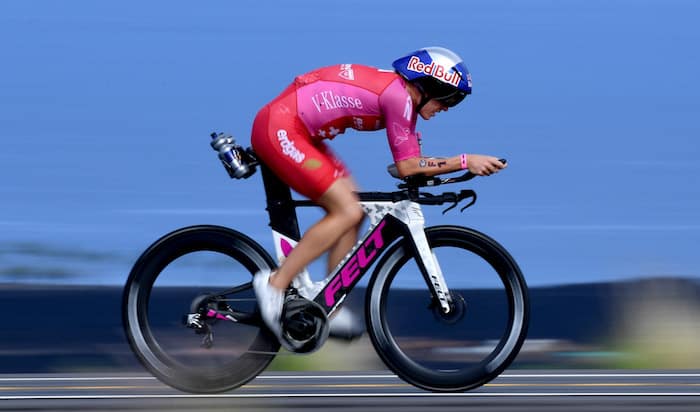 Ryf reach T2 first, Charles second (+1:38), followed by Abraham (+12:28) and Crowley (+12:44). Plenty of potentially speedy runners arrived in very close order just a few minutes later, including amongst them the likes of Sarah True (+16:52), Anne Haug (+17:13), Heather Jackson (+18:05), Kaisa Sali (+18:29), three-time champion, Mirinda Carfrae (+19:29) and Helle Frederiksen (+21:37).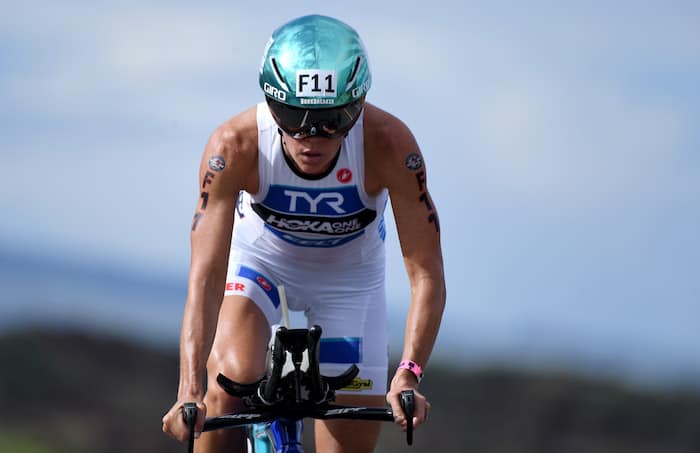 From a British perspective, Charles and Abraham aside, it was Susie Cheetham (+24:17), Emma Pallant (+27:34) and Laura Siddall (+28:41) at the end of their 112 miles.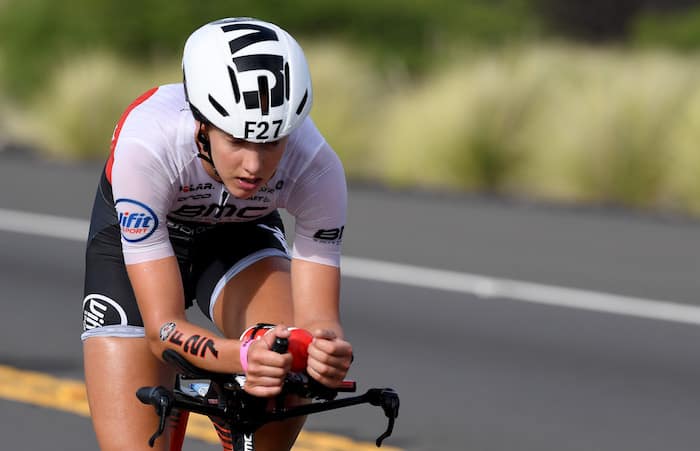 The Run – 42.2km
Ryf started the run first and never looked like that was going to change. One of only three women to break three hours for the marathon, her 2:57:05 run brought her home to an other-worldly finish time of 8:26:16, a mark which will perhaps not be touched for many years to come, should the Kona weather gods decide never to be as kind again.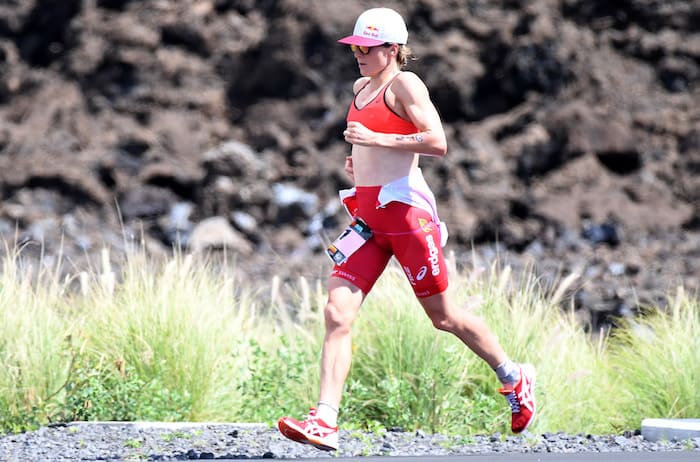 Lucy Charles' consistent running continued – 3:05:50 was her 2018 mark (3:08:09 last year) – and that meant she crossed the line in 8:36:32. Did anyone think that wouldn't be good enough to win?!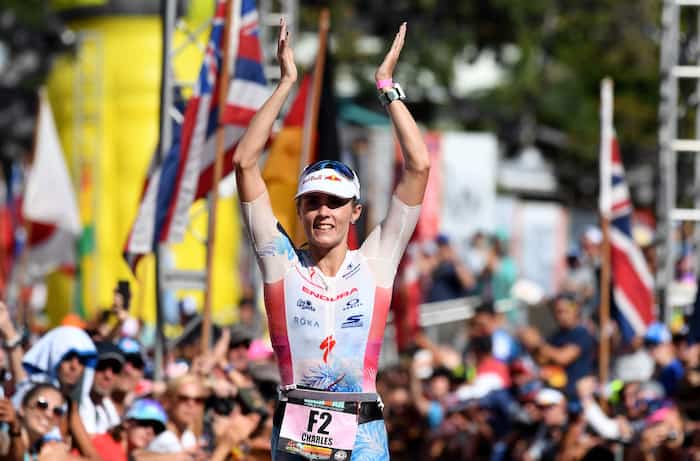 The big battle on the run was for the final spot on the podium, with Anne Haug (2:55:22) and Sarah True (2:57:38) both performing well, with the German able to move into a podium position in the final four miles, resulting in a podium replica of the IRONMAN 70.3 World's last month. The top three female athletes in long distance racing are clear for everyone to know.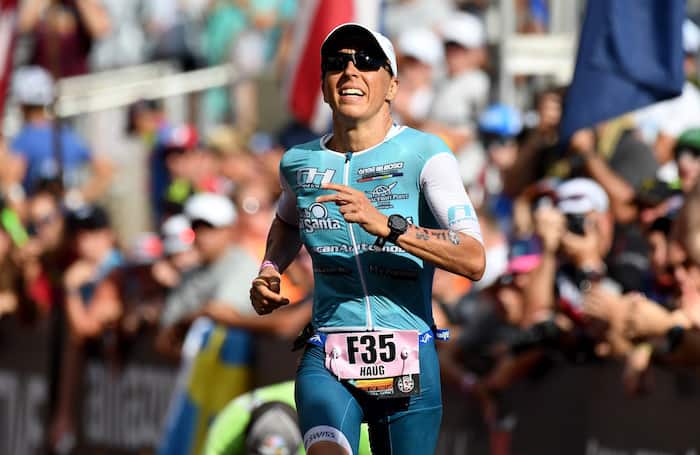 Closing with a 3:16:27 marathon – despite having hurt he calf recently and not being able to run for two weeks – Corinne Abraham secured her first top-ten at Kona, finishing ninth overall.
A huge shout out to @CorinneAbraham our hero coming 9th in the world (!!!!) at the #ironmanworldchampionship in #Kona – an incredible athlete who we're extremely proud to sponsor and call our friend. Congratulations Corinne #whatanathlete #proud pic.twitter.com/w77MUv1rDo

— Drummond Physiotherapy (@drummondphysio) October 14, 2018
IRONMAN World Championship, Kona, Hawaii – Saturday 13th October 2018
3.8km / 180km / 42.2km – PRO WOMEN
1st – Daniela Ryf (SUI) – 8:26:16
2nd – Lucy Charles (GBR) – 8:36:32
3rd – Anne Haug (GER) – 8:41:57
4th – Sarah True (USA) – 8:43:42
5th – Mirinda Carfrae (AUS) – 8:50:44
6th – Sarah Crowley (AUS) – 8:52:29
7th – Kaisa Sali (FIN) – 8:54:26
8th – Angela Naeth (CAN) – 8:57:34
9th – Corinne Abraham (GBR) – 8:58:54
10th – Linsey Corbin (USA) – 8:58:57
Congratulations to the Women's Podium of the 2018 IRONMAN World Championship brought to you by Amazon! #IMWC 👑🌿

🥇 @danielaryf 8:26:16
🥈 @LucyAnneCharles 8:36:32
🥉 @haug_anne 8:41:57 pic.twitter.com/z5FZq1kjpq

— IRONMAN Triathlon (@IRONMANtri) October 14, 2018
17th – Laura Siddall (GBR) – 9:12:08
26th – Susie Cheetham (GBR) – 9:27:56
DNF – Emma Pallant (GBR)